OPEC Crude Export Revenue Drops 46%
by Deon Daugherty
|
Rigzone Staff
|
Friday, August 26, 2016
The precipitous fall in crude oil prices – and to a lesser extent a decrease in exports – pushed down net crude export revenue to the Organization of the Petroleum Exporting Countries (OPEC) nations from 2014 to 2015 by 46 percent, a decline to $404 billion from $753 billion, according to figures released Aug. 26 by the U.S. Energy Information Administration (EIA).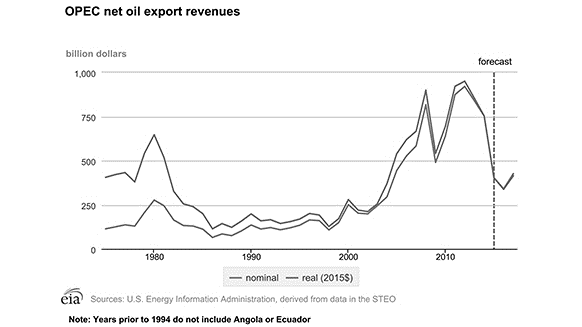 OPEC Net Oil Export Revenue (1975-2017) SOURCE: EIA
Taking the lion's share of the earnings – roughly one-third of the total revenue – Saudi Arabia, OPEC's largest producer earned $130 billion in 2015. The earnings included Iran, which hadn't been included in previous reports.
What's more, EIA analysts project that in 2016 that revenue could drop again to $341 billion. Still, EIA expects that current year increases in OPEC production, which will likely be up 800,000 barrels per day from 2015, will offset some of the price decline. That would bring the average OPEC crude production to 32.4 million barrels per day in 2016.
A glut of overproduction has been at the core of the decrease in oil prices, which at times has dipped by as much as 70 percent. Just two days ago, oil prices dropped again on news of another build-up in both crude and petroleum product inventories. And OPEC talks of a freeze at record production levels isn't expected to provide much of an assist in diminishing those inventories in the future.
In 2017, however, EIA said OPEC revenue is projected to climb back up to $427 billion based on a forecasted oil price increase and even higher OPEC production and exports.
Generated by readers, the comments included herein do not reflect the views and opinions of Rigzone. All comments are subject to editorial review. Off-topic, inappropriate or insulting comments will be removed.
RELATED COMPANIES