Tight Gas Helping Argentina Operators Reverse Production Decline
by Karen Boman
|
Rigzone Staff
|
Thursday, August 18, 2016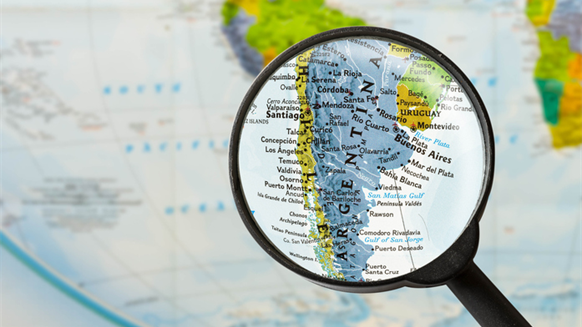 Tight natural gas reservoirs are boosting production in Argentina's Neuquen Basin, but well performance in these reservoirs varies greatly.
Oil and gas operators in Argentina are reversing the natural gas production decline seen in the Neuquen Basin by targeting low-permeable, tight gas reservoirs, according to a recent study by Wood Mackenzie. But the variability of well performance across tight gas formations means that operators will need to develop these formations with an approach more similar to shale than to conventional developments.
Over the past three years, operators have significantly shifted their focus to tight gas production due to pricing incentives and lower well costs relative to shale gas wells. As a result, tight gas production grew to 565 million cubic feet per day in first quarter 2016, or a quarter of the Neuquen Basin's output.
"In most blocks, where conventional gas production is in decline, operators have turned to tight sands to boost production and sustain plateaus for longer, in effect improving processing and transport capacity utilization rates," Wood Mackenzie stated in a June 2016 report.
The recent success of tight gas has created a perception that tight gas well results are less variable than shale wells. However, Wood Mackenzie has found this not to be the case.
Of the six tight gas formations that Wood Mackenzie studied, only the Mulichinco horizontal wells and Punta Rosada vertical wells are profitable at or below the government's $.7.50/million British thermal units (MMbtu) gas price incentive program. Horizontal Mulichinco wells had the highest estimated ultimate recovery at more than 5 billion cubic feet (Bcf)/well; similar results were seen for the Punta Rosada wells.
"This means that large, multi-well development programs will be needed to spread productivity risk among a large number of wells," Wood Mackenzie noted.
Conventional natural gas production in Argentina has declined for a number of reasons, but primarily because it hasn't been economic for operators to explore for additional resources or exploit existing resources better, Horacio Cuenca, director of upstream research for Latin America at Wood Mackenzie, told Rigzone.
In its analysis, Wood Mackenzie used a 12.5 percent discount rate, adding an additional 2.5 percent points to its usual 10 percent discount rate, to adjust for country risk.
To achieve larger cost reductions for wells economic at $5.20/MMbtu average gas price without the incentive, oil and gas operators will need to reduce unit costs, Cuenca told Rigzone. They will also need to improve the efficiency of their operations, increase productive times per worker per day, reduce drilling times and hydraulic fracturing times and apply new techniques developed in the United States, such as pad drilling and plug and perforation, Cuenca added – practices currently impaired by labor union requirements.
Costs have also been an issue in Argentina's Vaca Muerta unconventional play, a Royal Dutch Shell plc official said at a media event in June. When compared with North America plays, Shell's Argentina shale wells rank among the top 1 to 2 percent, but costs to develop Vaca Muerta are way too high versus North America, Laurens Gaarenstroom, Shell's general manager for emerging basins, said at the event. Garrenstroom attributes the high costs to Argentina's lack of native oilfield services industry and high labor costs.
"Eventually, we expect costs to decline faster as operators gain knowledge of the formations and the domestic supply chain is developed," Cuenca explained.
Wood Mackenzie expects tight gas wells to sustain production levels in the Neuquen Basin in the short-term due to lower well costs and higher productivity. However, shale is expected to be the main source of gas production growth in the medium and long-term.
"With the right pricing incentives and a stable policy and business-friendly environment, shale production could really ramp up towards the end of this decade," Cuenca commented.
Generated by readers, the comments included herein do not reflect the views and opinions of Rigzone. All comments are subject to editorial review. Off-topic, inappropriate or insulting comments will be removed.
RELATED COMPANIES