In Debt and Out of Cash, Oil and Gas M&A Slow to Recover
by Deon Daugherty
|
Rigzone Staff
|
Friday, August 12, 2016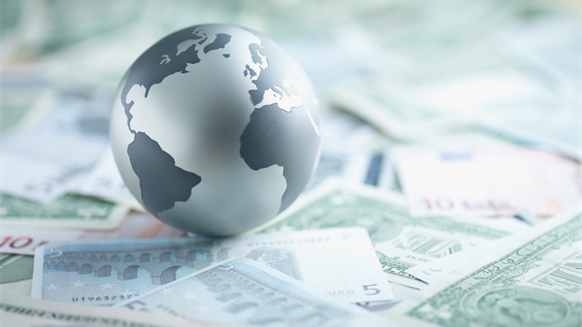 Mergers and acquisitions activity in oil and gas remains listless with 2016 first half deals reflecting lowest levels in five years, Deloitte LLP finds.
Persistently low commodity prices and lack of market confidence is delaying an expected uptick in oil and gas mergers and acquisitions (M&A) across all sectors, Deloitte LLP reports in a recent study.
During the first half of 2016, Deloitte found that the number of M&A deals reached its lowest total in five years. In the first six months of 2012, 385 deals had a value of $127.37 billion. Fast forward to the same time frame in 2016, and 198 deals totaled $85.66 billion.
The "lower for longer" philosophy of energy investors during the last 18 months has given way to questions of exactly how much lower and how much longer. Essentially, the second year of the commodity price downturn has found lenders less willing to fund deals, Deloitte wrote in "Oil & Gas Mergers and Acquisitions Report – Mid-Year 2016: Looking for a Restart."
Andrew Slaughter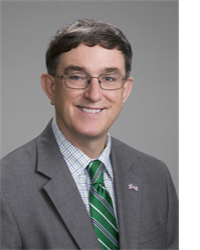 Executive Director, Deloitte Center for Energy Solutions
Heading into the second half of the year, more exploration and production (E&P) companies, as well as their service providers, are expected to file for bankruptcy, Deloitte said. The industry's revival will rely on several factors: stable commodity prices, open debt markets and global economic growth.
"I think the numbers tell a very straightforward story," said Andrew Slaughter, executive director at the Deloitte Center for Energy Solutions. "Even if you look across all of the sectors, there's still an awful lot of caution and uncertainty around the 'where, when, how fast and how far' the recovery will go. If you compare this downturn with historical downturns, it's lasted a lot longer. Nobody really anticipated it was going to last as long as this."
Slaughter told Rigzone that boardrooms are in a position that members don't see past the next quarter and many have yet to yield an increase in cash flow. Plus, most companies are still leveraged from the downturn.
"You've got buyers not sure how to value assets and how to pick out the best assets. Nobody is really sure about when to recognize a sustainable recovery. I think there are a lot of impediments to the uptick in the deal flow that most people anticipated," he said.
Still, Slaughter said the seeds of recovery do exist with some erosion in the inventories that have pushed down commodity prices.
"It's taking quite a while and we're not going to get a tsunami of consolidation or asset rationalization in the next several months," he said. "It's going to be slow. It's going to be cautious and I think there will need to be a lot clearer perception across the market about a higher price level is here to stay, the supply-demand balance is more in historical territory, and there is room to drill up more prospects than there is today."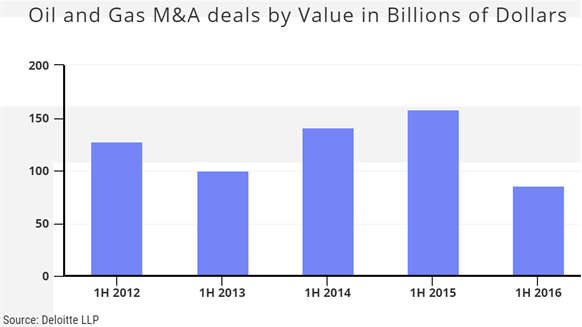 The key finding of Deloitte's research is that the industry's M&A will remain in a holding pattern until market uncertainty plays out.
"It will take a much stronger set of signals that the recovery is underway and is sustainable. I don't think a brief price spike is going to do it. We all want to see a sustainable price recovery, $10, $15 or $20 above where we are today to really kick things off again," he said.
Dozens of Upstream Bankruptcies
In the upstream sector, there was a slight increase in the number of deals from 2015, but the value of those deals was less than the previous year's first half. Of the 81 upstream bankruptcies since 2014 around the world, 77 have been producers, which may yield more deals through the rest of the year.
Of the 136 upstream deals covered, 72 of them accounted for 45 percent of the total deal value. The largest among them were the Suncor Energy purchase of Canadian Oil Sands Ltd. at $4.5 billion and Range Resources Corp.'s buy of Memorial Resource Development for $4.4 billion.
1
2
View Full Article
Generated by readers, the comments included herein do not reflect the views and opinions of Rigzone. All comments are subject to editorial review. Off-topic, inappropriate or insulting comments will be removed.