Blackstone, Apollo Size Up Distressed Oil Deals That Banks Shun
by Bloomberg
|
D. Carey, L. J. Keller & M. Vamburkar
|
Thursday, August 11, 2016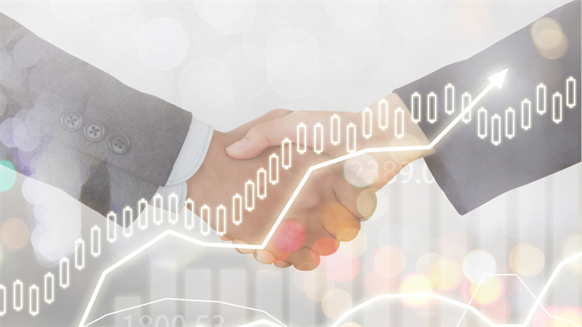 Precise numbers are hard to come by, but in conversations with investors, bankers and analysts across the industry, there's little doubt that private equity firms are ramping up their investments.
(Bloomberg) -- The long wait may finally be over.
Since the great crash of oil in mid-2014, more than $100 billion has been raised by buyout firms and distressed-debt funds eager to scoop up energy assets on the cheap. But as the months rolled by, few opportunities cropped up as cash-starved drillers limped along with the help of their bankers.
Not any more. What started out as a trickle has now turned into something much more, with Blackstone Group LP, Apollo Global Management LLC and WL Ross & Co. all jumping in this year to buy a grab bag of assets at discounted prices. Precise numbers are hard to come by, but in conversations with investors, bankers and analysts across the industry, there's little doubt that private equity firms are ramping up their investments in everything from undrilled and developed oil and gas acreage to troubled loans.
"We've gone very aggressively into the market" after holding back for most of last year, said Shaia Hosseinzadeh, who oversees energy-focused distressed-debt investing at WL Ross, the namesake firm of billionaire dealmaker Wilbur Ross. "You'll see more deals in the second half."
Deals are picking up for a few key reasons. Oil prices are no longer in a free fall, but at $40 a barrel, they're still well below the $60 to $80 levels many drillers need to break even. Wall Street has started to turn away the weakest borrowers after extending more than $2 trillion in loans and commitments during the boom. And with the cash crunch causing a surge in bankruptcies this year, many firms are looking to unload assets to stay afloat.
Much of the action is unfolding in distressed debt, where buyers have targeted loans and bonds with an eye on seizing ownership in bankruptcy or restructuring.
Billionaire Leon Black's Apollo, WL Ross and EIG Global Energy Partners have snapped up more than half of the $1.6 billion in unsecured debt of Permian Resources, an oil and gas producer started in 2014 by the late Aubrey McClendon, people familiar with the matter have said.
McClendon set up Permian Resources with backing from Houston-based private equity shop Energy & Minerals Group. The explorer has leaseholds to 85,000 net acres in the Permian Basin of west Texas, one of the most prolific oil and gas fields in the country. While the company has top-flight assets and bought itself time by selling some, its debt load is unsustainable and is on track to default within a year, said Carin Dehne-Kiley, an analyst at S&P Global Ratings.
Representatives for all the firms declined to comment.
Banks, for their part, are finally getting serious about cutting off the energy industry's weakest borrowers and selling loans -- after more than two years of foot-dragging. In the first half of 2016, the eight biggest U.S. banks reduced loans and loan commitments by 6.3 percent after stepping up the percentage they lopped off their books last quarter, according to data compiled by Bloomberg from the lenders' filings and other disclosures.
As of June 30, they had lent or committed to lend $2.19 trillion, including some derivatives positions, compared to $2.34 trillion at the end of 2015, filings show. Bank of America Corp. reduced its exposure last quarter by a record 7 percent to $40.5 billion. Morgan Stanley has slashed its lending to the energy industry by 22 percent -- the most among the group -- since it ballooned to a peak in the third quarter of 2015.
Much of what's left is souring. At Wells Fargo & Co., energy loans that are considered "non-accruals," or those that aren't expected to be fully repaid, have soared to $2.55 billion from just $35 million less than two years ago.
Representatives at the banks declined to comment.
Many troubled firms are tapped out anyway. At least a dozen oil and gas producers had used more than 90 percent of their credit lines at the end of the first quarter, according to Bloomberg Intelligence. Half of those are effectively overdrawn after their bank credit lines were cut.
1
2
View Full Article
Generated by readers, the comments included herein do not reflect the views and opinions of Rigzone. All comments are subject to editorial review. Off-topic, inappropriate or insulting comments will be removed.
RELATED COMPANIES
Company: The Blackstone Group L.P. (Blackstone)
more info