Proposed Project to Expand Gulf of Mexico Port Capacity
|
Thursday, August 11, 2016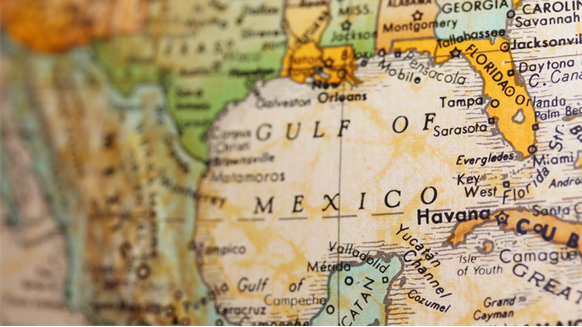 Backers of a planned port project are betting on the Gulf of Mexico's long-term potential as an oil and gas province.
Falgout, who previously served as the port director of Port Fourchon for 31 years, said Port Cameron's position in far western Louisiana is well-positioned to serve oil and gas operations in the Western Gulf, while Port Fourchon is situated to serve the central and eastern Gulf. Port Cameron's deeper water depth of 42 feet, versus Port Fourchon's 24-foot water depth, makes the Port Cameron site suitable for LNG vessel activity.
"There is a considerable amount of equipment out there that cannot operate at the depths of Port Fourchon and can at Port Cameron," Falgout explained.
Right now, all oil and gas companies in the Gulf of Mexico have their eggs in one basket, said Falgout.
"There's no redundancies and duplications of facilities to the extent necessary to accommodate the huge amount of business Port Fourchon does in case of a disaster or hurricane."
"There will be port redundancy in the Gulf of Mexico somewhere, perhaps Texas or Mississippi," said Falgout. "I would rather see that redundancy in Louisiana."
Panama Canal Expansion Opens Possibility of Additional Port Traffic
Declining oil prices and the resultant slowdown in E&P activity has undeniably impacted port activity throughput along the Gulf of Mexico, Prasad Kulkami, senior manager for business research and advisory services at global research firm Aranca, told Rigzone.
However, with the recent inauguration of the new Panama Canal locks, ports in the Gulf are expected to witness more calls from post-Panamax vessels and consequently a surge in cargo volumes. Panama Canal officials said they already had over 170 reservations for transits through the canal this year, mostly for New Panamax cargo carriers that were unable to fit through the old canal, Bloomberg reported Wednesday.
"Asian carriers will definitely find it more economical to operate through Gulf-based ports rather than go up the East Coast. The gains could potentially be in the range of 4.5-6 million TEUs [twenty-foot equivalent unit] of cargo until 2028 which is roughly a 15 percent growth for ports in the Gulf," Kulkami explained to Rigzone.
"However, the real impact will only be visible post 2017 once carriers adjust their schedules for the region. These developments definitely augur well for port operators in the region," Kulkami concluded.
1
2
View Full Article
Generated by readers, the comments included herein do not reflect the views and opinions of Rigzone. All comments are subject to editorial review. Off-topic, inappropriate or insulting comments will be removed.