Proposed Project to Expand Gulf of Mexico Port Capacity
|
Thursday, August 11, 2016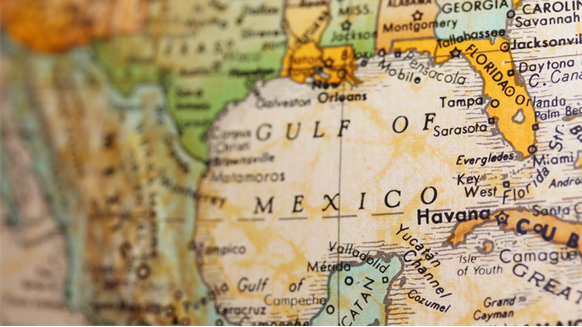 Backers of a planned port project are betting on the Gulf of Mexico's long-term potential as an oil and gas province.
A new deepwater port project planned for Louisiana aims to complement existing Gulf Coast infrastructure to service the oil and gas industry.
Located in western Louisiana on the Calcasieu Ship Channel just south of Lakes Charles, the Port Cameron project will allow for faster deployment of supply vessels, support and emergency services for exploration and production (E&P) activities in the U.S. Gulf of Mexico, Jack Belcher, executive vice president of HBW Resources LLC, told Rigzone.
HBW is working with Port Cameron LLC to identify and secure customers for the new port. These customers include inventory management, rig support, transportation management and bonded warehouse and crew support. HBW is also seeking out vendors that support oil and gas operators and drillers, such as providers of cranes, lift trucks and dock side equipment, vessel companies, dockside vessel support, stevedores and air transportation support for rig crews.
Port Cameron presents an opportunity for a brand new, modern port to be added to the Gulf Coast. Even with the oil price downturn, oil and gas activity in the Gulf of Mexico is expected to increase going forward, Belcher stated.
The Gulf of Mexico, the "gift that keeps on giving", has come back many times, Belcher commented.
"We know how the markets change, and we think this is an area there will be strong potential," Belcher added.
Belcher said HBW would focus on upstream offshore in its partnership with Port Cameron to identify and secure customers. HBW also is in talks with potential liquefied natural gas (LNG) and downstream customers for investment in Port Cameron. While the port's primary focus is on oil and gas customers, the port's potential customer base is not limited to the oil and gas industry, Belcher told Rigzone.
The privately-funded, $1.5 billion port complex, located on the Calcasieu Ship Channel, will encompass 500 acres, with an additional 750 acres available for expansion in the future, HBW Resources said in a July 25 press statement. The port will have over 21,000 linear feet of bulkhead lots on dredged slips of 500 and 700-foot widths, and dredged depths of 33 feet.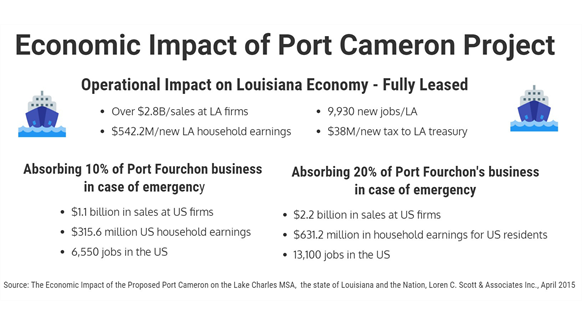 According to a 2015 report by Loren C. Scott & Associates Inc., Port Cameron would not only impact the local economy in Lake Charles and the overall Louisiana economy, but the U.S. economy in terms of its ability to absorb some activities from Port Fourchon if that port's operations were shut down due to a hurricane or even a terrorist activity. For example, absorbing 10 percent of Port Fourchon's business would save the national economy approximately $1.12 billion in sales at firms in the country, $315.6 million in household earnings for U.S. residents and 6,550 jobs in the United States, according to the report.
However, Port Fourchon Executive Director Chett Chiasson questions whether the Gulf of Mexico needs another port to service the oil and gas industry. Chiasson told Rigzone that Port Fourchon was able to handle all oil and gas-related activity prior to the oil price downturn, and can certainly handle everything now and in the future.
Chiasson said he believes that Port Fourchon's landside facilities are the most efficient and effective service for the oil and gas industry anywhere. He also noted that the longest Port Fourchon operations have been down is for four days, and that was following Hurricane Katrina in 2005. Port Fourchon has been building an elevated highway in an 8-mile section of road at a low elevation, but otherwise, the facility's infrastructure is resilient.
"They have tried to highlight what they see as Port Fourchon's vulnerability" is promoting Port Cameron, "but we all have the same vulnerability" in terms of threats from hurricanes, Chiasson noted.
Ted Falgout, port director of operations for Port Cameron, told Rigzone that Port Cameron will complement the capabilities of Port Fourchon. He noted that companies who have invested in Port Fourchon may invest in satellite facilities at Port Cameron, but will not abandon Port Fourchon to do so.
1
2
View Full Article
Generated by readers, the comments included herein do not reflect the views and opinions of Rigzone. All comments are subject to editorial review. Off-topic, inappropriate or insulting comments will be removed.