Malaysia's PETRONAS Voices Concerns Over Sarawak's Work Permit Moratorium
|
Tuesday, August 09, 2016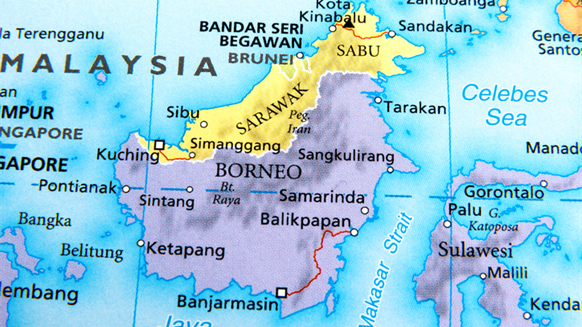 Malaysia's PETRONAS voices concerns over a decision to place moratorium on new permits for employees from outside Sarawak to work in the state.
Malaysia's national oil company (NOC) Petroliam Nasional Berhad (PETRONAS) voiced concerns Tuesday over a recent decision made by the state government in petroleum rich Sarawak to place a moratorium on all new applications for permits for non-state NOC employees to work within its borders.
"PETRONAS believes the decision, announced over the weekend, may have been made based on the misperception that PETRONAS' recent group-wide business restructuring had unfairly impacted its employees from Sarawak," the NOC said in a press release.
The issue surfaced last week after Suarah Petroleum Group (SPG) President Hamin Yusuf commented on the abolition of 29 permanent positions, resulting in the retrenchment of 13 experienced staff from Sarawak in PETRONAS' upstream restructuring exercise in the state, local media Borneo Post reported Aug. 4. Hamin added that the restructuring exercise would hamper the development of skilled workforce and the job market in Sarawak.
Sarawak Deputy Chief Minister Amar Douglas Uggah Embas told The Borneo Post Sunday that the freeze on all new applications for work permits was intended to ensure that the Malaysian NOC would be fair and transparent in engaging with Sarawak regarding its operations in the state following complaints from Sarawakian PETRONAS officers, whose services were terminated or who were retrenched.
PETRONAS has, in turn, stated in the press announcement that the company has had a number of engagement and briefings with the Sarawak State Government's officials at various levels following the restructuring exercise and "will continue with its engagement efforts, including with Deputy Chief Minister Douglas Uggah Embas to address the State's concerns with regards to PETRONAS' manpower requirement in Sarawak."
The NOC reiterated the importance of the East Malaysian state, saying "Sarawak remains a key investment State for PETRONAS, where its workforce requirement will continue to grow."
"PETRONAS expects the majority of the workforce required to meet the new manpower demand will constitute Sarawakians, as per existing recruitment practices. A number of positions is expected to be filled by experienced employees, which may include non-Sarawakians."
PETRONAS however emphasized that the key to a successful delivery and operations of its projects in Sarawak is "the support and commitment from all relevant parties, most important of whom are PETRONAS' teams of qualified, trained and dedicated employees – no matter where they are from."
"PETRONAS, like many other oil and gas companies worldwide, will continue to review its business strategies and manpower requirements for better efficiency and sustainability, to make it more resilient and focused to thrive in the current and future industry landscapes."
According to PETRONAS Sustainability Report 2015, Sarawak produces an average of 850,000 barrels of oil equivalent per day from 64 fields.
Generated by readers, the comments included herein do not reflect the views and opinions of Rigzone. All comments are subject to editorial review. Off-topic, inappropriate or insulting comments will be removed.