UK PM: Households to Receive Share in Fracking Wealth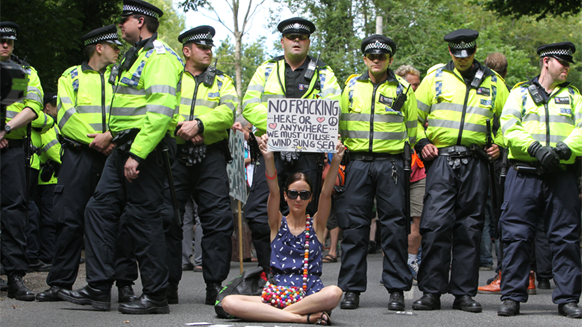 UK Prime Minister Theresa May seeks to overcome local opposition to fracking by insisting monies from the Shale Wealth Fund go directly to households in areas where the activity occurs.
New UK Prime Minister Theresa May has made a major change to how future wealth from the country's shale gas reserves will be shared out in a move designed to encourage public acceptance of hydraulic fracturing (fracking) for shale gas.
A statement issued by the Prime Minister's Office on Sunday said that the PM has rewritten the Shale Wealth Fund plan, first proposed by H.M. Treasury in George Osborne's "Emergency Budget" in July 2015. While the original plan would have seen proceeds from shale gas revenues paid to community trusts and local authorities where fracking activities occur, the PM has explicitly stated that options to share proceeds should include money that is "paid directly to local residents in host areas".
The new government said that there will be a greater focus on control for local communities and that it is insisting the new Shale Wealth Fund will include a mechanism for monies to be transferred directly to households rather than local authorities. Under the new proposals communities could receive up to 10 percent of tax revenues derived from shale exploration in their areas to spend on priorities such as local infrastructure and skills training. The new fund could deliver up to GBP 10 million ($13 million) per eligible community.
In a comment accompanying Sunday's statement, May said:
"The government I lead will be always be driven by the interests of the many – ordinary families for whom life is harder than many people in politics realise. As I said on my first night as Prime Minister: when we take the big calls, we'll think not of the powerful but of you.
"This announcement is an example of putting those principles into action. It's about making sure people personally benefit from economic decisions that are taken – not just councils – and putting them back in control over their lives.
"We'll be looking at applying this approach to other government programmes in the future too, as we press on with the work of building a country that works for everyone."
May's House of Commons voting record shows that she has long been a supporter of the development of a shale gas industry in the UK. In January last year she voted against the introduction of regulations that would have made onshore drillers seek an environmental permit explicitly for fracking activities, while also opposing a proposed 18-month moratorium within the UK on the exploitation of unconventional hydrocarbons.
As in many countries where drilling for shale gas has occurred, the UK has seen vocal opposition to the activity which has been led by environmental groups both at the national and local level. A significant protest against shale gas explorer Cuadrilla Resources' drilling of a conventional well at Balcombe, West Sussex, occurred in the summer of 2013, but more-effective opposition has come in the shape of local authorities making political decisions to block shale gas exploration in their areas. In the summer of 2015, Lancashire County Council refused to allow Cuadrilla to explore for some of the 2,281 trillion cubic feet of shale gas that the British Geological Survey has estimated could be contained within the Bowland Basin in northwest England. Applications to drill at the company's Preston New Road and Roseacre Wood exploration sites were rejected by the council's Development Control Committee because of too much noise and traffic. Cuadrilla pointed out at the time that the council's own planning officer had in fact recommended approval of the Preston New Road application.
Environmental groups reacted angrily against Sunday's announcement from Number 10, Downing Street. Greenpeace UK Chief Scientist Dr Doug Parr commented in a statement from the organization:
"The government has tried to sweeten the fracking pill with cash payments before, and it didn't work. Over the last two years, public opposition has soared and support for shale has tanked. People's concerns about climate change and their local environment cannot be silenced with a wad of cash. You can't put a price on the quality of the air you breathe, the water you drink, and the beauty of our countryside. If Theresa May wants to show the UK is open for business, she should reverse the policies that have harmed our vibrant clean energy sector and back the technologies that can supply cheap, homegrown energy for decades to come."
Greenpeace also pointed out that the government's own data shows support for fracking has dropped over the past two years, from 27 percent of the UK public supporting the activity in February 2014 to 21 percent today.
Generated by readers, the comments included herein do not reflect the views and opinions of Rigzone. All comments are subject to editorial review. Off-topic, inappropriate or insulting comments will be removed.