RMT, Unite Begin 48-Hour Strike on North Sea Shell Platforms
by Andreas Exarheas
|
Rigzone Staff
|
Thursday, August 04, 2016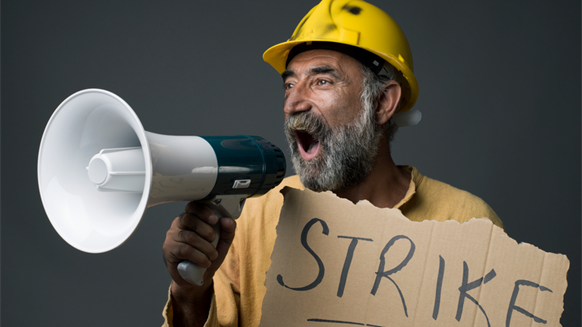 UK RMT and Unite union members have begun a 48-hour strike on Shell platforms in the North Sea as disputes between workers and Wood Group rumble on over pay and working conditions.
UK RMT and Unite union members began a 48-hour strike August 4 on Shell platforms in the North Sea as disputes between workers and oilfield services company Wood Group rumble on over pay and working conditions.
This is the second strike held by the union members working for Wood Group in just over a week, with the first strike taking place July 26 by over 400 members of RMT and Unite.

"The action on the Wood Group Shell assets is solid as a rock again this morning," said RMT General Secretary Mick Cash in an organization statement.

"After savage redundancies and attacks on workload and working conditions this group of offshore workers have been told that they are going to be railroaded into accepting pay cuts of up to 30 percent. They have chosen not to bend the knee, they have chosen to stand up and fight," he added.

Following the confirmation of the second strike by the North Sea oil and gas workers, Wood Group described what it viewed as a change of heart by union members.
"We are hugely disappointed that industrial action is progressing despite the significant movements made and what we believed was constructive, continued engagement with the unions over the weekend and on Monday," said Dave Stewart, CEO for Wood Group's eastern region business unit.
"We had agreed to suspend the implementation of the terms and conditions currently proposed to enable further detailed discussions with our employees and the unions. We believed the unions had also agreed to this during our meeting on Monday, which was attended by union representatives, shop stewards and Wood Group management. We were extremely disappointed by the last minute change to what we feel was a very constructive way forward and are actively seeking clarity on why this decision was taken," he continued.
Wood group emphasized that the safety and wellbeing of its employees remained a top priority and urged unions to reengage with the company in order to reach a resolution. RMT revealed on its website that both it and Unite remain available for "serious and meaningful talks".
Generated by readers, the comments included herein do not reflect the views and opinions of Rigzone. All comments are subject to editorial review. Off-topic, inappropriate or insulting comments will be removed.
RELATED COMPANIES