Plunging Oil Prices Create Bad-Loan Pain For Singapore Banks
by Bloomberg
|
C. Chanjaroen & M. Cheok
|
Sunday, July 31, 2016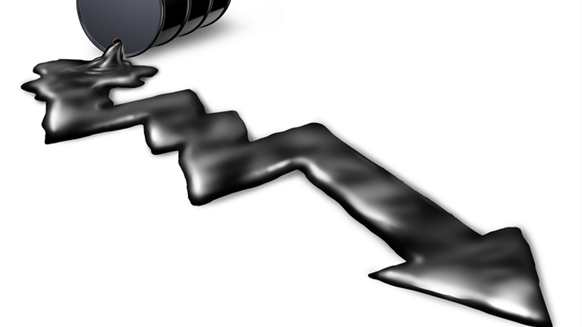 The plunge in oil prices is catching up with Singapore's three largest banks.
(Bloomberg) -- The plunge in oil prices is catching up with Singapore's three largest banks.
Last week, Swiber Holdings Ltd., a small Singapore company that provides construction services for international oil and gas projects, filed a petition to liquidate its operations, after facing payment demands from creditors at a time when its business was under pressure. DBS Group Holdings Ltd., one of Swiber's largest lenders, said it only expects to recover about half of the S$700 million ($522 million) it loaned to the firm and its units. Swiber subsequently said it's dropping the liquidation in favor of a restructure plan.
DBS and Singapore's two other large banks, Oversea-Chinese Banking Corp. and United Overseas Bank Ltd., are exposed to the downturn in the energy sector as a result of their lending to local companies which provide construction, shipping and maintenance services to the oil and gas industry. Many of those companies are suffering as the plunge in crude prices since 2014 curtailed exploration and other activity by oil and gas producers.
The financial health of the energy-services companies is the "key concern" for UOB over the next one or two years, Chief Executive Officer Wee Ee Cheong said at a media briefing Thursday on the bank's second-quarter results. The bank's exposure to Swiber is "manageable," Wee said, though he noted that the wider difficulties in the oil and gas services industry were a factor behind the 17 percent climb in UOB's nonperforming assets for the second quarter.
Debt Restructuring
Swiber said it will drop its liquidation application in a statement on Friday. Instead, the company plans to operate under a judicial management, which would allow it to continue operating under court supervision while it attempts to turn its business around. Some of its lenders had sought judicial management to recover more of their loans, according to people familiar with the talks who asked not to be identified because the discussions were private.
"I presume it helps them buy time but it's uncertain how viable these oil-services companies are if oil prices remain low for an extended period of time," said Alan Richardson, a Hong Kong-based fund manager at Samsung Asset Management, which owns DBS shares. "The indirect victims of these bankruptcies are the banks who are lending money to them."
Shares of DBS were little changed at S$15.40 as of 11:02 a.m. local time on Monday, paring this year's loss to 7.7 percent. OCBC gained 0.8 percent and UOB rose 0.6 percent.
Oil has slipped about 19 percent from its recent peak in early June, ending a recovery that saw prices almost double from a 12-year low in February. Prices are falling again as U.S. producers increased drilling amid a glut of crude and fuel supplies that are at the highest seasonal level in at least two decades.
Moody's Downgrade
The recent recovery in oil prices from their lows has provided only modest relief, OCBC Chief Executive Officer Samuel Tsien indicated Thursday in a media briefing on the bank's second-quarter results, which included a 61 percent jump in nonperforming assets.
"We cannot say it's going to be the bottom yet. We may have two more quarters to go," Tsien said in response to a question on the rise in delinquent energy sector loans.
Oil and gas-related loans made up 5.3 percent of gross lending by Singapore banks as of December, a higher proportion than at banks in Korea, Thailand and the European Union, according to Moody's Investors Service. The deteriorating quality of the Singapore banks' loans to energy firms, as well as weaker regional economies, prompted Moody's to downgrade its outlook for the three largest lenders on June 30.
UOB and OCBC's exposures to offshore marine services companies amounted to 13 percent to 18 percent of their common equity Tier 1 capital and loan-loss reserves at the end of June, Moody's said in a statement Monday.
DBS is due to report its second-quarter results on Aug. 8.
In a sign of how fast the bad-loan problems are worsening, OCBC said new nonperforming assets jumped 91 percent to S$924 million in the second quarter, mainly because of companies linked to the oil and gas support services sector. Newly soured assets at UOB more than doubled to S$802 million, from S$372 million a year ago.
1
2
View Full Article
Generated by readers, the comments included herein do not reflect the views and opinions of Rigzone. All comments are subject to editorial review. Off-topic, inappropriate or insulting comments will be removed.
RELATED COMPANIES