Shell Ideas360: Student Contest Teaches Valuable Career Lessons
by Rigzone Staff
|
Wednesday, July 27, 2016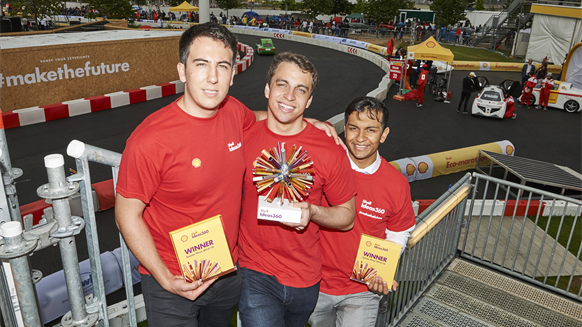 The recently-completed 2016 edition of Shell's Ideas360 competition featured five student teams around the world who will have learned valuable lessons for their future careers by taking part.
Three weeks ago, the Shell Ideas360 competition for 2016 reached its conclusion at the Queen Elizabeth Olympic Stadium in London. Shell's Chief Human Resources Officer, Ronan Cassidy, noted on the day that the competition provides university students, from across the world, "with a unique opportunity" to advance solutions to challenges in the areas of food, water and energy.
Almost 1,000 student teams from 140 countries worked on their ideas in order to be one of the five finalists taken by Shell to London in order to present their solutions in the hope that they would be selected as the overall winner.
In the event, the University of Illinois's The Lean Mean Graphene Machine won the overall competition with its idea for a coating process that cools water pipes in condensers, which will help to make power plants more efficient and minimize their environmental footprint.
One of its members, Somak Ghosh explained that the team came up with the idea because they felt there had been a distinct lack of innovation in power plants in recent decades. "We have developed a graphene coating process to be applied to condensers to improve the efficiency and lower the environmental footprint of existing and future power and desalinisation plants. Crucially our idea is also technologically and financially sound and it's awesome that our idea has been recognised through the Shell Ideas360 competition – it's a validation of all the hard work we've put into it," he said.
The University of Illinois' process relies on the fact that graphene is hydrophobic, which means that fewer, and smaller, water droplets form on the power plant's condenser. Having a smaller layer of water on the condenser improves heat transfer, so making the plant more efficient.
However, while the members of The Lean Mean Graphene Machine will now enjoy a well-earned National Geographic adventure of a lifetime, all five teams involved in the Shell Ideas360 finals will have learned valuable lessons that they can carry into their careers and lives. The year-long process – which involved mentoring from Shell – has helped them to polish their ideas, learn to network and honed their presentations skills.
And all five teams came up with some neat ideas that could change the world.
Singaporean team REPiphany, from Nanyang Technology University, won an award from the audience for its solution for turning seaweed into a powder rich in nutrients that can be added to people's meals.
Another Singapore-based team, actually a one-man band consisting of the very impressive Daniel Lee (a student at Singapore Management University), had come up with a concept involving plastic, floating "SeaShrooms" that can have solar cells mounted on them. The idea behind this is to use the oceans to harness the power of the suns. Lee explained that if just one percent of the world's oceans were covered with solar cells it would deliver 100 percent of the world's current energy needs. "My idea looks to how we can make solar power scale infinitely through independent floating solar cells. It's amazing having the idea recognised through Shell Ideas360. Ultimately I do not see this as the end of the project, but rather, just the beginning," he said.
The GrowSmart team from the Indian Institute of Technology came up with an idea to introduce a low-cost diagnostic tool – essentially a soil analysis lab in a handheld device – into farming practices in order to boost crop production by 150 percent.
Meanwhile, Cambridge University's Tri-gen team designed a new car rooftop to reduce car temperatures so that drivers in hot countries can start a journey without first having to turn on the vehicle's air condition.
Judging the finalists were: Alexander Moen, Vice President of Explorer Programs at National Geographic; Claire Ruskin, CEO of the Cambridge Network; Jaco Fok, Shell's Manager for Technology and Innovation Excellence; Laura Young, General Manager of Shell's Lubricants Supply Chain; Mallika Ishwaran, Acting Chief Economist at Shell Group Strategy; and Pradeep Pursnani, Deputy Director at the Shell Foundation.
Having begun in 2014, Shell Ideas360 is now in its third year and had 16,000 registrations from universities around the world in its latest season.
Generated by readers, the comments included herein do not reflect the views and opinions of Rigzone. All comments are subject to editorial review. Off-topic, inappropriate or insulting comments will be removed.
RELATED COMPANIES