BLOG: CEO Says Oil, Gas Companies Fare Better Under Democrats
by Karen Boman
|
Rigzone Staff
|
Wednesday, July 27, 2016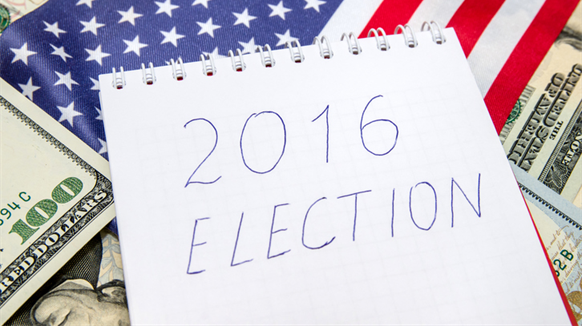 Oil and gas companies have backed Republican candidates, but fared better under Democratic presidents, Pioneer Natural Resources chief says.
Oil and gas industry groups have argued that the U.S. oil and gas industry has suffered under costly, unnecessary regulations passed by the Obama administration. But Scott Sheffield, chairman and CEO of Pioneer Natural Resources, said that the industry actually has fared better under Democratic presidents versus Republican presidents.
From January 2009 to the end of 2014, Pioneer was ranked fifth in the S&P 500 stock ranking and the top energy stock, Sheffield told attendees during a July 19 presentation at the Center for Strategic and International Studies. The rise of Pioneer's stock coincided with President Obama's entry into the White House.
Since 1945, the average annual stock market gain under a Democratic president has been 9.7 percent, while it's only been 6.7 percent under a Republican president, according to an October 2015 CNN report. But the market performance under Democrats versus Republicans is a factor of luck, not policies.
Karen Boman
Senior Editor, Rigzone
Since the 1990 election cycle, over two-thirds of the oil and gas sector's candidate and party committee contributions have been aimed at Republicans. Oil and gas industry political contributions peaked in 2012, growing from $34 million in 2010 to $79 million in 2012; 87 percent of those donations went to Republican candidates and party activities. While the energy sector did contribute $2.5 million to President Obama's 2012 reelection campaign, the industry donated over $10 million to presidential candidate Mitt Romney.
Despite its historical support for Republican candidates, it's not a given that the oil industry will support Republican nominee Donald J. Trump in the months leading to Election Day. The industry's goal will be to try and educate both candidates on the benefits of a strong energy industry from an economic and national security standpoint.
"Most of us would agree – nothing against either candidate – but we all wish there were better candidates on each side," said Sheffield. Then again, whoever is elected may end up doing a good job, said Sheffield, remembering how shocked everybody was when the presidency of the late Ronald Reagan proved to be a success. At the end of the day, most regulation of oil and gas activity takes places at the state and local level, and will continue regardless who is president.
Over his 42-year career, Sheffield said that overall, he believes industry has failed to collaborate and address the environmental issues associated with oil and gas activity, such as water usage and air emissions. Sheffield was surprised by people who want hydraulic fracturing banned, noting that Pioneer has fracked more than 12,000 wells with no incidents. He was proud that industry was able to get politicians from both political parties to agree to lift the oil export ban.
Regardless of who becomes president, the U.S. oil and gas industry will need to maintain a united front on educating Washington on how industry contributes to economic growth and national security.
Generated by readers, the comments included herein do not reflect the views and opinions of Rigzone. All comments are subject to editorial review. Off-topic, inappropriate or insulting comments will be removed.