Under May's New Government, a UK Gas Fracking Push Is Probable
by Bloomberg
|
Kelly Gilblom
|
Monday, July 25, 2016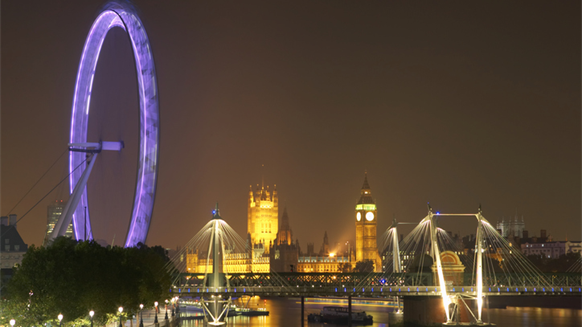 As Theresa May's new government prepares to take the UK out of the European Union, it's likely to promote one technology shunned by most nations on the mainland - fracking.
(Bloomberg) - As Theresa May's new government prepares to take the U.K. out of the European Union, it's likely to promote one technology shunned by most nations on the mainland - fracking.
May, her predecessor David Cameron, and newly appointed members of her cabinet including former Energy Secretary Amber Rudd have supported hydraulic fracturing of Britain's shale rock to reduce the nation's increasing dependence on natural gas imports. May voted in line with government policy against additional regulation on exploration companies and an 18-month moratorium on the practice in 2015.
Cameron's government planned to go "all out for shale" and the new cabinet probably won't change its view as officials are set to decide whether to approve applications to frack by companies from Cuadrilla Resources Ltd. to IGas Energy Plc. Fracking has been banned or suspended in EU nations including France, Germany and the Netherlands, as well as in Scotland and Wales.
"The government policy on fracking hasn't changed," May's spokesman Greg Swift told reporters in response to questions about U.K. shale gas development.
While May hasn't directly addressed U.K. shale gas in any major speeches, she heads a government stacked with fracking supporters. Rudd, who was appointed Home Secretary July 13 after serving as Energy Secretary for about a year, has pushed to spread the practice.
Greg Clark, now head of the newly formed department of Business, Energy and Industrial Strategy was in charge of fracking applications in his previous role as Secretary of State for Communities. He said he would take away the power of local county councils to make fracking decisions if they were unable to stick to agreed-upon timelines because shale gas development was a matter of national importance.
Hydraulic fracturing is the process of injecting water into rock to aid in oil and gas extraction. Britain may have 26 trillion cubic feet (737 billion cubic meters) of natural gas in its shale basins, enough to meet domestic demand for a decade, according to government data. Domestic supply has fallen 66 percent since 2000 while U.K. oil and gas operators paid 330 billion pounds ($433 billion) in tax between 1970 and 2014, according to an industry report.
Fracking may gain support depending on how energy trade agreements between the U.K. and EU members play out. Britons voted on June 23 to leave the 28-nation bloc.
Brexit "would make it more attractive, one assumes, to have home-grown resources since they're cutting themselves off from the rest of the planet," said Nick Grealy, a fracking advocate and publisher of No Hot Air, a website on shale gas. "On the other hand, the public acceptance is still going to be a problem."
Not everyone in May's circle has been supportive. George Hollingberry, her parliamentary aide, said in 2013 fracking could be " disastrous" in certain areas because it posed a danger to water supplies.
Third Energy will probably start fracking next year. An application by Cuadrilla to frack eight exploratory wells in northern England is currently under consideration, while applications by IGas Energy are under review.
Ineos Group Holdings SA also intends to expand the practice in the U.K., enticed by Cameron's pro-shale policy.
In a report prior to May accepting the prime minister role, the U.K.'s Department of Energy and Climate Change - now merged into Clark's department - said the government was committed to exploring the country's shale gas potential because it would help Britain transition to a low-carbon economy.
- With assistance from Robert Hutton. To contact the reporter on this story: Kelly Gilblom in London at kgilblom@bloomberg.net To contact the editors responsible for this story: Lars Paulsson at lpaulsson@bloomberg.net Rob Verdonck, Anna Shiryaevskaya
Generated by readers, the comments included herein do not reflect the views and opinions of Rigzone. All comments are subject to editorial review. Off-topic, inappropriate or insulting comments will be removed.