Rajeev Kumar Sinha Discusses India's Return to International Exploration
by Ranveer Karan
|
Rigzone Contributor
|
Friday, July 22, 2016
Directorate General of Hydrocarbons' CTO Rajeev Kumar Sinha discusses India's ongoing offer of 67 small oil and gas fields under new terms.
India returns to the international exploration and production (E&P) industry, offering discovered fields for exploitation under new terms and conditions. Rajeev Kumar Sinha, chief technology officer at the Directorate General of Hydrocarbons (DGH) gives Rigzone an insight into the latest developments.
Rajeev Kumar Sinha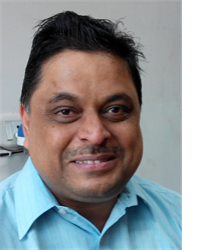 Chief Technology Officer, India's Directorate General of Hydrocarbons
Rigzone: What does India's return to E&P offer in new hydrocarbon exploitation?
Sinha: India remains among the few countries that offers discovered fields without signature bonus, and the ever-growing domestic energy demand makes it the most attractive spot to invest. It is a refreshing offer though the return to the global E&P sector comes after an absence of six years amidst a depressing oil price environment.
We launched the "Discovered Small Fields (DSF) Bid-Round" without a signature bonus May 25 in New Delhi, followed by June roadshows in Mumbai and Guwahati. The DGH also hosted international players at Houston, July 14-15, and Calgary, July 18-19. We have received positive response to the offers at these events. Bids from companies bidding for exploiting of the reserves will be opened December 31.
Rigzone: What makes the latest bid-round appealing?
Sinha: India is offering 46 contract areas with 67 oil and gas fields, estimated to hold over 625 million barrels of oil and oil equivalent gas in-place. These reserves are located across 579 square miles of onshore, shallow water and deepwater areas.
Hydrocarbon resources have been assessed since October 1, 2015, at seven work centers of Oil and Natural Gas Corp Ltd. (ONGC). These basins are Mumbai Offshore, Satpura-South Rewa, Kerala-Konkan, Krishna-Godavari, Mahanadi, Cambay, Rajasthan and Vindhyan.
Indian offshore is known for its proven hydrocarbon resources base. With proven track records and established resource potential, the risk and cost profile for development of shallow water is expected to be low. The field data room slots of DGH's Noida Center are fully booked till mid-August. The field data helps to assess the potential of fields being offered for hydrocarbon exploitation. A facilitation center is opened to answer the queries of potential investors.
Rigzone: What are the new policies?
Sinha: The DSF policy's prime objective is to bring on small field production at the earliest to boost domestic production. The policy provides for a single uniform license for producing all kinds of hydrocarbons, no cess on the oil production, moderate royalty structure, customs duty exemptions and complete marketing and pricing freedom for the sale of produced crude and natural gas.
These fields have been discovered by national oil companies, i.e. ONGC and Oil India Ltd. We expect to put them into production expeditiously. All these factors improve the commercial viability of the project. Further, the development cost of any field is project and company specific. With the government's path breaking new grounds, India will occupy a bright spot in global oil and gas (O&G) industry.
Rigzone: What is the impact of the $50 per barrel price on the industry and investment in the O&G sector?
Sinha: None of the Indian energy companies have faced financial issues despite the plunge in oil prices, which has hurt industry's earnings elsewhere. Investments in E&P projects are long-term decisions and are not based on short-term price outlook. The policy also took into consideration the long-term market outlook. Oil price has showed an upward trend in recent months. The India expects to monetize 6.75 trillion cubic feet of gas reserves for $22.36 billion (INR 1.5 trillion) at the present gas price.
1
2
View Full Article
Generated by readers, the comments included herein do not reflect the views and opinions of Rigzone. All comments are subject to editorial review. Off-topic, inappropriate or insulting comments will be removed.