Goldman Sachs: Oil, Gas Will Need Up to 100K Workers for US Shale Growth
by Valerie Jones
|
Rigzone Staff
|
Wednesday, July 20, 2016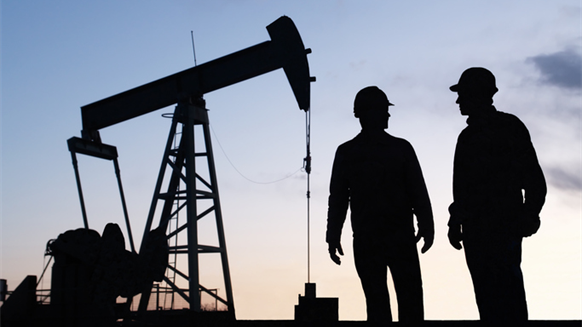 Goldman Sachs finds a ramp-up of US shale production in coming years will require the need for 80,000 to 100,000 workers.
Goldman Sachs expects a significant increase in U.S. shale production next year and estimates the industry will need to hire 80,000 to 100,000 workers to accommodate the uptick.
A recent report by the global investment firm states that the rig count is expected to more than double between now and the end of 2017. The report forecasts there will be 1,069 U.S. land rigs in 4Q 2018 and anticipates a need for 120 to 150 workers to be hired for each rig coming back online. With the anticipated production ramp-up and considering the industry has laid off hundreds of thousands of workers, Goldman Sachs believes it will be necessary to hire up to 100,000 workers by the end of 2018.
Goldman Sachs said the industry's desirable salary, the amount of work that will be available and a sufficient pool of unemployed workers justifies their predictions.
In addition, the report stated that many service companies were strategic in their personnel management during the downturn, shifting their senior and experienced employees to lower ranking positions and letting the lower ranking employees go. This will pave the way for an easier ramp-up of hiring because companies can re-promote existing workers into senior positions and hire in new employees for lower ranking positions.
Still the cyclical nature of the industry may be a deterrent for some workers who may not like the risk-reward the sector offers, the report states.
According to an Evercore ISI survey of 40 laid off oilfield workers, 78 percent have since successfully found employment, but only 19 percent are in the oil and gas industry. Others found work in sectors such as construction (11 percent) and engineering consulting (11 percent). Seventy-nine percent of respondents said they would not return to the oilfield for an equal or better role. Of the 22 percent of respondents who remain unemployed, only half said they would return to the oilfield. The other half said the cyclical nature of the industry and having to start their career from square one is cause for them to seek employment in other industries.
Generated by readers, the comments included herein do not reflect the views and opinions of Rigzone. All comments are subject to editorial review. Off-topic, inappropriate or insulting comments will be removed.
MORE FROM THIS AUTHOR
Valerie Jones
Senior Editor | Rigzone