Drones: From Delivering Tacos to Fighting Pipeline Corrosion
by Matthew V. Veazey
|
Rigzone Staff
|
Wednesday, July 20, 2016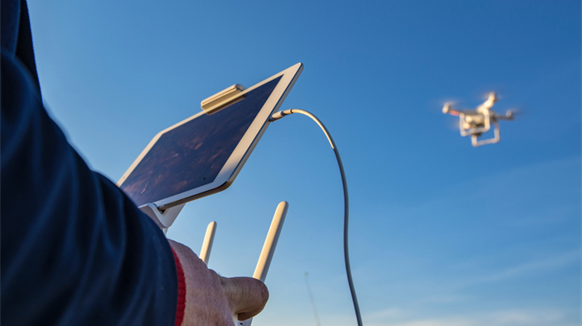 An expert from a Lloyd's Register unit discusses the changing capabilities of unmanned aerial systems.
Also, drones can be operated at a much lower per-hour cost than many manned inspection vehicles and offer the ability to collect data on a pre-programmed repeatable track, providing consistency in the inspection data and making the identification of maintenance trends much easier.
DownstreamToday: What are some of the limitations of using drones for inspections, and how are LR and others working to overcome them?
Wilber: As with any new technologies, UAS brings new benefits as well as risks. We believe the technology will advance in phases. We also believe UAS, when applied correctly, can help increase efficiency and reduce human exposure in hazardous environment.
Certainly hardware-related limitations, such as battery power, loss of GPS signals and the weight of the sensors or camera equipment carried in air are just a few of the current restrictions identified in the use of drones. Many of the hardware manufacturers are currently working on these issues. We can see the technology has many potential applications, and it has triggered ideas on new applications. One area we are focusing on is in the safety aspect of this new technology, and how we integrate it with existing safety processes, and ensure operators use it to enhance safety, and to limit the introduction of new risks. It only takes one or two accidents or near-miss reports to set a bad record for robotics and unmanned systems in the industry, so our guidance notes released earlier this year will help the industry take into consideration important considerations.
DownstreamToday: Inspections with drones can require a greater upfront investment but achieve a lower total cost compared to conventional inspections. Please elaborate.
Wilber: There are obvious costs associated with introducing new technology. These can include hard and software purchases, training and insurance or perhaps costs associated with outsourcing the inspections to a qualified service provider. Arguably though, if compared to a manned inspection of a facility, using subsea or aerial using rotary aircraft for inspection purposes can reduce the upfront costs considerably.
In some circumstances, high-risk environments can remain operational with the same risk factors during the inspection without the need to enforce additional safety measures or downtime. In the event the operation needs to be suspended, pre-work survey using UAS can reduce the downtime required. Robotics and unmanned technology has a crucial role to play in the current environment, where it can create operational efficiencies in a cost-effective way.
Technological innovation requires a new type of inventiveness and open mindedness: an eager and proactive search for novel solutions, approaches and ways of working. Robotics and unmanned technology is a smart transformational driver in offshore and maritime.
DownstreamToday: What do you consider the most exciting trends in regard to using drones for aerial inspections? In other words, what do you think will be different about drone-based inspections 5 to 10 years from now?
Wilber: UAS is developing on the backbone of many market challenges including low oil process and an ageing workforce. Developments such as this are enabled by technology advancements, digital data and learning from adjacent industries along with an impetus to change. We are seeing research themes being developed by companies in industry to consider the current way they inspect equipment or infrastructure and how this part of their business operations could be improved against cost-effective applications and risks, with particular focus on smarter collision and accident avoidance through the use of computer vision and advanced sensing technologies in open environment and confined spaces.
The ability to fly "Beyond Visual Line of Sight" (BVLOS), as is now allowed in France and several other countries will significantly increase the usability of drones for inspections. We will also see drones in the future carry more sophisticated sensors that will allow for more detailed NDI assessments of facilities. Battery technology will also improve to the point where drones can stay in the air for a lot longer. Through acquiring relevant and timely digital data, companies will use this information to improve their assessments of structural integrity, maintenance requirements, security, performance benchmarking – collectively helping the industry become smarter and more cost-efficient.
1
2
View Full Article
Generated by readers, the comments included herein do not reflect the views and opinions of Rigzone. All comments are subject to editorial review. Off-topic, inappropriate or insulting comments will be removed.