Oil Search Says Exxon Makes 'Superior' Bid for PNG's InterOil
by Bloomberg
|
Brett Foley & Dan Murtaugh
|
Sunday, July 17, 2016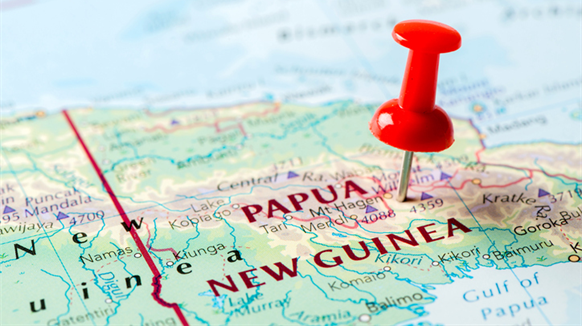 ExxonMobil offers superior bid for InterOil, according to Oil Search, which is also in the running for large natural gas reserves in Papua New Guinea and the possibility to export the fuel from the Pacific nation.
(Bloomberg) -- Exxon Mobil Corp. has offered superior bid for InterOil Corp., according to Oil Search Ltd., which is also in the running for large natural gas reserves in Papua New Guinea and the possibility to export the fuel from the Pacific nation.
Exxon is offering a fixed price of $45 per each InterOil share, Oil Search said in a release on Monday. As part of Oil Search's $2.2 billion bid in May, it offered 8.05 shares for each of InterOil's, valuing each InterOil share at $40.25.
Exxon is targeting gas fields that hold enough reserves to supply the U.K. for three years. The Irving, Texas-based giant already operates the existing $19 billion PNG LNG gas-liquefaction plant in Papua New Guinea, and the purchase would add a new source of the fuel for export. InterOil and its partners have planned the nation's second export project, Papua LNG. Oil Search is a shareholder in both ventures and has encouraged a tie-up to lower development costs.
Papua New Guinea has lower costs than rival LNG sources, making it a more attractive place to invest in an oversupplied market for the seaborne fuel. A deal for InterOil could speed up a boom in fuel sales from the nation, which began exporting LNG in 2014.
Contingent Resource
InterOil's gas fields are closer to the coastal site of its proposed LNG plant and the pipeline that would feed it cuts through a less densely populated region than Exxon's, which pipes its supply down from the country's highlands, according to a presentation published on InterOil's website.
After buying InterOil, Oil Search would sell 60 percent of the assets to Total. Oil Search's offer included a so-called contingent-value right that would give an additional $6.05 per share for every trillion cubic feet of likely reserves above 6.2 trillion found in the Elk-Antelope fields. Exxon is offering 90 cents per thousand cubic feet of gas equivalent above 6.2 trillion cubic feet, capping the extra payout at 10 trillion cubic feet.
Oil Search is already a partner in both Exxon's PNG LNG venture as well as Papua LNG. The Oil Search deal may save the country's two projects as much as $3 billion and speed up development if they cooperate, according to Managing Director Peter Botten.
InterOil's appraisal of the fields found 10.2 trillion cubic feet of likely reserves at the end of 2015. Oil Search released results Friday of a separate analysis of those fields that estimated likely reserves at 6.4 trillion cubic feet. Oil Search said it would do a different analysis if it were to purchase InterOil that would include gas condensate volumes and another appraisal well that could unlock an additional 1 trillion to 2 trillion cubic feet of gas.
InterOil scheduled a shareholder meeting to consider the Oil Search transaction for July 28.
Exxon has pursued InterOil's assets in the past. In May 2013, the Irving, Texas-based energy explorer entered into exclusive talks to acquire a stake in InterOil's Papua discoveries, estimated at the time to hold the equivalent of 9 trillion cubic feet of recoverable gas. The talks collapsed later that year for undisclosed reasons.
--With assistance from Joe Carroll. To contact the reporters on this story: Brett Foley in Melbourne at bfoley8@bloomberg.net; Dan Murtaugh in Singapore at dmurtaugh@bloomberg.net To contact the editors responsible for this story: Ramsey Al-Rikabi at ralrikabi@bloomberg.net
Generated by readers, the comments included herein do not reflect the views and opinions of Rigzone. All comments are subject to editorial review. Off-topic, inappropriate or insulting comments will be removed.