Japan Said to Review If LNG Contracts Barring Resale Violate Law
by Bloomberg
|
S. Stapczynski, T. Inajima & E. Urab
|
Thursday, July 14, 2016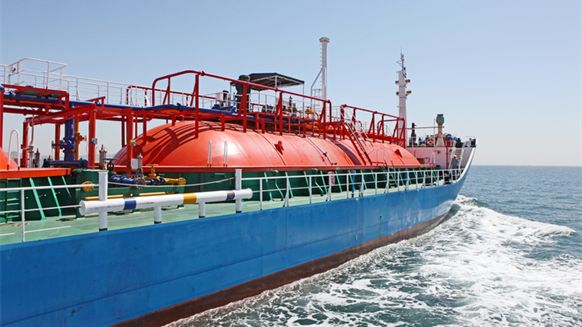 Japan is investigating whether contracts that restrict buyers from reselling the super-cooled fuel impede free competition, people with knowledge of the matter say.
(Bloomberg) - Japan, the world's biggest buyer of liquefied natural gas, is investigating whether contracts that restrict buyers from reselling the super-cooled fuel impede free competition, according to people with knowledge of the matter.
The investigation by Japan's Fair Trade Commission is in an early stage and the commission has held hearings with energy companies, said the people, who asked not to be identified because the information is private. Existing contracts may be open to renegotiation if so-called destination clauses are found to violate competition laws, similar to the process that began last decade in Europe, according to Hiroyasu Konno, a lawyer at Nishimura & Asahi.
The contracts are being reviewed as the bargaining power of buyers strengthens amid a global glut and a loosening of conditions may accelerate the shift by Japanese LNG buyers from traditional importers into international sellers. The investigation follows a European Commission decision in October 2004 that the clauses restricted competition.
"If this move does go ahead it clearly could have very significant implications as was the case" in Europe, Nicholas Browne, an analyst with Wood Mackenzie Ltd. in Singapore said in an e-mail. "If destination clauses are removed this would lead to a growth in trading and optimization of LNG cargoes. It would also likely lead to other companies and countries trying similar moves."
The commission's findings may be announced as early as this year, two of the people said.
About 80 percent of long-term LNG supply contracts between major Japanese and South Korean buyers and suppliers are estimated to include destination restriction clauses, law firm Nishimura & Asahi said in a Feb. 12 presentation for a study group commissioned by Japan's Ministry of Economy, Trade and Industry.
Japan's trade commission supervises business activities to prevent corporate behavior that violate the nation's competition laws and has the authority to take measures against anything it views as illegal. A commission spokesman, who asked not to be identified, citing internal policy, declined to comment.
Japan's METI has flagged destination clauses as a hindrance to the evolution of a freely-traded market.
Flexible, Liquid
"In order to develop a flexible and liquid LNG market, these restrictions need to be eliminated to the greatest extent possible to increase the number of market players as well as trade volumes and frequencies to a level exceeding a certain critical mass," the ministry said in a report published in May.
Annual global LNG demand is forecast to increase by 140 billion cubic meters from 2015 through 2021, which isn't enough to absorb almost 190 billion cubic meters of new capacity slated to become operational, the International Energy Agency said in its Medium-Term Gas Market Report in June.
Japan's electricity generated from coal is forecast to overtake that from LNG and output from renewable energy will rise by 65 percent by 2026, according to an industry report last month. Forty of Japan's 42 operable nuclear reactors remain offline amid safety concerns following the March 2011 Fukushima disaster despite government efforts to return the fleet to operation.
- With assistance from Dan Murtaugh. To contact the reporters on this story: Stephen Stapczynski in Tokyo at sstapczynsk1@bloomberg.net; Tsuyoshi Inajima in Tokyo at tinajima@bloomberg.net; Emi Urabe in Tokyo at eurabe@bloomberg.net To contact the editors responsible for this story: Ramsey Al-Rikabi at ralrikabi@bloomberg.net Aaron Clark
Generated by readers, the comments included herein do not reflect the views and opinions of Rigzone. All comments are subject to editorial review. Off-topic, inappropriate or insulting comments will be removed.