Nanotechnology Holds Potential for Oil Spill, Wellbore Stability
Despite the oil price downturn, academic researchers continue to seek new applications for nanotechnology in upstream oil and gas.
Last month, University of Houston researchers announced the finding of a new nanotechnology technique to determine the chemical composition of materials using near-infrared light. Wei-Chuan Shih, associate professor of electrical and computer engineering at UH, and fellow researchers developed a way to simultaneously obtain chemical and refractive index sensing in 1-2.5 micrometer (µm) wavelength range on nanoporous gold disks, which feature high-density plasmonic hot-spots of localized electric field enhancement. The tuning of the nanodiscs to react when exposed to specific wavelengths made possible to develop a sensing technique with both the advantages of infrared and near-infrared scanning. This allowed, for the first time, surface-enhanced near-infrared absorption spectroscopy to be demonstrated for high sensitivity chemical detection.
This technique not only could improve downhole drilling analysis in oil and gas, but potentially be a tool for cleaning up offshore oil spills, said Shih in a June 22 press statement and in an interview with Rigzone. Shih told Rigzone that the research was partially funded by a grant from the U.S. Department of the Interior to explore the technology's application for oil spills. It also could be used to broaden the spectrum of solar light that can be harvested and converted into electricity.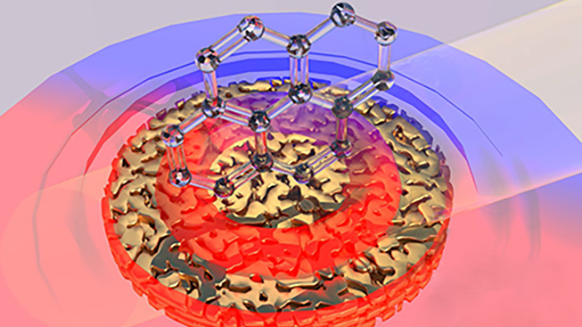 This is an example of a porous gold nanodisc used by a UH researcher to develop a new chemical sensing technique. Source: University of Houston
Currently available oil and gas spectroscopy technology doesn't have great sensitivity due to the fact that these fluids can't absorb a lot of light. But this sensitivity is needed to accurately identify hydrocarbons, Shih said.
"In well logging, [oil and gas companies] try and collect as much information as possible about fluids in a reservoir for economic reasons," Shih said. They seek not only to determine whether oil or water is flowing, but what kind of oil is it, said Shih, noting that oil is just a very big word, and doesn't take into account the variety found downhole.
In May, Rice University researchers reported that production wellbores can be dramatically reinforced with a small amount of modified graphene nanoribbons added to an oil-based thermoset polymer and microwaved. Wellbore instability often results in wellbore walls collapsing behind the drillhead, result in lost time and higher production costs. Borehole instability is common in shale wells, but can exist in classic wells, said James Tour, a Rice chemist who worked on the research project, told Rigzone.
By heating graphene nanoribbons to over 200 degrees Celsius with a 30-watt microwave, the nanoribbons absorb the microwave heat and then heat the polymers. The polymers – which infiltrate the sandstone – then crosslink to form a solid network, strengthening the wellbore walls, Tour said. He compared the process to microwaving popcorn. The kernels don't pop in a bowl, but if they're in a bag with absorbing filaments, the bag heat the kernels.
Previously, drillers have tried to plug fractures with mica, calcium carbonate, gilsonite and asphalt to strengthen boreholes. However, these efforts fell short because the particles were too large, and the method is not efficient enough to stabilize the wellbore, according to a May 12 press statement. Researchers said that the modified graphene nanoribbons offer a more practical, cost-effective way to boost well stability over the long-term. Mechanical tests on composite-reinforced sandstone showed the process increased its average strength from 5.8 to 13.3 megapascals, a 130 percent boost in this measurement of internal pressure, said Rouzbeh Sahsavari, civil and environmental engineer at Rice, in the May 12 press release.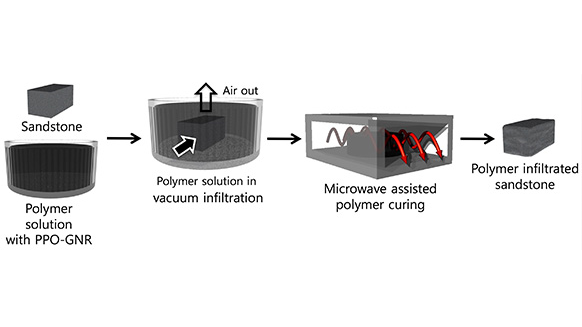 Rice researchers placed polymer-nanoribbon mix on sandstone block, then rapidly heated graphene nanoribbons to over 200 degrees Celsius with a microwave, causing polymers in the sandstone to crosslink. Source: Rice University
Generated by readers, the comments included herein do not reflect the views and opinions of Rigzone. All comments are subject to editorial review. Off-topic, inappropriate or insulting comments will be removed.