Value of Energy M&A Deals Increases in 2Q
by Valerie Jones
|
Rigzone Staff
|
Tuesday, July 12, 2016
While valuations for global mergers and acquisitions (M&A) deals in Energy, Mining and Utilities (EMU) increased in 2Q 2016 from 1Q, overall value of M&A activity in 1H 2016 paled in comparison to 1H 2015, findings from Mergermarket's EMU Trend Report for 1H 2016 reveal.
The report, in which oil and gas data is included in the energy portion of EMU, shows that divestments within the energy subsector were a major trend in 1H 2016, with companies selling non-core assets to improve their balance sheets.
"In the second quarter, we started seeing both buyers and sellers get more comfortable with where oil prices are," Chad Watt, natural resources editor, North America, Mergermarket & Dealreporter, told Rigzone. "Last year, we saw a lot of seconds, extras and garage sale type [assets] become available. What's changed this year is we're seeing real prospects become available. That's got buyers paying a little bit more, so we see valuations improving."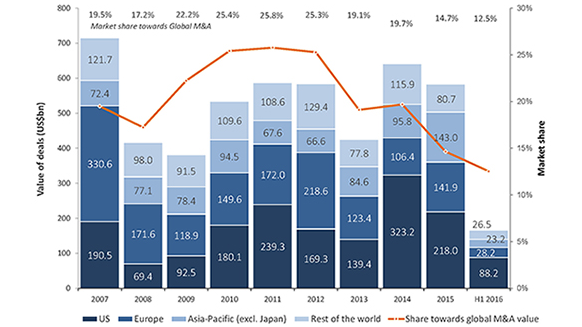 According to the report, energy M&A activity accounted for almost three-quarters of global EMU M&A, led in part by the $12 billion acquisition of Columbia Pipeline Group by TransCanada.
Watt said the industry is likely to see a busier second half because of the impression that oil prices have begun to stabilize. While he expects to see some interesting larger deals, Watt said it's difficult to predict if the supermajors will get involved.
"The supermajors and very large independents are very much targeted on what they would consider adding to their portfolio or their potential reserves because they have a fairly good backlog in North America," Watt said.
Watt finds the extra weight on exploration assets globally to be intriguing. With a forward-looking approach, the question becomes whether a company would rather buy a barrel that they're going to produce in 2016 or 2017 or buy a potential barrel they're going to produce in 2020 or beyond.
"The idea is that they'll be more valuable to produce at that point in time," he said. "As long as you're replacing your reserves, it's better to push that down the line a little bit."
Something else to note, Watt said, is that everyone has been waiting on the bid-ask spread – the amount by which the ask price exceeds the bid – to narrow.
"I get the sense that in the second half of the year, we might see that actually occur," he said.
Generated by readers, the comments included herein do not reflect the views and opinions of Rigzone. All comments are subject to editorial review. Off-topic, inappropriate or insulting comments will be removed.