Japan Progresses Methane Hydrate Project, Ignores Industry Downturn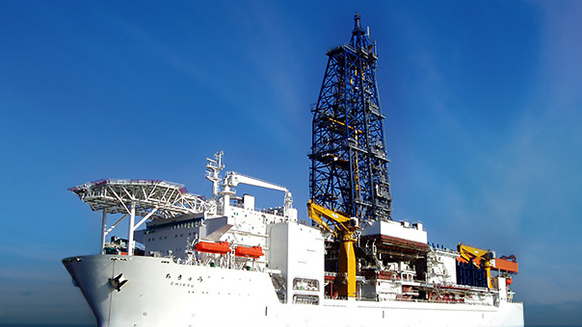 Energy security concerns nudge Japan to press on with its methane hydrate program even as low oil prices lower the urgency to search for alternative fuels.
For a country that imports nearly all of its fossil fuels and whose domestic nuclear energy supply has fallen sharply since the Fukushima plant accident in March 2011, low oil prices have not weakened Japan's resolve to tap alternative fuels such as methane hydrate, found under the sea floor off the country's southeast coast.
The Ministry of Economy, Trade and Industry (METI) has said methane hydrate offers great potential as energy sources of the future.
Japan has apparent strong interest in unlocking about 40 trillion cubic feet of methane hydrates – natural gas deposits trapped within crystallized ice structures – since state-owned Japan Oil, Gas and Metals National Corp. (JOGMEC), acting on METI's behalf, led the country's first successful testing of the resource in the Nankai Trough in March 2013. That drilling operations ended prematurely due to an equipment problem caused by sand from the soil layer.
METI officials have said plans are underway for a second round of production testing for methane hydrates off the coast of Aichi and Mie prefectures in the first quarter of 2017, according to press reports. The exploration site is believed to hold sufficient reserves to provide Japan with a decade's supply of natural gas.
Work Continues as Planned
Ahead of a planned month-long offshore production test next year, JOGMEC and operator Japan Methane Hydrate Operating Co. Ltd. (JMH) reportedly deployed the Chikyu deepwater drilling vessel 50 miles off the Atsumi peninsula, the site of the previous test, to complete preparatory work.
"The job we did in May and June is the preparation work for the flow test. We have drilled one wells for geological survey, two monitoring wells and part of two production wells," Dr. Yoshihiro Nakatsuka, deputy director, Project Coordination Team and leader of the Environmental Assessment Sub Team of JOGMEC's Methane Hydrate Research & Development Group, told Rigzone.
The preparation work was carried out to study technical issues such as sand control, gas water separation and monitoring that had emerged during the first production test. Such issues have to be addressed if commercialization of methane hydrate production is to be realized.
"The objective of this second test is to verify the effectiveness of countermeasures from the first production test," Nakatsuka said.
In the 2013 production test, JOGMEC produced around 4.2 million cubic feet (120,000 cubic meters) of natural gas from methane hydrates found in the Nankai Trough. When an assessment of the recent preparatory work becomes available, the company would have to decide whether to press on with preparations for the commercial production of methane hydrates.
The preparatory work is likely to provide JOGMEC with sufficient information to resolve issues pertaining to the production system, sand control and monitoring, he said at the recent Offshore Technology Conference (OTC) Asia in Kuala Lumpur, Malaysia.
"[One of the] difficulties we faced is effective sand control and [we need to] design a system to get much more efficient gas-water separation during the production," Nakatsuka said, adding that the team is weighing how to find solutions for the commercial systems from the conventional oil and gas sector.
While METI hopes to commence the offshore production testing in the March 2017 quarter, the schedule for first commercial production could change as the project remains in the research phase.
"It is still a plan and has possibility of change but it is true at this moment. For commercial [production] we still do not know when it will start since we are still in research phase … it is one of the research items which needs to be considered in future," the JOGMEC official explained.
Singapore's subsurface, subsea and surface facilities engineering and contracting solutions provider for the offshore industry, NauticAWT Ltd., recently secured a contract from JMH for engineering and project management consultation services for the topside production test system relating to the second offshore methane hydrate production test.
1
2
3
View Full Article
Generated by readers, the comments included herein do not reflect the views and opinions of Rigzone. All comments are subject to editorial review. Off-topic, inappropriate or insulting comments will be removed.