Big Oil's $45B Of New Projects Signal Spending Revival
by Bloomberg
|
Rakteem Katakey
|
Thursday, July 07, 2016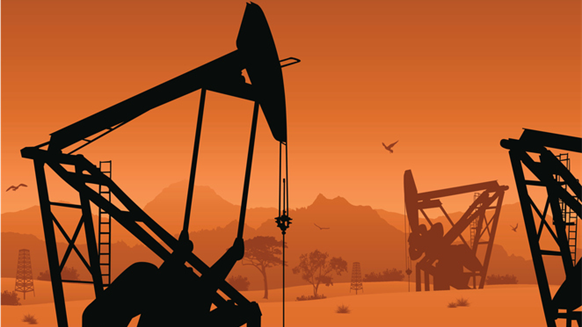 Two projects worth $45 billion announced this month show the world's largest oil companies are regaining the confidence to make big investments, emboldened by rising crude prices and low costs that promise to trigger more expansion ahead.
(Bloomberg) - Two projects worth $45 billion announced this month show the world's largest oil companies are regaining the confidence to make big investments, emboldened by rising crude prices and low costs that promise to trigger more expansion ahead.
Chevron Corp. gave the go-ahead to a $37 billion expansion in Kazakhstan, the industry's biggest undertaking since crude started tumbling two years ago. BP Plc signed off on the $8 billion expansion of a liquefied natural gas plant in Indonesia. Two more big projects are likely to get a green light this year, according to industry consulting firm Wood Mackenzie Ltd. and Jefferies International Ltd. -- BP's Mad Dog Phase 2 in the Gulf of Mexico and Eni SpA's Coral LNG development off Mozambique.
Crude's recovery from a 12-year low and a decline in project expenses have emboldened executives to start spending again after cutting more than $1 trillion in planned investments amid sinking earnings. While protecting balance sheets is important, explorers need to at least begin a new phase of investment in exploration and production to ensure future growth.
"We have seen a recent pick-up, demonstrating that projects deemed strategically important are still going ahead," said Angus Rodger, a Singapore-based principal analyst for upstream research at Wood Mackenzie. He expects about 10 decisions on midsize to large projects this year from fewer than 10 last year, though still well below the annual average of 40 before oil crashed.
While the price slump hit profit hard, it has also driven down costs of services and equipment, including rigs. Drillers have renegotiated contracts to get better deals from suppliers as reduced demand creates a buyers' market.
BP has knocked more than half the cost off its Mad Dog Phase 2 project. Estimated at $20 billion four years ago, it's now expected to cost less than $9 billion, Chief Executive Officer Bob Dudley said last month. Rig-rental rates are likely to stay down because of an oversupply, while low steel prices are reducing the cost of other equipment, he said.
Chevron and its partners including Exxon Mobil Corp. approved the Tengiz expansion after postponing the decision last year as oil prices were falling. Like BP, Chevron estimates it has been able to bring costs down far enough to make the investment viable. Output is expected to start in 2022.
Tengiz Decision
Tengiz "has undergone extensive engineering and construction planning reviews and is well-timed to take advantage of lower costs of oil industry goods and services," Jay Johnson, executive vice president for upstream at Chevron, said in a statement.
Chevron's and BP's investment decisions "are a signal that they're more confident of their ability to pay their dividend," said Jason Gammel, a London-based analyst with Jefferies. "It's showing more confidence" in cash flows.
As earnings fell, companies faced a choice between protecting dividends and cutting investment. The biggest opted to protect payouts, canceling projects and firing thousands of people. While some analysts criticized that strategy, bosses including Ben Van Beurden of Royal Dutch Shell Plc said they were doing what shareholders wanted.
Though oil prices have gained this year, they're less than half what they were two years ago. Companies are still planning to keep overall expenditures low to preserve their balance sheets and earnings remain under pressure.
"Big Oil is still going to be conservative in their spending," said Brian Youngberg, an analyst at Edward Jones & Co. in St. Louis, Missouri. "Those days of several of these big projects going on at the same time are in the past."
Crude Turnaround
Some, including Ian Taylor, CEO of Vitol Group, the world's largest independent oil-trading house, believe crude's recent rise is unlikely to last as demand growth slows. Brent also climbed in the first half of 2015 before sliding more than 40 percent by year-end.
Chevron's and BP's plans are for expansions of existing projects rather than something built from scratch. They are easier to push through because they maximize existing infrastructure, said Brendan Warn, a managing director at BMO Capital Markets in London.
By contrast, Eni's plans to exploit its giant Coral gas discovery off Mozambique include the first newly built floating LNG plant in Africa. Eni CEO Claudio Descalzi said in April he is " practically sure" the company will make a final investment decision this year.
"Unless oil prices do something very drastic and go lower, these companies now have many projects in their portfolios to pick from," said Iain Armstrong, a London-based analyst at Brewin Dolphin Ltd. "Times have improved."
To contact the reporter on this story: Rakteem Katakey in London at rkatakey@bloomberg.net To contact the editors responsible for this story: James Herron at jherron9@bloomberg.net Alex Devine, Dan Stets
Generated by readers, the comments included herein do not reflect the views and opinions of Rigzone. All comments are subject to editorial review. Off-topic, inappropriate or insulting comments will be removed.