Record Heat Wiping Out US Gas Glut Fuels Best Rally Since '08
by Bloomberg
|
Christine Buurma
|
Wednesday, July 06, 2016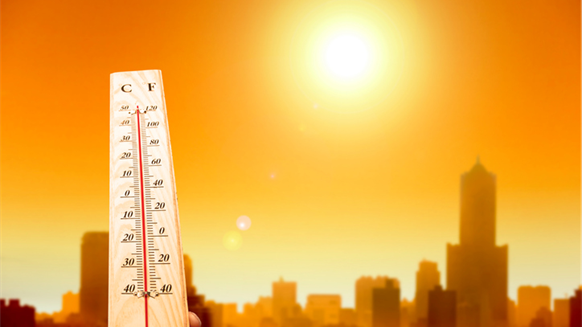 A blistering start to summer is helping put U.S. natural gas futures on course for the biggest gain in eight years.
(Bloomberg) - A blistering start to summer is helping put U.S. natural gas futures on course for the biggest gain in eight years.
Gas has surged 17 percent this year, rebounding from a 17-year low. Drillers, burned by earlier declines, are refilling storage at half last year's pace as extreme heat boosts the use of air conditioners, increasing gas demand from power plants. By November, supplies will probably drop below the five-year average, the benchmark for normal levels, for the first time in 13 months, based on storage rates.
Just four months ago, gas plunged after the warmest winter on record left the market with a glut large enough to last through the year. Instead, hot weather and a slowdown in shale production are eating into the surplus, signaling an era of higher prices as gas exports rise and electricity generation cuts into excess supply.
"We're moving toward a potentially serious deficit in the supply-demand balance for this coming winter," Andrew Weissman, chief executive officer of EBW Analytics Group, a Washington-based energy analysis company, said by phone.
Gas inventories were 25 percent above the five-year average in late June, down from 54 percent in April. An extended slide in production would erase the surplus by the end of the year, leaving stockpiles at a deficit to normal levels for the first time since May 2015 and pushing prices to $3 this month, according to EBW Analytics and Again Capital LLC.
"Forget about record gas inventories," said Phil Flynn, a senior market analyst at Price Futures Group in Chicago. "If the weather continues to be hot, we'll start the winter with below-average supply. Gas has become the primary fuel for power generation."
Turning Bullish
In April, hedge funds turned net bullish on natural gas for the first time since December, according to data from the Commodity Futures Trading Commission. The funds are the most bullish on natural gas since October 2014, CFTC data show.
Gas futures climbed to a 13-month high of $2.987 per million British thermal units on July 1, more than a dollar above the March low. Gas has averaged $4.64 over the past decade. The 17 percent gain this year is the most since the 81 percent advance at this point in 2008. Futures for August delivery slipped 2.6 cents to $2.738 at 10:22 a.m. in New York.
Across the contiguous U.S., the period January to May was the fourth warmest on record, said the National Centers for Environmental Information in Asheville, North Carolina. Winter, measured from Dec. 1 to Feb. 29, was the warmest on record, according to the agency.
An extended rally isn't certain. A cooler-than-expected summer would curtail air-conditioning demand. Prices fell the most in eight months on Tuesday as forecasts showed milder weather from July 15 to July 19 for the lower 48 states than meteorologists had predicted.
Fewer Rigs
A slowdown in gas production is magnifying the effect of hot weather on the glut. The number of rigs drilling for gas in the U.S. slid to the lowest since at least 1987 in the week ended June 3, according to Baker Hughes Inc.
Output has dropped 3.5 percent after reaching an all-time high in February, data from PointLogic Energy show. The government forecasts that supplies from the Marcellus gas play, America's largest, will fall for a fourth straight month in July.
"Production, more than anything else, will be the main factor in limiting storage injections," said EBW's Weissman, who sees gas prices heading to $3.19 by late summer. "It's pretty obvious that we're going to see really large cuts in the inventory surplus."
Widespread heat may persist through the summer. The National Weather Service's Climate Prediction Center odds favor a warmer than normal summer across almost the entire U.S. except a small part of Texas in July, August and September.
1
2
View Full Article
Generated by readers, the comments included herein do not reflect the views and opinions of Rigzone. All comments are subject to editorial review. Off-topic, inappropriate or insulting comments will be removed.