TEN To Start Production in Next 3-6 Weeks, Tullow 'Out of the Woods'
by Andreas Exarheas
|
Rigzone Staff
|
Thursday, June 30, 2016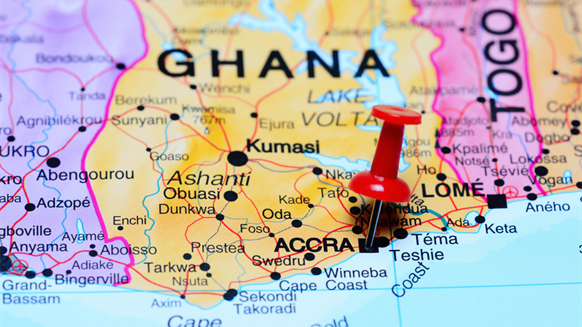 The Tullow Oil plc operated Tweneboa Enyenra Ntomme (TEN) field, located offshore Ghana, is expected to start production in the next few weeks.
The Tullow Oil plc operated Tweneboa Enyenra Ntomme (TEN) field, located offshore Ghana, is expected to start production in the next few weeks, the company said in its latest trading statement.
Hook-up and commissioning of the project's FPSO, connecting the pre-drilled wells to the vessel via subsea infrastructure, is almost complete. During July, the integrated start-up sequence is expected to be initiated with water injection to the Enyenra reservoir being followed by oil production. This sequence will then be repeated for the Ntomme reservoir.
A gradual ramp-up in oil production towards the FPSO capacity of 80,000 barrels of oil per day is anticipated around the end of 2016 as the facilities complete performance testing and wells are brought up to optimum rates. Tullow estimates that TEN average annualized production in 2016 will be around 23,000 bopd gross (net: 11,000 bopd). Drilling is not expected to recommence on the TEN field until after the resolution of the Côte d'Ivoire and Ghana border dispute through the ITLOS tribunal, whose decision is expected in late 2017.
The associated gas produced at TEN will be re-injected into the Ntomme reservoir gas cap until gas export begins. Gas export was planned to start 12 months after field start-up, with the Tweneboa gas reservoir coming on stream a further 12 months later. Options to accelerate gas export are currently being evaluated as the fabrication of the gas export facilities is ahead of schedule and is expected to be complete in late 2016, which is six months earlier than anticipated.
Tullow's West Africa working interest oil production averaged 51,900 bopd in the first half of 2016. This was below previous guidance due to lower production from the Jubilee field in Ghana, following issues with the FPSO turret identified in February. This resulted in an extended shut down period in April while new offtake procedures were implemented to enable the Jubilee field to restart in early May. Production has gradually been ramped up since then, with gross production in June averaging around 90,000 bopd.
The group expects to continue producing from Jubilee at similar levels throughout the remainder of 2016, with the exception of short periods of reduced production to commence work on a long-term turret solution. As a result, Jubilee gross average production in the second half of 2016 is expected to be around 85,000 bopd (net: 30,200 bopd) and average gross production for the field over all of 2016 is expected to be around 74,000 bopd (net: 26,300 bopd.
Following the latest developments at Jubilee, Tullow's overall West Africa oil production guidance range has been revised to 62-68,000 bopd net. Tullow has since declared that it has a "comprehensive package of insurances in place" which includes Business Interruption insurance covering consequent loss of production and revenue from Jubilee.
In East Africa, Tullow revealed that it plans to recommence drilling activities in Kenya in the fourth quarter with an initial program of four wells in the South Lokichar basin. This project has the potential to be extended by a further four wells, depending on results.
In the first half of the year, Tullow concluded its first phase of exploration and appraisal in the South Lokichar Basin. The program has led to an upgrade of the South Lokichar resource estimate up to 750 million barrels of oil. Significant upside remains across the South Lokichar Basin with the potential to increase the resource estimate to around 1 billion barrels of oil, according to Tullow.
The group's 2016 capital expenditure guidance remains at $1 billion with further savings being offset by additional capex associated with the Jubilee turret issue, ahead of potential insurance payments, and the start of a new drilling campaign in Kenya. At the end of June 2016, net debt is estimated at $4.7 billion and unutilized debt capacity and free cash at approximately $1 billion.
Market reaction to Tullow's trading update was "positive," according to FirstEnergy, which stated that the company's net debt has now "probably peaked" and "excludes the positive impact of future reimbursement by the insurance of lost production at Jubilee in 1H16". As a result, FirstEnergy estimates that the underlying 1H16 net debt is lower than the reported figure.
"We believe that the company is now out of the woods," said oil and gas analysts at FirstEnergy in a brief research note sent to Rigzone.
Generated by readers, the comments included herein do not reflect the views and opinions of Rigzone. All comments are subject to editorial review. Off-topic, inappropriate or insulting comments will be removed.
RELATED COMPANIES