Meet the Students Changing the World with Shell Ideas360
Rigzone Staff
|
Tuesday, June 28, 2016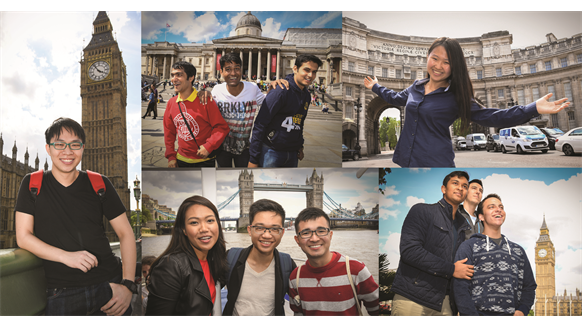 Five student teams from around the world meet this week in London in the latest stage of their quest to win the Shell Ideas360 innovation competition.
This week will see five teams of students take part in the final round of Royal Dutch Shell's annual Ideas360 competition. The team that earns the title 'Shell Ideas360 Champions 2016,' along with a National Geographic Adventure of a lifetime, will be the one that best impresses the judges with their innovative idea to tackle the planet's most-pressing energy, food and water challenges. The final, taking place in London, is the culmination of a year of hard work and collaboration. Almost 1,000 teams from around the world submitted their innovative ideas in the hope that they would win the coveted trophy.
At the end of 2015, some 70 teams were given the news that they'd made it to phase two of the competition. They then had the opportunity to work with mentors, develop their ideas and add a business case. Finally, a panel of food, energy and water experts chose five teams to compete in the Grand Finale at Shell's Make the Future London festival, which takes place at the Queen Elizabeth Olympic Park between June 30 and July 3.
"Inspiring young people to collaborate and use their talents to come up with innovative solutions to some of the world's biggest challenges, such as the scarcity of resources and the interrelation among water, food and energy, is one of the aims of Shell Ideas360," Shell Global Marketing Channels Manager, Lara Matthai, told Rigzone.
"This is much more than just a competition. It's about fostering a spirit of ideas and innovation," Matthai said, explaining that Shell provides mentors to help teams through the second stage of the competition. "The students are able to acquire skills above and beyond what they learn at university, such as leadership, presentation and networking skills, and there's an opportunity to really make a difference. Of course, there's a very exciting prize [the National Geographic Adventure], but if your idea is really good then you could end up changing the world."
Matthai also pointed out that, unlike other student competitions organized by businesses, Shell Ideas360 is not targeted at a particular group of students who study a narrow set of disciplines. The competition attracts a lot of STEM (science, technology, engineering and mathematics) students, but any team of students – whether they study humanities, the arts, law, languages or any other subject – is welcome; it's the idea that counts. The only criteria is that the team is composed of full-time students who study at a recognized university.When it comes to getting a job with Shell, a popular energy employer with graduates, or any other organization, Matthai emphasized that taking part in the competition is a great way to show off what your business and creative skills can achieve.
"It does not give you a direct advantage when applying for a job with Shell but the process will give you insights into how Shell works and will help you to learn about international working, co-operation, innovation and business development," she said.
The five teams in the Grand Final will arrive in London this weekend before receiving three days of intensive coaching before they pitch their ideas to a panel of judges. The winner will be announced at a ceremony on Friday, July 1.
Meet the finalists:
The Lean Mean Graphene Machine
University of Illinois
From the U.S., The Lean Mean Graphene Machine has developed a novel coating process for cooling water pipes in condensers, to help increase efficiency, reduce costs, and minimise the environmental footprint of power plants.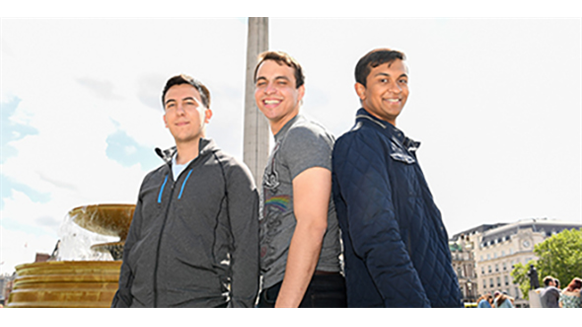 The Lean Mean Graphene Machine from the University of Illinois
GrowSmart
Indian Institute of Technology
Representing India, Team GrowSmart has come up with an idea to introduce a low-cost diagnostic tool into farming practices to deliver a 150-percent increase in crop production. The insight from their tool would empower farmers – enabling them to choose the best crops for their soil and monitor plant health and soil humidity.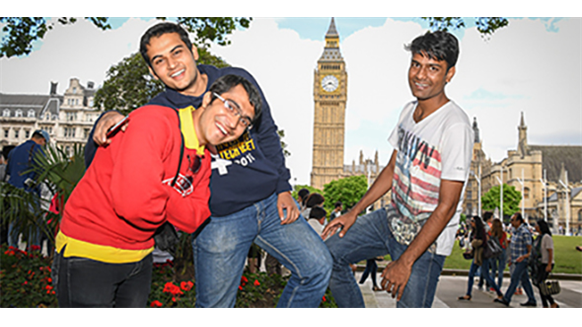 The Indian Institute of Technology's GrowSmart team
The SeaShrooms Project
Singapore Management University
One of two teams from Singapore, The SeaShrooms Project team decided to tackle challenges around sourcing energy from sea-based solar power. The team's idea, inspired by plankton, looks to create independent floating solar cells to maximise solar energy with each cell contributing a small part to an immense sum of solar power.
REPiphany
Nanyang Technological University
Singapore's REPiphany team has created a starter kit that teaches people in the developing world how to make use of overgrown seaweed blankets cluttering coastal areas. NutriSea's simple seven-step toolkit shows local communities how to collect and process sargassuma seaweed and turn it into a nutritious food supplement.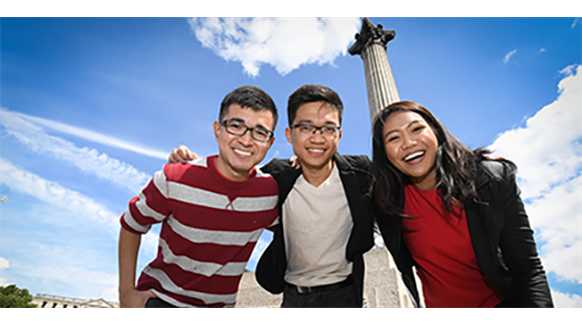 Three of the team from Nanyang Technological University in Singapore
Tri-gen
University of Cambridge
UK Team Tri-gen has designed a new car rooftop to reduce car temperatures, so that drivers can start a journey without first turning on the vehicle's air conditioning in hot climates. Taking inspiration from how plants cool themselves, the team has revolutionised the car cabinet so that it allows heat to be carried away via the evaporation of water without using any fuel or electricity.
Discover more about Shell Ideas360, the teams, their ideas and their journeys so far…
Generated by readers, the comments included herein do not reflect the views and opinions of Rigzone. All comments are subject to editorial review. Off-topic, inappropriate or insulting comments will be removed.