Thailand's EPPO Says Country May Face Gas Shortage in 2020-2021
by Chee Yew Cheang
|
Rigzone Staff
|
Thursday, June 23, 2016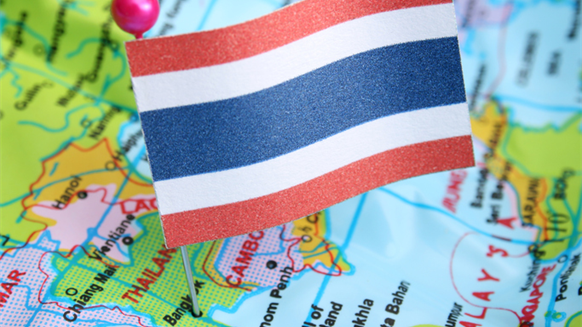 Thailand's Energy Policy and Planning Office (EPPO) says the kingdom may face gas shortages in 2020-2021 amid uncertainty over the upcoming petroleum auctions.
Thailand may experience a shortfall in gas supply of 9 million tons of liquefied natural gas (LNG), or approximately 1,500 million cubic per day (MMcf/d) in 2020-2021, due to uncertainty arising from the upcoming petroleum auctions, according to a report Thursday in local daily The Nation.
On May 30, Thailand's Energy Minister Anantaporn Kanjanarat said the government will offer for bidding two petroleum concessions, including the Erawan and the Bongkot gas fields, in the planned auction, which has not been scheduled.
Prasert Sinsukprasert, EPPO deputy director-general, explained that the decision by the National Energy Policy Council, chaired by Prime Minister Prayut Chan-o-cha, to seek new operators for the two gas fields after the concessions expire in 2022-2023 could jeopardize Thailand's energy security.
"The worst case is that there is not enough gas for running power plants. (The country would) have to conserve power. (We) may have to ask shopping malls to reduce their electricity consumption, or use more severe measures," he said.
"Right now, we are still not faced with such a problem, but there is risk if existing producers don't get (the concessions)," Prasert added.
Chevron Corp. is the existing operator of the Erawan gas field, while the Bongkot field is operated by Thailand's PTT Exploration and Production Pcl (PTTEP). Current combined output from the two fields accounts for 44 percent of Thailand's total gas production, according to The Nation.
EPPO's Prasert noted that if new companies take over operatorships of these two blocks, existing producers, namely Chevron and PTTEP, may reduce their investments prior to the end of their concessions, possibly reducing gas production from the two fields by 1,500 MMcf/d.
Bidding for the two concessions is pending an amendment of Thailand's energy law to include production-sharing contract terms to existing concession contracts in which companies pay taxes and royalties.
The amendment to Thailand's energy law was expected to be completed within the next few months, Anantaporn said May 30, adding that if there are no bidders, the government will negotiate extensions with the existing holders although he pointed out that Chevron and PTTEP are allowed to join the bidding. PTTEP has already indicated its interest to bid to operate the Bongkot gas field.
Meanwhile, Prasert said the Thai government is considering various options to deal with the potential of a gas shortage, including construction of a floating terminal to import more LNG, using other fuels to run the country's power plants, and increasing renewable power production.
Generated by readers, the comments included herein do not reflect the views and opinions of Rigzone. All comments are subject to editorial review. Off-topic, inappropriate or insulting comments will be removed.
RELATED COMPANIES
Company: Chevron Corporation
more info
Company: Thailand Ministry of Energy
more info
Company: PTT Exploration & Production Company Plc (PTTEP)
more info
MORE FROM THIS AUTHOR
Chee Yew Cheang
APAC Editor | Rigzone