Rosneft Mimics Saudi Strategy To Get Foothold In Indian Market
by Bloomberg
|
Stephen Bierman & Dina Khrennikova
|
Tuesday, June 14, 2016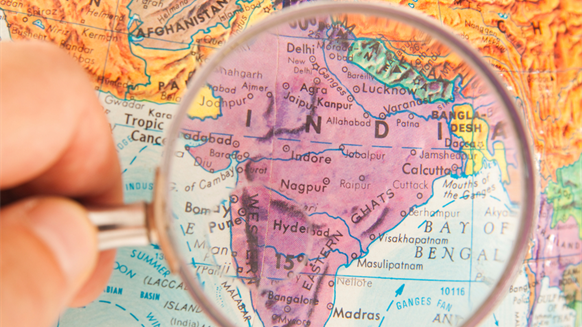 Rosneft OJSC is mimicking the strategy of its biggest global competitor to expand in India as the world's top oil exporters vie for business in the fastest-growing crude-consuming nation.
(Bloomberg) -- Rosneft OJSC is mimicking the strategy of its biggest global competitor to expand in India as the world's top oil exporters vie for business in the fastest-growing crude-consuming nation.
The Russian energy giant's plan to buy a stake in Essar Oil Ltd.'s Vadinar refinery echoes proposals by Saudi Arabian Oil Co. to invest in India's refining industry and secure new outlets for its crude.
"We do believe in the upside potential of the Indian market," Rosneft First Vice President Pavel Fedorov said last week. "There's some chance you'll see our progress with respect to tapping opportunities in the Indian market mid- and short-term."
The company has said it hopes to acquire as much as 49 percent of the 405,000-barrel-a-day Vadinar refinery in the western state of Gujarat by the end of June. That deal would come with a 10-year contract to supply 100 million metric tons of crude to the Indian market, marking a significant expansion in a country where Russia is currently barely present.
Officials from the two countries are due to attend the St. Petersburg International Economic Forum later this week.
For a column on India's surging oil demand, click here.
Competition for market share around the world has increased as supply continues to swamp demand. While Russia in recent months has overtaken Saudi Arabia in oil exports to China, Riyadh last year took the rare step of selling crude into Moscow's backyard of eastern Europe, prompting Rosneft Chief Executive Officer Igor Sechin to accuse the Saudis of "actively dumping" their oil.
The fight for customers only intensified with Iran's return to the market following the end of sanctions, while West African exporters have sent more barrels to Europe and Asia after the U.S. shale boom trimmed their sales across the Atlantic.
Saudi Aramco has squared up to rivals, outlining plans for an expansion of refining capacity in countries including Indonesia, Malaysia, Vietnam and India. The Dhahran-based company, which already ships about 70 percent of its crude to Asia, has forged refinery partnerships in Japan, South Korea and China.
'Huge Potential'
Saudi Aramco's joint ventures "allow it to secure demand for oil in the region that has a huge potential," said Sushant Gupta, director for Asia Pacific refining at industry consultants Wood Mackenzie Ltd. "Russia's interest in such projects is also based on these fundamental drivers."
Oil demand expanded 8.3 percent in India last year, pushing the country past Japan as the world's third-biggest consumer, BP Plc data show. India will be the fastest-growing crude consumer in the world through 2040, according to the International Energy Agency, adding 6 million barrels a day of demand, compared with 4.8 million a day for China.
Russia has so far sent only minimal volumes to India: just 150,000 tons last year compared with total exports of 242 million tons, according to Russian Energy Minister Alexander Novak. That's less than 1 percent of Saudi Arabia's oil exports to India in April alone.
Russia's recent exploration and production deals with India may help further its downstream ambitions at a time when the South Asian nation is seeking to diversify its crude supplies.
Siberia Deals
Rosneft in May sold 15 percent of the giant East Siberian Vankor project to a unit of Indian state-owned Oil & Natural Gas Corp. India's stake in Vankor may grow to 49.9 percent through follow-up deals. A group of three Indian companies may also buy a 29.9 interest in Rosneft's new East Siberian project, Taas-Yuryakh.
1
2
View Full Article
Generated by readers, the comments included herein do not reflect the views and opinions of Rigzone. All comments are subject to editorial review. Off-topic, inappropriate or insulting comments will be removed.
RELATED COMPANIES