Natural Gas Gives South Africa a Hand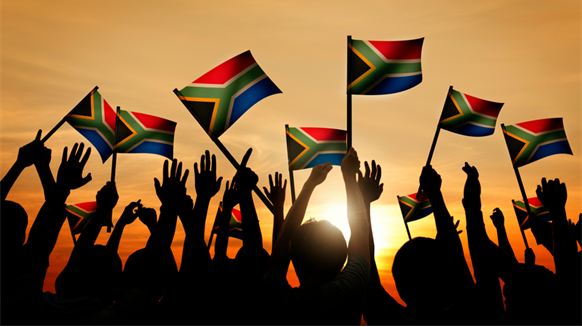 South Africa plans to use natural gas in order to help it cope with its chronic power crisis.
South Africa now regards natural gas as a serious contributor to reducing its chronic power crisis.
The country's main public utility, Eskom, along with independent power producers (IPPs), is actively investigating the potential to use gas to help meet their fuel requirements as they reduce their dependence on coal. The aim is to improve energy security through diversification of supply, cut CO2 emissions and strengthen grid stability.
Gas currently provides just 3 percent (1,369 megawatts) of South Africa's total installed power output of 45,645 megawatts (MW). This is set to rise to 3,000 MW under the government's Integrated Resources Plan 2010-2030. The attraction of gas-to-power is largely economic in terms of money and time, "given that natural gas is at $0.80 per watt on a three-year build versus $5 per watt for coal on a 10-year build," Stephen Larkin, CEO of gas/solar energy firm Africa New Energies, told Rigzone recently.
Larkin also pointed out that "Eskom has massive shortages of coal for its power stations to the East of Jo'burg which means they are overly dependent on diesel, causing regional shortages."
Gas promises cost and environmental advantages over coal for South Africa's power sector, manufacturing and mining industries.
The main sources of demand today lie in the Saldanha Industrial Development Zone, which includes Eskom's Atlantis power plant – currently being converted from diesel to gas – and the ArcelorMittal steel plant. Elsewhere, customers could include the Mossel Bay gas-to-liquid plant as well as future IPPs. These initial gas-to-power investments are expected "to encourage many existing industries to substitute their existing feedstocks for gas," said Karén Breytenbach, head of the South African Department of Energy's Independent Power Producers Office.
The Current Supply Situation
The trouble is South Africa has little gas of its own. In 2013, South Africa produced 41 billion cubic feet (bcf) of dry natural gas but consumed 173 bcf, relying on imports from neighboring Mozambique for roughly 77 percent of its gas needs (EIA, May 2016).
In addition, there is little in the way of a nationwide gas pipeline grid to serve homes and businesses. The bulk of the existing gas pipeline network is concentrated in the Johannesburg region and is supplied by gas that is piped from southern Mozambique's Pande and Temane fields, via a 535 mile-long, 188 million-gigajoules (GJ) capacity per year pipeline to energy firm Sasol's main plant at Secunda.
"Natural gas shortages in Johannesburg from private customer demand mean that prices are as high as $10 per GJ," Larkin said.
This provides the impetus for capacity expansion to 212 million GJ of gas by 2017, according to Sasol.
South Africa has some domestic natural gas potential, off South Africa's west coast and the 540 bcf of gas in Sunbird Energy's Ibhubesi gas project. This field is expected to begin production in late 2021 at best, with a first flow rate of 100 million standard cubic feet of gas per day. The gas is destined for the nearby 1,300 MW Ankerlig power plant, operated by Eskom, and, later on, to an 800MW IPP plant at the nearby Saldanha Steel Plant. However, many industry insiders are suggesting the gas for these plants is more likely to come from cheaper LNG imported from the US. When both gas power plants are in operation grid stability in the Cape will be strengthened.
Where Will South Africa Get Its Gas?
The $64,000 question is: Where is the gas to support the gas-to-power expansion program going to come from? The options include: importing LNG; exploring and developing domestic supplies of shale gas; constructing a 1,600-mile main pipeline from the new northern gas field of Mozambique to South Africa; which would cost $6 billion, according to SacOil; or the development of any offshore gas fields that are discovered in the future.
At present, LNG imports looks like the most attractive, short-to-medium term option for the government's power plants and new IPPs. This is because there is a global oversupply of LNG, which has forced prices down, and new suppliers – such as Cheniere's Sabine Pass and Corpus Christi LNG export terminals in the US – are seeking new customers.
The possibility of importing LNG is attracting great interest from both the government and investors because "LNG is a cheaper solution than the rival options," said Paul Eardley-Taylor, an oil sector analyst for Standard Bank. It is also fast and flexible, since within two years LNG could be delivered to proposed LNG hub re-gasifiers located at major ports (Saldanha Bay near Cape Town, Coega and Richard Bay) for onward distribution to local power plants and industries.
1
2
View Full Article
Generated by readers, the comments included herein do not reflect the views and opinions of Rigzone. All comments are subject to editorial review. Off-topic, inappropriate or insulting comments will be removed.