Norway Strike Threat Increases as Parties Fail to Find Agreement
|
Wednesday, June 08, 2016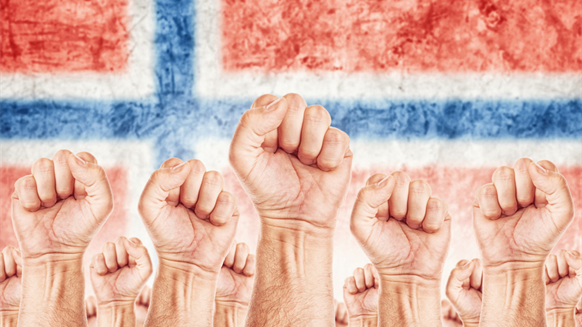 The threat of strike action among 6,000 oil service worker employees in Norway increases as unions and energy company representatives fail to settle wage disputes.
The threat of strike action among 6,000 oil service worker employees in Norway increased Wednesday, as unions and energy company representatives failed to settle wage disputes, multiple sources say.
After two days of negotiations, the Norwegian Union of Energy Workers (Safe) opted to break off talks with the Norwegian Oil and Gas Association, while the Norwegian Union of Industry and Energy Workers (Industry Energy) postponed its discussions.
"The distance between the parties was too great where Safe was concerned," said Jan Hodneland, lead negotiator for the Norwegian Oil and Gas Association, in an official statement.
"The economics of the settlement were crucial to the failure to find solutions…Safe's overall demands demonstrate that it does not share our perception of reality with regard to the demanding position in which the oil and gas industry finds itself," he added.
"Where Industry Energy is concerned, the negotiations have been demanding but we have agree to suspend the talks for now and resume at a later date," Hodneland concluded.
The latest figures from the Central Bureau of Statistics show that investment on the Norwegian Continental Shelf is falling and will continue to decline due to low oil prices, high costs and the need for cost reductions. From a peak of NOK 214 billion ($26.4 billion) in 2014, capital spending in the Norwegian petroleum industry is expected to fall by almost 30 per cent to NOK 153 billion ($18.8 billion) in 2017.
"In these circumstances, employers and employees have a shared responsibility to safeguard jobs and valuable expertise in an industry which Norway will need for a long time to come," said Hodneland in an Oil and Gas Association statement June 6.
Talks between the Norwegian Oil and Gas Association and Industry Energy are expected to re-commence June 30. The deadline for reaching a compromise is July 1, Reuters quoted Industri Energy leader Leif Sande as saying. If no deal is struck, shutdowns could begin as early as July 2.
Norway is currently producing an average daily output of around 2 million barrels of oil, NGL and condensate, according to figures from the Norwegian Petroleum Directorate. In 2012, a 16-day strike among some of Norway's oil workers cut the country's output of crude by about 13 percent.
Companies involved in the current dispute include KCA Deutag Drilling Norge AS, Aker Solutions AS, Baker Hughes Norge, Halliburton AS, Schlumberger Norge AS, Subsea 7 Norway, Weatherford Norge AS, Cameron and Technip Norge AS.
Reuters contributed to this article.
Generated by readers, the comments included herein do not reflect the views and opinions of Rigzone. All comments are subject to editorial review. Off-topic, inappropriate or insulting comments will be removed.