Israel Approves Noble's Leviathan Development Plan
by Karen Boman
|
Rigzone Staff
|
Thursday, June 02, 2016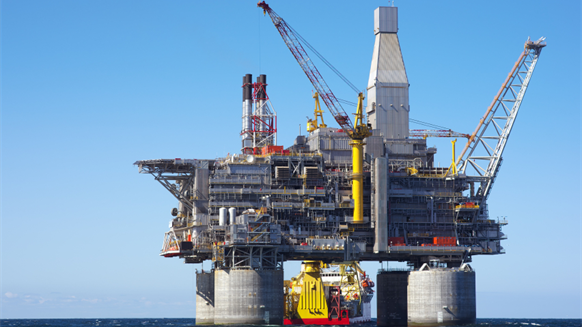 The Israeli government approves Noble's proposed development plan for the offshore Leviathan field.
Following the implementation of measures to address concerns over control of Israel's natural gas market, the Israeli government has approved Noble Energy Inc.'s proposed development plan for the offshore Leviathan field.
The company plans to install a subsea system that connects production wells to a fixed platform located offshore, with the tie-in onshore in the northern Israel. The platform is expected to have an initial production capacity of 1.2 billion cubic feet of natural gas per day (Bcf/d) and capability to produce up to 2.1 Bcf/d. According to Tudor, Pickering and Holt, production is expected to begin in 2019, with phase one of Leviathan's latest project design to cost $3.5 billion to $4 billion gross.
Leviathan is expected to provide a second source of supply and entry point into Israel's domestic natural gas transport system, while also delivering exports to regional countries, Noble reported in a June 2 press statement. Leviathan is estimated to hold 22 trillion cubic feet of recoverable natural gas resources.
The approval comes after the project encountered a major roadblock in March, when Israel's Supreme Court blocked a previous agreement between the field's shareholders and Israel, the terms of which would have stayed unchanged for 10 years, Reuters reported Thursday. Opposition parties and public advocacy groups had opposed the agreement, saying that Noble and partner Delek Drilling, which owns the adjacent Tamar field, would control too much of Israel's gas supply.
Noble operates the Leviathan field with approximately 40 percent working interest. Partners include Delek with 22.67 percent; Avner Oil Exploration with 22.67 percent; and Ratio Oil Exploration (1992) Limited Partnership with 15 percent.
Houston-based Noble also has entered a gas sales and purchase agreement (GSPA) to supply natural gas from Leviathan to IPM Beer Tuvia Ltd. (IPM). The GSPA calls for Noble and its Leviathan partners to supply a gross quantity of up to 473 billion cubic feet of gas to a newbuild independent power facility over an 18-year term, or up to 72 million cubic feet per day (MMcf/d), Noble said. Gas sales to IPM are expected to start when Leviathan field production begins, according to Tudor, Pickering and Holt.
The price for natural gas is linked to the Public Utility Authority Index and includes a firm floor price. If approved by regulators, the agreement is expected to generate total gross revenues of more than $2.5 billion, Noble said.
Receiving support from the government of Israel for the proposed plan builds upon further regulatory momentum, including the Israeli government's approval of the revised stability language in the Natural Gas Regulatory Framework, as well as the National Planning Committee's approval of the offshore location for the Leviathan platform and pipeline connection onshore, said J. Keith Elliott, senior vice president, eastern Mediterranean for Noble, in a June 2 press statement.
Elliott commented that Noble and its partners have made quick progress marketing natural gas to new customers.
"Combined with a prior executed sales agreement, we have now contracted volumes from Leviathan to the Israel market in the amount of approximately 100 MMcf/d, with substantial volumes yet to contract in Israel and the region," Elliott said. "Strong momentum on the regulatory and marketing fronts represents major steps in advancing the Leviathan project towards final investment decision."
Tudor, Pickering and Holt analysts said they are encouraged to see progress with domestic contracts, but said that finalizing export deals with Egypt, Jordan and others is needed to move the project towards final investment decision and ultimately maximizing value, given the limitation of Israeli gas demand growth.
"Converting LOIs [letters of intent] with these export customers to gas supply purchase agreements is an important next step in this delicate process," Tudor, Pickering and Holt analysts said. "Investors also need clarity on project financing and design parameters given evolving market dynamics."
Tudor, Pickering and Holt said it was monitoring the potential Supreme Court response to the revised gas framework recently passed by the government and the sale of 11 percent of Noble's 36 percent stake in the producing Tamar field.
"If Noble can sell 11 percent in one transaction rather than dribbling out two to three percent over multiple years, this could be a positive catalyst for the stock, given removal of financing tied to Leviathan," Tudor, Pickering and Holt said.
Generated by readers, the comments included herein do not reflect the views and opinions of Rigzone. All comments are subject to editorial review. Off-topic, inappropriate or insulting comments will be removed.