FMC Technologies to Merge With $6.2 Billion Technip to Cut Costs
by Bloomberg
|
Francois de Beaupuy
|
Thursday, May 19, 2016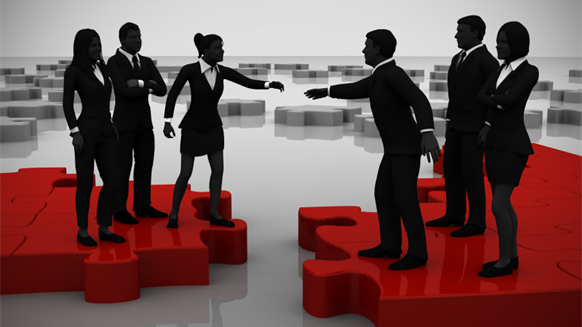 FMC Technologies agrees to merge with French peer Technip in an all-stock deal, creating a $13 billion oil-services company with more clout after crude's collapse.
(Bloomberg) - FMC Technologies Inc. agreed to merge with French peer Technip SA in an all-stock deal, creating a $13 billion oil-services company with more clout after crude's collapse.
The combination of U.S. subsea supplier FMC with Paris-based Technip will deliver at least $400 million in annual pretax savings in 2019, the companies said Thursday. FMC investors will get one share in the new company for each they own, while Technip stockholders will get two.
The companies are combining at a time when tumbling crude prices have led customers to cancel projects and demand lower fees from suppliers, sapping earnings for oil-field drillers, servicers and engineers. Halliburton Co. and Baker Hughes Inc. also tried to join forces to weather the rout, but called off their planned merger this month amid resistance from regulators in the U.S. and Europe.
The new entity, TechnipFMC, will be listed in Paris and New York, according to a joint statement. Technip Chief Executive Officer Thierry Pilenko will be executive chairman while Doug Pferdehirt, president and chief operating officer of FMC, will serve as CEO. Each company's shareholders will own close to 50 percent of the combined group.
'Significant' Synergies
"The synergies targeted are significant -- and above what we expected" given the lack of "overlap" between the two companies, said James Evans, an analyst at Exane BNP Paribas in London. Since they don't compete directly with each other, the deal is more likely to succeed than the blocked transaction between Halliburton and Baker Hughes, he said in a note.
Technip, Europe's biggest oil-services company, was valued at $6.19 billion as of Wednesday's close, having shrunk by a quarter over the past year. That compares with a $6.49 billion capitalization for FMC, which declined more than 30 percent in the period.
Technip jumped as much as 14 percent in Paris trading on Thursday, and was up 11 percent at 51.33 euros as of 2:08 p.m. local time.
"We are complementary companies," Pilenko said at a press briefing in the French capital. "If you stay narrow, sooner or later you're going to be commoditized."
Forsys Venture
Bloomberg reported last year that Technip and Houston-based FMC were in negotiations. The companies had already announced a joint venture for offshore fields, called Forsys Subsea, in March 2015 as they sought to cut costs to ride out the market downturn.
"We are highly supportive of the deal," Nicholas Green, an analyst at Sanford C. Bernstein Ltd. in London, said Thursday in a note. "M&A is key to unlocking future demand, and is an essential defensive tool of cost synergy."
The new entity will be based in Paris, Houston and London. Technip and FMC had combined sales of about $20 billion last year and earnings before interest, taxes, depreciation and amortization of about $2.4 billion, according to the statement. Brent crude is trading around $47.84 a barrel, less than half its level two years ago amid a global supply glut.
Change Needed
"When oil prices and operator cash flows improve, offshore production won't be fully developed unless the industry improves project economics," John Gremp, chairman and CEO of FMC, said on a conference call. "To do this requires significant and sustainable cost reduction, and to achieve this requires change."
Technip and FMC expect the deal to close in early 2017, subject to shareholder and regulatory approvals. The merger will have an "implementation cost" of about $250 million, according to Pilenko.
"The potential transaction may spark further consolidation within the subsea industry," Goldman Sachs Group Inc. said in a note. The bank is advising Technip on the deal along with Rothschild & Co. Evercore Partners Inc. and Societe Generale SA are working with FMC.
1
2
View Full Article
Generated by readers, the comments included herein do not reflect the views and opinions of Rigzone. All comments are subject to editorial review. Off-topic, inappropriate or insulting comments will be removed.