Woodside's First-Ever Hackathon Yields New Technology Ideas
Seeking new ideas to boost efficiency in its operations and reduce costs, Australia-based Woodside Energy last month hosted its first-ever hackathon, a collaborative computer programming event.
The event, held April 8-10 in Perth, Australia, brought together independent programmers and data scientists to address three challenges: opportunities to improve efficiencies in the loading and routing of marine transport vessels; optimize the rate of return from stores; and improving test of fitness for work.
The hackathon resulted in 22 technology prototypes being created. These include unique genetic algorithms for optimizing the packing of offshore supply vessels; the use of wearable devices to manage fitness for work and emergency response; and pattern matching algorithms to optimize the ordering of materials and reduction of waste at operational sites, Justin Strharsky, director at RIIT Unearthed, told Rigzone in an email statement.
Most of the prototypes are intended to be used for production, but may also apply to supply chain logistics, Strharsky said. Woodside is following up on the 22 technology prototypes. He added that Woodside estimates it could improve vessel optimization up to 40 percent using innovative technology. Woodside also has estimated that 30 percent of the materials that it orders for a work site are later returned. The company sees potential cost savings by reducing the amount of extra material ordered.
Australia-based Unearthed ran the hackathon on Woodside's behalf. Unearthed seeks to spur technology innovation in the development of Australia's energy resources through hackathons, online competitions and a technology accelerator program. Unearthed also hosted a hackathon for BHP Billiton Ltd.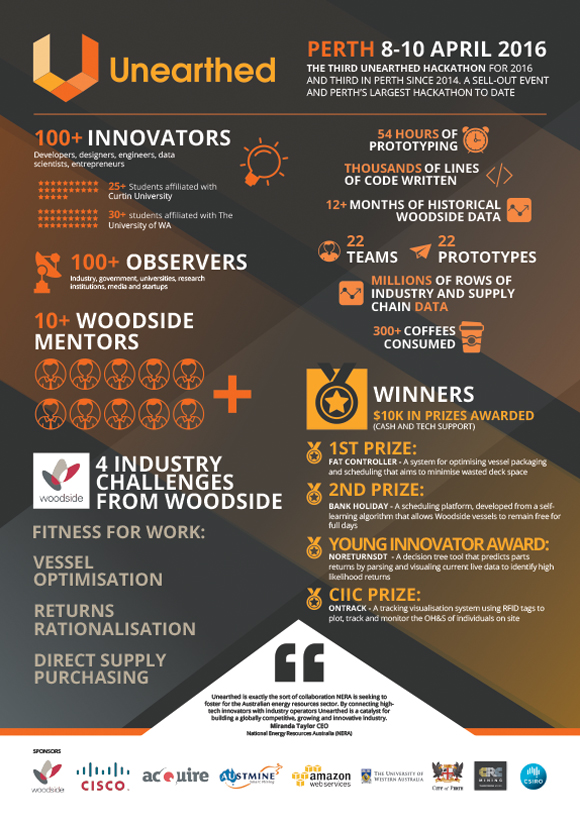 Generated by readers, the comments included herein do not reflect the views and opinions of Rigzone. All comments are subject to editorial review. Off-topic, inappropriate or insulting comments will be removed.