Oil At $45 A Barrel Proving No Savior As Bankruptcies Add Up
by Bloomberg
|
Asjylyn Loder & Erik Schatzker
|
Thursday, May 12, 2016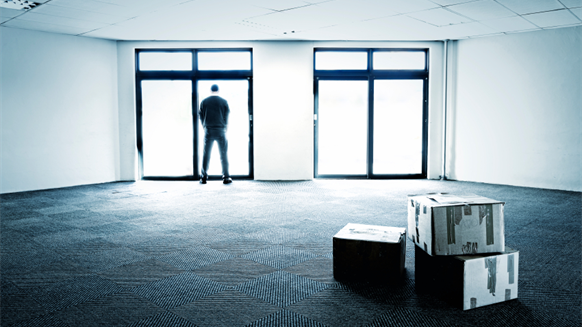 Three bankruptcies this week shows that $45 a barrel oil isn't enough to rescue energy companies on the verge of collapse.
(Bloomberg) -- Three bankruptcies this week shows that $45 a barrel oil isn't enough to rescue energy companies on the verge of collapse.
Since the start of 2015, 130 North American oil and gas producers and service companies have filed for bankruptcy owing almost $44 billion, according to law firm Haynes & Boone. The tally doesn't include Chaparral Energy Inc., Penn Virginia Corp. and Linn Energy LLC, which filed for bankruptcy this week owing more than $11 billion combined.
At least four more oil and gas companies owing more than $8 billion are nearing default, including Breitburn Energy Partners LP and SandRidge Energy Inc. Bankruptcies have accelerated as cash-starved companies find it almost impossible to raise capital. Energy companies have been virtually shut out of the high-yield bond markets, banks are cutting credit lines and asset sales have slowed.
"I don't think the E&P model in North America is economic and I don't think it was real economic even at $80 and $100 oil," Jim Chanos, Kynikos Associates founder and president, said in an Bloomberg TV interview Thursday. "It's certainly not economic at $45 oil."
Several more are struggling to sustain crippling debt loads. SandRidge Energy, which owes $4.13 billion, said in its annual financial report that auditors have raised doubts about its ability to stay in business. It delayed releasing its first-quarter results, citing ongoing discussions with creditors on a "potential comprehensive restructuring transaction." Breitburn, which owes $3 billion, missed interest payments in April and is in talks with creditors.
W&T Offshore Inc. owes almost $1.5 billion and is overdrawn on its credit line, which was cut to $150 million from $350 million in March. The company has said it will pay off the loan in three monthly installments. Connacher Oil and Gas Ltd. has told creditors it's making preparations to file for bankruptcy as it continues to search for a way to stave off default, according to two people familiar with the matter.
Lisa Elliott, an outside spokeswoman for W&T, declined to comment on whether the company is nearing default. David Kimmel, a spokesman for SandRidge, did not immediately return phone and e-mail messages seeking comment. Voicemails left with the investor relations departments at Breitburn and Connacher were not immediately returned.
Higher Prices
While troubled companies may not be saved by $45 oil, some of the better operators will turn profitable at $50, said Subash Chandra, an analyst with Guggenheim Securities in New York. Companies best able to take advantage will be those with with acreage in North Dakota's Bakken shale, the Permian in Texas or the Scoop and Stack prospects in Oklahoma.
"If oil is at $50, fortunes turn dramatically," Chandra said. "But the problem is they turn so much that the service companies come in and raise prices and take a share of it, or if production responds so quickly that oil has a hard time staying at $50."
While some of the best operators in the most prolific acreage may boast well break-evens of $35 a barrel, that only includes the cost of drilling, said Spencer Cutter, a credit analyst with Bloomberg Intelligence. Expenses like overhead, salaries, taxes and interest expenses easily add another $10 to $15 a barrel, he said.
"The short answer is $45 a barrel doesn't save anybody," Cutter said. "Anyone who was going bankrupt at $30 is still going bankrupt at $45. You need to see oil sustained at $60 to $65 before you see a real turnaround in profitability for the sector."
--With assistance from Joe Carroll, David Wethe and Ari Altstedter. To contact the reporters on this story: Asjylyn Loder in New York at aloder@bloomberg.net ;Erik Schatzker in New York at eschatzker@bloomberg.net To contact the editors responsible for this story: David Marino at dmarino4@bloomberg.net Eric J. Weiner