Bulk of Canada's Oil Sands Plants Seen Up in Days to Weeks
by Bloomberg
|
Rebecca Penty
|
Wednesday, May 11, 2016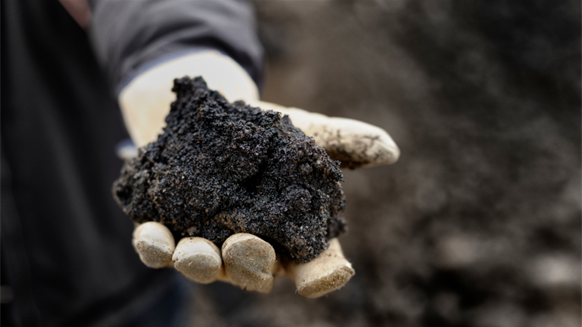 Canadian oil sands facilities representing more than 90 percent of production taken offline during a wildfire in northern Alberta have emerged unscathed and are expected to restart within days to a couple of weeks.
(Bloomberg) - Canadian oil-sands facilities representing more than 90 percent of production taken offline during a wildfire in northern Alberta have emerged unscathed and are expected to restart within days to a couple of weeks.
Mines and drilling projects north of Fort McMurray are already bringing back some of the roughly 1 million barrels a day of supply that was curbed, Steve Williams, chief executive officer of the nation's largest energy company Suncor Energy Inc., said Tuesday, speaking for the industry. Facilities south of the energy hub that represent much less of the lost supply and were more affected by the fire may take longer, he said.
"It's that quick - some facilities are turning back up the volumes now," Williams said at a media briefing in Edmonton, flanked by his peers at companies including Imperial Oil Ltd. and Canadian Natural Resources Ltd. "South, where there have been a few more direct impacts from the fire, we have to go in and evaluate and put the plans in place."
Companies took production offline as a fire that's ripping across northern Alberta forced the evacuation of more than 80,000 residents of Fort McMurray and destroyed about 10 percent of the community's buildings. The industry's safety precautions included the evacuation of workers from camps and the shutdown of pipelines and power supplies. The fire - now 2,290 square kilometers (884 square miles), according to the latest provincial estimate - is primarily moving east of the region toward Saskatchewan.
Making Plans
Williams was among a dozen energy executives who met with Alberta Premier Rachel Notley on Tuesday to make plans to bring back the oil production that drives the provincial and national economy. Supplies taken offline by projects north of Fort McMurray represent an estimated 93 percent of volumes curbed during the fire, according to data compiled by Bloomberg from RBC Capital Markets research and company statements.
"We will get back to normal as quickly as possible," Notley said at the briefing. Movement of goods on the roads north of Fort McMurray restarted on Tuesday, she said. "While thousands of lives will never be the same, we can take small steps to getting back the rhythm in northeast Alberta."
While the lost production has helped to buoy oil prices, ample supplies of crude across the continent have aided in cushioning the blow to refineries. Volumes of crude moving on the Capline pipeline from the U.S. Gulf Coast to the Midwest have jumped 27 percent from a week ago, according to Genscape data. That indicates refiners have started to secure alternatives to curtailed Canadian supply, John Auers, executive vice president at Turner Mason & Co. in Dallas, said Tuesday in a phone interview.
Deferred Income
For companies, the shutdowns translate into lost or deferred income.
Since the curtailments began, Suncor's shares have lagged behind peers by 2 percent, reflecting investor expectations that the company will have lost 10 days of output, Benny Wong, an analyst at Morgan Stanley based in New York, wrote in a note. The facilities were already running at reduced rates due to maintenance work. The missing barrels translate into about C$8 million ($6.2 million) a day of deferred income, factoring in Suncor's stake in the Syncrude Canada Ltd. mine that was also shut down, Wong estimated.
Williams said the losses and costs tied to the shutdowns are immaterial to Suncor.
Fireproof Plants
Oil-sands companies are working with pipeline and power providers to bring back necessary infrastructure and don't expect any hiccups that would hinder restarts, Williams said. Individual plants were turned down in a safe way to allow output to come back as quickly as possible, he said. And while the flames came closer to facilities south of Fort McMurray, including Cnooc Ltd.'s Long Lake and Athabasca Oil Corp.'s Hangingstone sites, the plants are largely fireproof, he said.
The Long Lake site operated by Cnooc's Nexen unit suffered minor damage, officials have said, and some of Enbridge Inc.'s above-ground facilities had limited damage, the company said on Tuesday.
Displaced Workers
Companies have given displaced workers advance pay to support them and have enough on-site lodging to accommodate staff who have lost their homes in order to restart, Williams said.
"We have enough camps in place to be able to start the operations up," and also staff major maintenance expansion work under way, Williams said. "One of the things we've been working on this morning is how we can collaborate and make sure we have the right supply chain, the right logistics to get people in safely, so they can be housed safely and we can feed and look after them."
1
2
View Full Article
Generated by readers, the comments included herein do not reflect the views and opinions of Rigzone. All comments are subject to editorial review. Off-topic, inappropriate or insulting comments will be removed.
RELATED COMPANIES