Canada's Oil Output Spared Fire Damage Seen Able to Rebound
by Bloomberg
|
Rebecca Penty and Robert Tuttle
|
Monday, May 09, 2016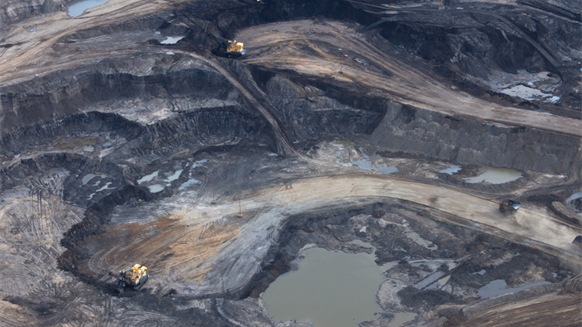 Canada oil-sands producers including Suncor Energy could resume production within a week after the threat subsides from wildfires that cut as much as 40 percent of the region's output.
(Bloomberg) - Canada oil-sands producers including Suncor Energy Inc. could resume production within a week after the threat subsides from wildfires that cut as much as 40 percent of the region's output.
A quick restart depends on whether companies managed shutdowns properly and if power and pipeline infrastructure is unscathed, according to analysts at Wood Mackenzie Ltd. and IHS Energy. Suncor and Syncrude Canada Ltd., two of the biggest producers in the area that's been ravaged by wildfires near Fort McMurray, Alberta, both said they managed safe shutdowns. Only one oil-sands site, Cnooc Ltd.'s Nexen operations, has suffered minor damage.
"The best possible case, you're probably looking at somewhere within a week to get them restarted," Harold York, Houston-based vice president of integrated energy at Wood MacKenzie, said in a phone interview. Restarts will also depend on availability of workers after large-scale evacuations, which may be hindered given destruction of homes in the area, he said.
If companies executed controlled shutdowns, that means bitumen has been cleared from the system so that restarts won't be hindered, according to Kevin Birn, a director at IHS Energy in Calgary.
Price Impact
The bulk of the nation's large oil-sands projects shut some or all output in recent days, cutting supplies by about 1 million barrels a day, according to an IHS Energy estimate. Energy companies evacuated workers and shut upgraders, mines and wells as the inferno grew to more than twice the size of New York City.
Suncor, Canada's largest energy producer, Syncrude, Husky Energy Inc., Imperial Oil Ltd. and Cnooc's Nexen are among operators that have taken output offline. The shutdowns accelerated as the fire spread Saturday toward the major mines north of Fort McMurray. West Texas Intermediate rose as much as 2.9 percent to $45.94 a barrel on the New York Mercantile Exchange on Monday. Prices were down 2.7 percent to $43.45 as of 12:12 p.m. New York time.
Suncor, Syncrude
"The longer this goes on, the longer we see impact on WTI as Canada is a significant supplier to those mid-continent refiners," said Andy Lipow, president of Houston-based Lipow Oil Associates LLC. "They will start seeking WTI-like barrels as a replacement."
Heavy Western Canadian Select crude's discount to WTI narrowed 80 cents to $11.10 a barrel at 7:43 a.m. Calgary time, the strongest since June, data compiled by Bloomberg show.
Suncor, which has closed about 700,000 barrels a day of capacity, said Sunday that it's beginning to implement a plan for resuming operations and will restart once it can do so safely, depending on "availability of critical third-party pipeline infrastructure." The company began shutting sites last week "in a controlled manner to facilitate a quick and reliable startup," it said.
Nexen Damage
Syncrude, which can produce as much as 350,000 barrels a day, cut rates to a minimum when the fires began and then shut and evacuated all personnel from its Mildred Lake and Aurora oil-sands operations Saturday, according to Leithan Slade, a spokesman. The shutdown, which included bringing down all three cokers in its upgrader for the first time, was done in a "safe and orderly manner," he said.
Houston-based ConocoPhillips has a team of people "working day and night" to figure out how and when the company can resume operations on its Surmont oil-sands operation, which was producing at 30,000 barrels a day before the blaze, said Rob Evans, a spokesman. While the site has power, returning workers to the site poses a challenge, he said.
Nexen's operations to the south of Fort McMurray suffered "minor" fire damage, said Chad Morrison, a wildfire manager for the Alberta government. The facility was already at reduced rates after an oil spill last summer and upgrader blast in January. A company spokeswoman didn't immediately respond to requests for comment Sunday.
If companies can get access to their sites by the end of this week and ramp up production over 10 days, the shutdowns would translate into a loss of about 650,000 barrels a day during a three-week period, or 14 million barrels, Goldman Sachs Group Inc. said in a note Monday.
"The lack of damage and the mining nature of most of the outages could allow for a fast ramp up in production, once the fire is under control," the bank said.
1
2
View Full Article
Generated by readers, the comments included herein do not reflect the views and opinions of Rigzone. All comments are subject to editorial review. Off-topic, inappropriate or insulting comments will be removed.
RELATED COMPANIES