Saudi Aramco Chief Named Oil Minister as Energy Policy Firms
by Bloomberg
|
Wael Mahdi and Nayla Razzouk
|
Monday, May 09, 2016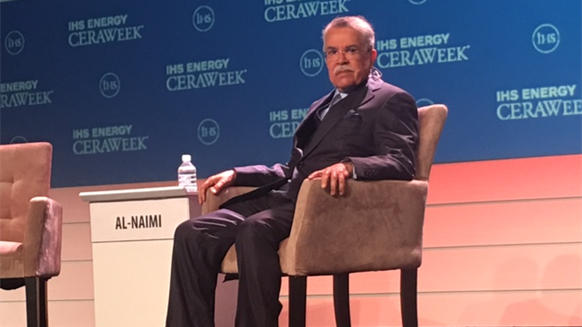 After more than two decades in the post, Ali Al-Naimi, who's been the central player in scores of OPEC meetings and steered global crude markets, will be succeeded by Khalid Al-Falih, an ally of the Saudi Arabian king's increasingly influential son.
(Bloomberg) - Saudi Arabia replaced its veteran oil minister with a close ally of the king's increasingly influential son, Deputy Crown Prince Mohammed bin Salman, as the world's largest crude exporter embarks on an economic overhaul designed to make it less reliant on energy.
After more than two decades in the post, Ali Al-Naimi, who's been the central player in scores of OPEC meetings and steered global crude markets through several boom-and-bust cycles, will be succeeded by Khalid Al-Falih, currently chairman of state oil company Saudi Arabian Oil Co., the official press agency reported on Saturday. The change was part of a wider revamping of the government that also saw the electricity ministry discontinued and its activities folded into Al-Falih's portfolio.
Educated in the U.S., Al-Falih spent his entire three-decade career at Saudi Aramco and is known to be close to 30-something Prince Mohammed, a growing political force in the kingdom. The prince has backed Saudi Arabia's recent oil policy of prioritizing market share over prices that contributed to a slump in crude from more than $100 a barrel two years ago to about $30 in February. That was dramatically demonstrated last month when the young royal stymied a proposed output freeze among global oil producers by insisting a deal was only possible with the involvement of Iran, Saudi Arabia's main regional rival.
"Al-Falih's appointment is an assurance of the continuation of the current Saudi oil policy," Anas Alhajji, the chief economist at Irving, Texas-based NGP Energy Capital Management, said by phone.
Al-Falih, a soft-spoken engineer in his mid-fifties, will have to defend Saudi policy at his first meeting of the Organization of Petroleum Exporting Countries on June 2 in Vienna, with fellow ministers keen to cement a recent rally in oil prices to more than $40 a barrel. Brent crude, the global benchmark, added 0.8 percent to $45.73 a barrel at 12:33 p.m. in London.
Low Oil
"He will find himself in a catch-22 situation," said Mohamed Ramady, an independent London-based analyst and a former economics professor at King Fahd University of Petroleum and Minerals in Dhahran, Saudi Arabia. "While Al-Falih might not be happy to see low oil prices affecting the industry's long-term investment needs, he will need to defend OPEC's policy to maintain its market share as non-OPEC supply starts to scale down.''
While accompanying King Salman on a visit to the U.S. in September 2015, Al-Falih said OPEC's strategy of protecting global sales against competitors from outside the group was leading to a re-balancing of the market and a recovery in prices.
On his first day in office on Sunday, Al-Falih said that he will maintain the kingdom's oil policy. "Saudi Arabia will maintain its stable petroleum policies. We remain committed to maintaining our role in international energy markets and strengthening our position as the world's most reliable supplier of energy," he said in a statement.
Under Al-Falih's leadership, Saudi Aramco has moved to secure its market share. It's spending as much now as it did before the crash in crude prices and is looking to invest in its refinery network around the world. Al-Falih, who was also minister of health, said on Jan. 25 that Aramco can withstand low oil prices for "a long, long time."
Saudi Deficit
Prince Mohammed announced earlier this year that Saudi Arabia wanted to sell a minority stake in Aramco, a seismic shift that would make the guardian of the country's most precious resources a public company answerable to private investors as well as the state.
Saudi Arabia is taking unprecedented steps to shore up its public finances and reduce the economy's reliance on oil. The government has raised fuel prices and trimmed spending in this year's budget to narrow a deficit that last year may have been the widest since 1991. The International Monetary Fund expects economic growth in Saudi Arabia of 1.2 percent this year, its slowest pace since 2002.
As oil prices slid more than 30 percent last year, the kingdom burned through roughly $115 billion in foreign-exchange reserves -- the biggest annual drop since reliable data started in 1957, according to the IMF. The decline in 2015 was more than double the plunge during the global financial crisis in 2009.
Still, Riyadh has $582 billion in foreign-exchange reserves, suggesting it can weather a few more years of low prices. The kingdom is planning to tap the bond market late this year to raise funds.
Al-Naimi, 80, who had been oil minister since 1995, has been appointed an adviser to the royal court. Like his predecessor, Al-Falih isn't a member of the Saudi ruling family, and his appointment by King Salman is in keeping with the nation's practice of promoting non-royals to manage its petroleum industry.
1
2
View Full Article
Generated by readers, the comments included herein do not reflect the views and opinions of Rigzone. All comments are subject to editorial review. Off-topic, inappropriate or insulting comments will be removed.