What Are The Top 5 Freebies at OTC?
by Andreas Exarheas
|
Rigzone Staff
|
Tuesday, May 03, 2016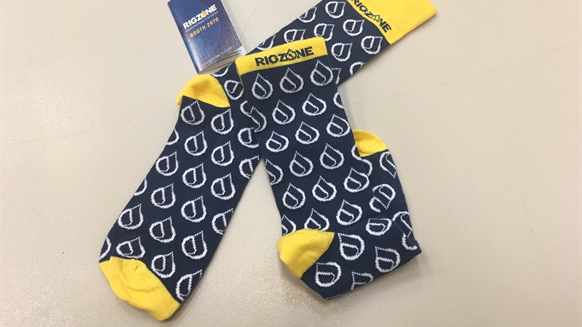 Rigzone takes a look at the best swag offered at OTC 2016.
With over 2,200 exhibitors attending OTC 2016, there is a range of great freebies on offer. In an effort to identify the best goodies at the show, Rigzone has covered all the stands and outlined the booths you need to visit to get your hands on the coolest items.
5. Frank's International T-shirts
Let's be honest, trade-show t-shirts are usually not at the top of anyone's list. Sizes are ridiculously proportioned and normally no real human would ever wear them for any type of activity. Unless they're Frank's International t-shirts, that is. These free garments are uncharacteristically stylish, cool and practical. Getting your hands on one of these will cost you a Facebook like, but that's a small price to pay for such an attractive, and rare, item.
Frank's International is a global oil services company that provides tubular services to exploration and production companies in offshore and onshore environments. They're located in booth 1605.
4. Wood Group Mustang Paddle Ball/Light USB
Slotting in at number four in this list is Wood Group Mustang's double offering of a paddle ball and light emitting USB stick. The former is a lot trickier to master than you think it would be. Especially when jetlagged in a crowded hotel lift.
Wood Group Mustang provides design, engineering and automation and control services for offshore and onshore oil and gas production facilities. You can find them at stand 2965.
3. Edda Folding Sunglasses
What could be better than a pair of shiny, new sunglasses? How about a pair of shiny, new, folding sunglasses? Although not the shade of electric orange the company brought to OTC last year, these sunnies are just as striking as the firm's 2015 creation and brilliant for keeping the blazing Houston sun out of your peepers.
Edda Accommodation is an accommodation services provider headquartered in Malta. Edda is located in booth 5141.
2. SOHPE Cowboy Hat
Want to be a genuine Texan? Then you need to wander over to Shengli Oilfield Highland Petroleum Equipment Co Ltd's (SOHPE) stand and grab yourself a cowboy hat. Feel free to wear it throughout the show to expose your Southwest flair. Boots/bolo ties optional.
1
2
View Full Article
Generated by readers, the comments included herein do not reflect the views and opinions of Rigzone. All comments are subject to editorial review. Off-topic, inappropriate or insulting comments will be removed.