Five Jobs Set to Grow in Oil, Gas
The downturn in the oil price that began in late 2014 prompted companies across the world to cut large numbers of their direct employees as well as contractors. Some estimates put the number of oil and gas jobs lost in 2015 alone as high as a quarter of a million.
Prospects for many people still employed in the industry still look tenuous, with further predictions of job losses for the sector. For example, UK government advisor and former Wood Group chief executive Sir Ian Wood, warned in March that a total of 45,000 jobs in the UK North Sea sector could go during 2016.
Yet, the future holds the promise of employment growth in certain areas of the industry. Largely driven by developments in technology, many of these jobs require new skills – or skills currently used in other industries. Indeed, the continuing challenge presented by the new low oil price environment is encouraging some companies to actively seek these new technologies, and the people who can work with them, to boost profit margins.
Here, in the first of a series of articles examining how employment in the industry is set to change, Rigzone takes a look at how the Internet of Things and Big Data will create job opportunities in the upstream sector.
The Internet of Things
In simple terms, the Internet of Things can be described as the network of physical objects – such as machines, buildings and vehicles – that are embedded with electronics so that data can be collected and shared with other objects. Just as humans have for many years had the ability to connect with each other via the internet, everyday machines are increasingly "talking" to each other.
In the oil and gas sector the "digital oilfield" is already a reality according to BP, which has stated that sensors installed across topsides, downhole and in the subsea arena already producing huge volumes of data that can be used to support decision making. Initiatives such as BP's Field of the Future, Chevron's i-field and Shell's Smart Fields are likely to further boost the prevalence of smart devices in oil and gas fields around the world.
But according to strategic consultancy McKinsey's June 2015 report, "The Internet of Things: Mapping the Value Beyond the Hype," today less than 1 percent of the data generated by the 30,000 sensors that exist on a typical offshore oil rig is currently used to make decisions. This shows the data collected right now is used mostly for anomaly detection and control, not optimization and prediction – where it can add the most value.
The Internet of Things promises a scenario in which oilfields become fully automated, so that several fields have their production entirely controlled by a remote central operations site. Of course, wells in these fields would need round-the-clock monitoring for pump failures and other issues. A pump failure can cost $100,000s per day in lost production.
While automation will take many hands-on engineers and technicians out of the field, there will be opportunities for other IT-savvy engineers. Such an engineer will sit in an office, perhaps thousands of miles away, monitoring equipment at several fields and will be able to direct maintenance teams when alerted to any issues at a particular field.
Indeed, equipment supplier GE Oil & Gas – a keen proponent of the 'Industrial Internet' – already has three iCenters located in Florence, Kuala Lumpur and Houston, where engineers remotely monitor turbomachinery used by its customers around the world. And Chevron operates a 'Machinery and Power Support Center' that monitors thousands of pieces of rotating equipment on six continents. Other firms operate similar remote monitoring stations.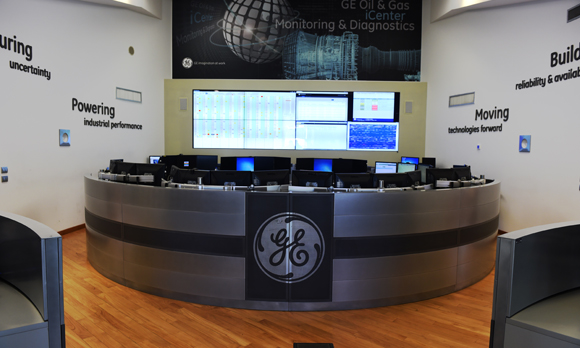 The GE Oil & Gas iCenter in Florence, Italy
Job Opportunity: Internet of Things Engineer
The industry is likely to need specialist engineers who can not only build smart devices, but who will know how to apply them to equipment used in the upstream sector.
An example of this kind of job was advertised by a major oilfield services firm during the last year. The company was looking for an engineer who had software skills, familiarity with networking technologies, experience of embedded systems prototyping (such as familiarity with the Arduino electronic prototyping platform) and experience with a range of Internet of Things-related message protocols (e.g. MQTT, RabbitMW and CoAP).
1
2
View Full Article