ExxonMobil Loses Top Credit Rating It Held Since Depression
by Bloomberg
|
Joe Carroll & Asjylyn Loder
|
Tuesday, April 26, 2016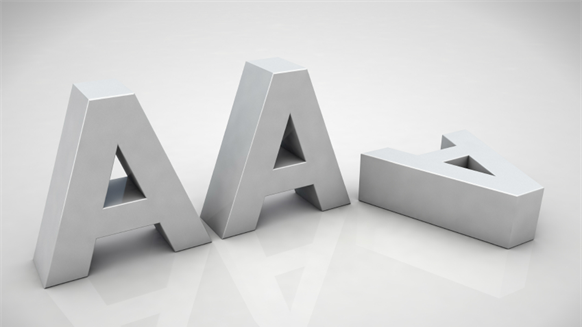 Standard & Poor's strips ExxonMobil of its highest AAA measure of credit-worthiness, cutting it to AA+, the same as the US government.
(Bloomberg) -- The worst oil crash in a generation has cost Exxon Mobil Corp. the gold-plated credit rating it had held since the Great Depression.
Standard & Poor's on Tuesday stripped Exxon of its highest AAA measure of credit-worthiness, cutting it to AA+, the same as the U.S. government. It's a defeat for Exxon, which sought to retain the rating after S&P placed it on notice in February. Before the downgrade, Exxon shared the distinction with just two other companies: Johnson & Johnson and Microsoft Corp.
"Nothing has changed in terms of the company's financial philosophy or prudent management of its balance sheet," Scott Silvestri, a company spokesman, said in an e-mail. "Exxon Mobil places a high value on its strong credit position and continues to be focused on creating long-term shareholder value despite near-term market volatility."
The downgrade is another blow to Chairman and Chief Executive Officer Rex Tillerson's legacy as he approaches the company's mandatory retirement age next year. In the decade he's led the world's most valuable publicly traded oil explorer, he spearheaded a $35 billion bet on natural gas right before the market collapsed. That was followed by a stillborn partnership with Russia's state-controlled crude driller that stranded $1 billion behind a wall of international sanctions.
S&P questioned Exxon's decision to spend $54 billion on stock buybacks since 2012 even as its debt load swelled. Exxon's preference for returning cash to shareholders may be hurting its ability to stockpile cash and pay down debt, the credit rating company said.
"The company's debt level has more than doubled in recent years, reflecting high capital spending on major projects in a high commodity price environment and dividends and share repurchases that substantially exceeded internally generated cash flow," S&P wrote in the note.
Exxon also is facing challenges in finding enough new discoveries to replace the crude it's pumping from the ground, S&P said on Tuesday. The company only found enough new oil last year to replace 67 percent of its production.
"In our view, the company's greatest business challenge is replacing its ongoing production," S&P said.
Oil prices have tumbled almost 60 percent since June 2014, trading today at about $44 a barrel. The crash has choked crude-producing nations like Nigeria and Venezuela of cash, thrown hundreds of thousands of employees out of work, stalled drilling and pipeline investments around the world and even reverberated into ancillary industries such as steel-making and railroads. Exxon was one of the last holdouts against the wave of credit downgrades that engulfed oil drillers with diminishing prospects of paying debts, dividends and rig fees.
The downgrade will not only raise Exxon's cost to borrow money but may also erode its status among oil-rich governments as a premier partner with which to do business. As Exxon Vice President of Investor Relations Jeffrey Woodbury said in February, the company's AAA rating was a key selling point when competing for drilling licenses.
Updates with comment from Exxon in third paragraph.To contact the reporters on this story: Joe Carroll in Chicago at jcarroll8@bloomberg.net ;Asjylyn Loder in New York at aloder@bloomberg.net To contact the editors responsible for this story: David Marino at dmarino4@bloomberg.net Carlos Caminada, Stephen Cunningham.
Generated by readers, the comments included herein do not reflect the views and opinions of Rigzone. All comments are subject to editorial review. Off-topic, inappropriate or insulting comments will be removed.
RELATED COMPANIES