Pathways to Good-Paying Careers in the Downstream - At No Cost to You
by Matthew V. Veazey
|
Rigzone Staff
|
Tuesday, May 03, 2016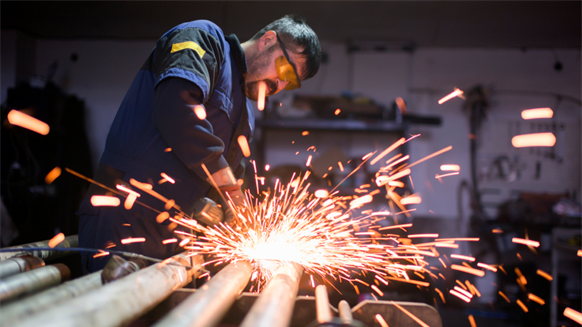 Recipient of major downstream contracts Fluor trains recent grads and career changers at new US Gulf Coast craft training center.
A number of oil and gas-related jobs remain in high demand, and they are witnessing healthy year-on-year wage growth. In fact, the need to fill these positions is so strong that at least one major contractor on the U.S. Gulf Coast is offering free training to help individuals with varying backgrounds qualify for these opportunities.
"Skilled craft professionals are in high demand not only in the Gulf Coast, but throughout the United States," said Jim Hanna, Fluor Corp.'s vice president for construction and fabrication human resources, craft services and industrial relations.
Fluor, which has secured contracts with major downstream players in the region such as BASF, LyondellBasell and Sasol, recently opened a U.S. Gulf Coast craft training center near Houston. The facility offers entry-level craft training in the electrical, instrumentation, millwright and pipefitting trades. Moreover, it offers experienced, active welders advanced training. Tuition for the 12-week entry-level craft training program is free for students.
"In the Gulf Coast, we have seen the wage rates for mechanical craft increase around 6 to 8 percent over the past year because qualified personnel are in such high demand," continued Hanna. "The U.S. Gulf Coast Craft Training center creates new opportunities for individuals to embark on the workforce of the future."
Rigzone recently caught up with Hanna to learn more about Fluor's craft training offerings, which are available to recent high school graduates as well as individuals seeking a career change. Applicants to Fluor's program need to understand that the training is rigorous and the resulting career paths are demanding, and success on both fronts begins with the right attitude, Hanna said. Read on for more of his insights about the training center as well as opportunities for craft professionals in the downstream.
Rigzone: What niche does Fluor's Gulf Coast craft training center fill?
Hanna: Demand for skilled craft professionals is at extremely high levels as the construction industry, as a whole, has not done well at revitalizing and developing its workforce over the past decade. With the number of projects going on across the United States, combined with retiring owners' organizations, there is an industry-wide shortage of skilled craft professionals.
This significant investment to develop and open the training center enables Fluor to help mitigate the industry-wide shortage of skilled craft professionals by providing training to enable individuals to embark on these high-demand, well-paying careers.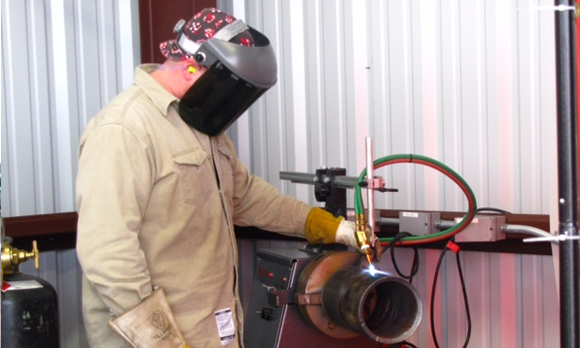 A welding student in Fluor's U.S. Gulf Coast craft training program. A 2014 survey by NCCER found that welders made an average annual salary exceeding $64,300. Source: Fluor Corp.
Through the U.S. Gulf Coast Craft Training Center, Fluor provides entry-level, pre-employment training in the electrical, instrumentation, millwright and pipefitting disciplines. The 12-week classes are led by NCCER-certified trainers with extensive industry experience, with approximately 60 to 75 students in each session.
Upon successful course completion, trainees receive industry-recognized, entry-level credentials in the NCCER Core Curriculum, as well as NCCER Level I and II certifications in one of the four trades. Equipped with these portable, industry-recognized certifications, graduates can apply for craft positions in industrial construction throughout the country. In addition to this entry-level training, we have expanded our welder upgrade training program to this location to help meet the demand for skilled welders.
Fluor has offered welder upgrade training and after-hours training at our jobsites in various crafts for decades; however, this is the first time we have offered pre-employment, entry-level training.
Rigzone: Why is pursuing a career as an electrical, instrumentation, millwright or pipefitting specialist in the Gulf Coast's downstream sector a good move?
Hanna: There are numerous opportunities to enter the industry and have a well-paying career. As the human resources executive responsible for Fluor's Construction and Fabrication business, I also track salaried personnel staffing, and it is easier for me to place a skilled craft professional than it is to place someone with a four-year degree.
Skilled craft professionals, such as those in the electrical, instrumentation, millwright and pipefitting disciplines, are in demand throughout the United States to support projects in a number of regions, not just the U.S. Gulf Coast downstream sector. We are hiring for positions in Kentucky, Texas, Tennessee, Alabama, South Carolina, Georgia and Virginia to support projects in the petrochemical, power and industrial sectors.
1
2
View Full Article
Generated by readers, the comments included herein do not reflect the views and opinions of Rigzone. All comments are subject to editorial review. Off-topic, inappropriate or insulting comments will be removed.