Asian Offshore, Marine Firms Reinvent to Survive Downturn
by Chee Yew Cheang
|
Rigzone Staff
|
Tuesday, May 03, 2016
Several Asian offshore and marine (O&M) firms, battered and bruised by an industry slowdown, are responding to the changed market environment by reinventing their businesses. They've tapped into existing competencies to expand service offerings, venturing into new areas such as downstream petroleum, offshore windfarms, cruise ships, fishing vessels and even solar energy.
Diversification has become a buzzword for these relatively small, but nimble Asian companies in their quest for business survival. Some have been nudged into seeking alternative revenue streams as profits fall, while others acted out of necessity to stem growing losses.
"It's very important for [firms] to diversify, given that most industry players are expecting lower-for-longer oil prices," Joel Ng, an analyst at Singapore's KGI Fraser Securities Pte Ltd. said in a Reuters report.
C-Mar Sees Opportunities
Still, some O&M firms are not contemplating business diversification just yet as they prefer to leverage on existing service offerings, albeit in areas that continue to generate growth. One of these is C-Mar Group, a marine offshore and dynamic positioning (DP) services provider.
While profitability for C-Mar was impacted by the industry downturn, the firm remains optimistic about market opportunities in its existing business – which focuses on vessel and crew management, subsea engineering and DP training and consultancy – in places such as Iran and Southeast Asia.
Chris Hawdon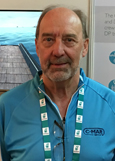 Group CEO, C–Mar
"Iran is going to provide quite a lot of work because they have been cut off by sanctions for many years. There is a lot of maintenance work and new developments," C-Mar Group Chairman Chris Hawdon told Rigzone in Kuala Lumpur, Malaysia during the Offshore Technology (OTC) Asia 2016 Conference in March.
C-Mar is also looking to expand its training services in Southeast Asia, where development of the local workforce and the transfer of technology are assuming greater importance. The firm, which has DP centers in London, Rio de Janeiro, Houston, Shanghai, Mumbai and Singapore, said it trained 45 percent of global DP students in 2013.
"We are now looking at offering a wider range of courses in those centers. We see technology transfer and local upskilling as the big issues particularly as the Western workforce ages," Hawdon said.
TRIYARDS Breaks New Ground
Meanwhile, TRIYARDS Holdings Ltd., a Singapore-headquartered integrated engineering, fabrication and ship construction solutions provider for the O&M sector, is an example of an Asian shipyard that established a diversified clientele in the current market.
In its latest contract, awarded April 10, TRIYARDS will have to build two liquefied natural gas- (LNG) powered aluminium catamarans for the Netherlands-based ferry operator Rederij Doeksen for $50.1 million (EUR 44 million).
The firm, which operates yards in Singapore, Vietnam and the United States, also ventured into the renewable energy segment. It secured a $17.8 million contract in early April to construct three wind farm support vessels as well as building a luxury river cruise vessel.
"These contracts are the result of our conscientious efforts to diversify our client base and product offering. In addition, the wind farm vessel orders attest to our growing standing in the renewable energy market. We will continue to establish a greater foothold in this sector as well as seek opportunities in addition to those in the traditional market," TRIYARDS CEO Chan Eng Yew said in an April 7 press release.
Last December, TRIYARDS secured a $21.8 million (NTD 716 million) contract from Taiwan's state-owned CPC Corp. to build two oil barges, which will supply bunker fuel to vessels in the country's harbor and coastal areas upon delivery in 2018. Chan attributed the contract success to the company's "flexibility in engineering and fabrication solutions … [which ensures that] TRIYARDS is well positioned to address opportunities beyond the oil and gas sector."
1
2
3
View Full Article
Generated by readers, the comments included herein do not reflect the views and opinions of Rigzone. All comments are subject to editorial review. Off-topic, inappropriate or insulting comments will be removed.