Halliburton Sued by US Seeking to Block Baker Hughes Deal
by Bloomberg
|
David McLaughlin & David Wethe
|
Wednesday, April 06, 2016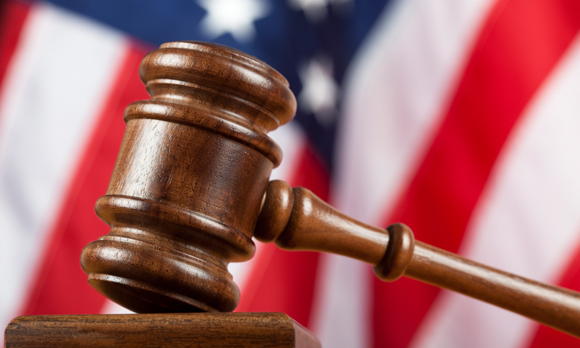 Halliburton was sued by US antitrust officials who say its planned takeover of rival oil-services firm Baker Hughes threatens competition and should be blocked.
(Bloomberg) -- Halliburton Co. was sued by U.S. antitrust officials who say its planned takeover of rival oil-services firm Baker Hughes Inc. threatens competition and should be blocked, a blow to Halliburton's bid to bulk up to better compete against rival Schlumberger Ltd.
The deal, which would unite the No. 2 and No. 3 firms in the industry, threatens to eliminate head-to-head competition in 23 products and services used in oil exploration and create a duopoly with market leader Schlumberger, the Justice Department said Wednesday.
The lawsuit doesn't necessarily spell the end of the tie-up, which has been bogged down in regulatory reviews around the globe since it was announced in 2014. Some merger suits brought by the government are settled when companies agree to sell assets to resolve competition concerns. Still, others vow to fight only to see their deals collapse. Halliburton and Baker Hughes said they planned to contest the case.
Bill Baer, the head of the Justice Department's antitrust division, said the deal is "unfixable" and assailed the companies for proposing "the most complicated array of piecemeal divestitures and entanglements" that he has ever seen. Baer said the companies knew from the beginning that they faced potentially insurmountable antitrust hurdles.
"Competition in the oilfield services industry is critical to our economy," he said on call with reporters after the suit was filed. "Competition leads to safer ways to extract oil and gas, to more efficient methods for drilling and it keeps down the cost of producing a barrel of oil. The American public cannot be asked to bear the risk that these benefits will be lost."
The companies shouldn't waste resources fighting the lawsuit, according to Brian Uhlmer, an analyst at GMP Securities in Houston, who said Baker Hughes should just take the $3.5 billion breakup fee and walk away.
"Baker's better off taking that money, doing a levered buyback and fixing their business and being a real competitor, instead of sitting around, constrained by the merger agreement," Uhlmer said. "It's burning a hole in their pocket, and they're losing cash and market share because of Halliburton."
The lawsuit extends the Justice Department's aggressive record under Baer in challenging mergers combining big players in industries as varied as beer, air travel and mobile-phone service, said Allen Grunes, an antitrust lawyer at Konkurrenz Group in Washington.
"More and more deals are in the antitrust no-fly zone for the Justice Department, and they're shooting them down," he said.
Halliburton announced the $35 billion cash-and-stock deal to buy Baker Hughes in November 2014 to become a stronger No. 2 against Schlumberger by achieving scale and building a better technology portfolio in a market where the ability to innovate is increasingly critical for success. Companies like Halliburton and Baker Hughes help energy explorers do everything from fracking oil fields to lining wells with cement to reviving output from aging reservoirs.
The two rivals said the combination would benefit their customers and help them reduce costs.
"The companies believe that the DOJ has reached the wrong conclusion in its assessment of the transaction and that its action is counterproductive, especially in the context of the challenges the U.S. and global energy industry are currently experiencing," they said.
Shares Rise
Halliburton shares rose 6.4 percent to $36.61, the biggest gain since August, while Baker Hughes rose 9.3 percent to $43.00 at 12:14 p.m. in New York trading, the most since November 2014.
The transaction was scheduled to close last year but has been delayed as the companies grapple with antitrust concerns raised by competition authorities. At the time the deal was struck, Halliburton said it was willing to divest assets that generate as much as $7.5 billion in annual revenue to win antitrust approval.
To appease regulators, Halliburton agreed to sell several businesses. Among them were its drill-bits unit, which makes the tips of drills for digging wells, and the drilling-services arm, which operates as Sperry Drilling and uses data to track and steer the direction of drill bits. It also agreed to sell Baker's so-called core completions business, which provides equipment for controlling the flow of oil as it is readied for production.
Wasn't Enough
That wasn't enough for the Justice Department. The proposal was a "grab bag" of businesses that was "so complicated and convoluted" it would turn the antitrust division into an energy-sector regulator, Baer said.
"At the end of the day, Halliburton's purported settlement would eliminate a formidable rival – Baker Hughes – and replace it with a smaller, weaker rival that is not the equivalent of Baker Hughes today," Baer said.
Halliburton could try to salvage the deal by reaching a settlement with the Justice Department by offering asset sales that address the government's concerns. In the U.S. case against the merger of American Airlines and US Airways in 2013, the carriers resolved the government's concerns by agreeing to sell airport assets to low-fare competitors.
The proposed Halliburton-Baker Hughes merger has also faced hurdles in Europe, where the European Commission stopped the clock on its review of the deal for the third time, saying crucial details were missing.
Total SA Chief Executive Officer Patrick Pouyanne said last month in an interview that the proposed merger wasn't good news for explorers and producers.
Other oil companies have complained to regulators. Chevron Brazil said the acquisition could reduce to two from three the number of large service providers for certain products for drilling and completing wells, such as completion tools and cementing services. Depending on the results of asset sales, the merger could raise prices for these services in Brazil, according to filings posted last year with Cade, the Brazilian antitrust regulator.
The case is U.S. v. Halliburton Co., 16-00233, U.S. District Court for the District of Delaware.
To contact the reporters on this story: David McLaughlin in Washington at dmclaughlin9@bloomberg.net; David Wethe in Houston at dwethe@bloomberg.net. To contact the editors responsible for this story: Sara Forden at sforden@bloomberg.net ;David Marino at dmarino4@bloomberg.net Michael Hytha.
Generated by readers, the comments included herein do not reflect the views and opinions of Rigzone. All comments are subject to editorial review. Off-topic, inappropriate or insulting comments will be removed.
RELATED COMPANIES