RigArm Shows Prototype of Technology to Oil, Gas Industry
by Karen Boman
|
Rigzone Staff
|
Friday, March 11, 2016
A Calgary-based company is demonstrating a prototype of its new, proprietary robotic racking board pipe handler for land-based drilling rigs.
SCARA (Selective Compliance Articulated Robotic Arm) – designed to improve safety and efficiency by replacing the derrick men who work at the top of the drilling rig – can move a triple pipe stand in less than 25 seconds, according to RigArm Inc.'s website.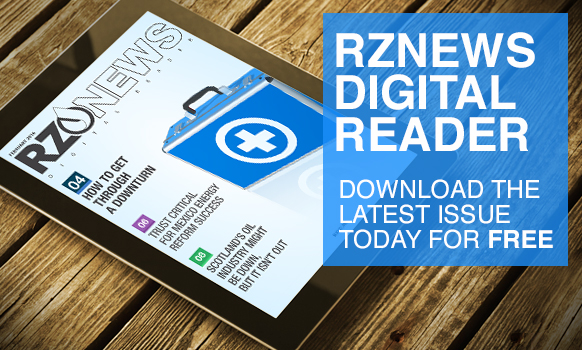 Vlad Jorgic, a co-founder of RigArm, told Rigzone that the idea for SCARA came after company officials saw an opportunity to develop a product that was both affordable and technologically advanced. Work on the software design started two years ago. Last year, company officials decided to move forward with building a full-scale product prototype. The current market may not seem like an ideal time to debut a new prototype, but RigArm officials saw opportunity in the fact that oil and gas companies are seeking new and innovative ways to further reduce costs while maintaining safety and efficiency, according to a company press statement.
Automated pipe handling systems are not new, but Jorgic said RigArm saw room for improvement on the technology. Jorgic noted that the size and the weight of the equipment was one area that needed to be addressed, as storing something heavy at the top of a rig can cause problems when the rig is moved. For that reason, a lightweight robotic arm was needed. Many of the solutions available today also require the rebuild of most of the racking board, Jorgic added, saying companies are not willing to commit to that, as it requires a significant modification to the rig fleet.
RigArm's technology encompasses the latest trends in adaptive autonomous control. Borrowing from the latest developments in self-driving cars, the company has developed a new software system for the arm that uses 3D laser scanning; this permits the robot to adapt to the changing environment and maintain reliable, fast and precise performance. SCARA also improves reliability by using fully redundant onboard electronics and sensors. Additionally, the arm has LIDAR and ultrasonic sensors that scan the racking board so that all precision tasks of properly locating the pipe are carried out by an autonomous system, allowing for significant speed improvements.
The robotic arm, which weighs less than 2,000 pounds, can be added on and easily removed; it is designed to remain on the racking board when the rig is moved. RigArm also has been able to bring the technology's cost down by developing much of the core hardware and software technology in-house, Jorgic noted.
The oil price downturn has prompted massive layoffs, capital expenditure reductions and cutbacks in activity. But interest is still seen by companies in technologies that can help reduce production costs while maintaining efficiency and safety standards. In recent years, the oil and gas industry has been looking at new technologies or methods to enhance operations, such as taking advantage of Big Data and Internet of Things technologies.
A Rice University researcher recently told Rigzone that Rice's Integrated Systems and Circuits (RISC) laboratory has seen interest by oil and gas companies in their new microchip technology. The need to better understand well conditions thousands of feet below the surface while reducing costs is driving that interest. In addition, David LaVance, president, chairman and CEO of Integrated Environmental Technologies Ltd., told Rigzone earlier this month that the company's new dual water treatment regime could help stripper wells stay profitable in the low oil price environment.
Generated by readers, the comments included herein do not reflect the views and opinions of Rigzone. All comments are subject to editorial review. Off-topic, inappropriate or insulting comments will be removed.