The Impact of Oil, Gas on the US Housing Market
by Valerie Jones
|
Rigzone Staff
|
Friday, March 04, 2016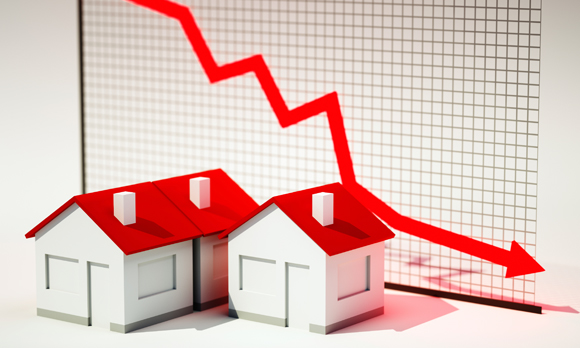 Rigzone explores how the low oil price environment affects key oil regions in the United States.
Just a few years ago, the industry was in an upcycle – oil prices were high, drillers had discovered new ways to extract oil and gas and jobs were plentiful in the oilfield. Workers flocked to oil-rich cities like Houston; Midland, Texas; and Williston, North Dakota. The housing markets in these areas saw a heavy increase in home sales. But these days, sales have slowed down quite a bit.
"We are not excelling anymore. We are maintaining," Warren Ivey, managing broker and owner of Century 21 The Edge and regional vice president of the Texas Association of Realtors, told Rigzone. "While we're not seeing a tremendous increase in prices on a monthly basis, we're holding our own. The median price of a home last quarter (4Q 2015) was up by 0.3 percent."
Ivey, who has worked in the Midland market for 10 years, said a balanced market should have 6-6.5 months of inventory. Currently, the Midland market has 3.5 months of inventory.
"A year ago, we had 2.4 months of inventory, so [sellers] were doing better then," said Ivey. "Sellers are aware that we sold their properties within 17 days on the market last year. Now the average number of days on the market is 52. Our sellers aren't panicking, but they're asking what's wrong?"
The significant decline in drilling activity in the Permian Basin plays a factor. The single family residential renting market in Midland has also been affected, noted Ivey.
"Prices have gone down and inventory has gone up," he said.
Ivey believes this is due to many of the migratory workers – guys who were living in Midland and working on the drilling rigs.
"The people it took to operate those units were a migratory workforce. We saw a lot of them come in from places like El Paso, where the husband came and left the mother and children at home," said Ivey. "When the overtime stopped and drilling activity slowed down, those workers probably went back home. They aren't going to be re-leasing their homes."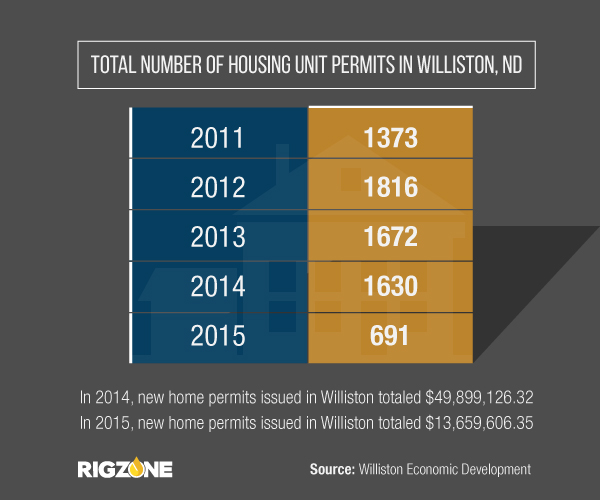 Total Number of Housing Unit Permits in Williston, ND
Source: Williston Economic Development
Back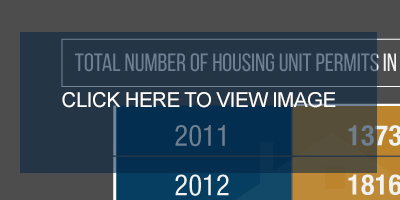 A Builder's Perspective
Michele Marano, a Houston real estate agent and CEO of Real Estate for the Energy Professional, said builders – both national and statewide – who have deep pockets and have been in this situation before will have taken advantage of high sales before the prices of homes declined.
"The larger builder projects a turn in the market and has already factored lower prices into their inventory costs and longer carrying times," Marano told Rigzone. Eighty percent of Marano's clients are in oil and gas. "If they can't carry property for six months or longer, those are the builders who will [hurt during this downturn]. The bigger guys have been through this before."
John Sullivan, principal for Sullivan Brothers Builders, a homebuilder who constructed homes in the Springwoods Village community next to the new ExxonMobil campus just north of Houston, told Rigzone that he has not seen much of a slowdown in the housing market there.
Sullivan Brothers is responsible for building all of the homes in Harper Woods, an 88-home community in Springwoods Village. Right now, the community is halfway built out and Sullivan expects it to be fully built out within another year to year-and-a-half.
Sullivan said 40 percent of Harper Woods homes are ExxonMobil or Southwestern Energy clients; the rest are professionals in other industries. Prices for Harper Woods homes range from $350,000 to $650,000. Sullivan said home prices have not been impacted heavily by the price of oil.
"Our clients are not buying starter homes. These little spikes in the market, you have to get through it … and hold your prices," said Sullivan.
Sullivan said Harper Woods currently has five built un-sold homes. Typically, they keep five to 10 available homes. They're not overly concerned with the present market shift.
"This is our third down cycle. We're in it for the long haul."
Luxury Homes Taking a Hit
Houston's higher end housing market hasn't fared as well during the market shift.
By definition, luxury real estate is property that has an appraised value of more than $1 million, however the term is thrown around a lot in the real estate industry and used quite loosely, said Marano. The meaning is weighed heavily by location, but can also vary based on one's perspective and means of style.
"According to the Houston Association of Realtors (HAR), homes priced at $500,000 and up have had a decline in sales every month since September 2015," she said. "That market is taking the biggest decrease in sales."
A monthly report by HAR revealed that Houston saw a 22 percent drop in luxury home sales in November 2015.
1
2
View Full Article
Generated by readers, the comments included herein do not reflect the views and opinions of Rigzone. All comments are subject to editorial review. Off-topic, inappropriate or insulting comments will be removed.