Might Consumers Ultimately Pay the Price for Cheap Fuel?
|
Thursday, March 03, 2016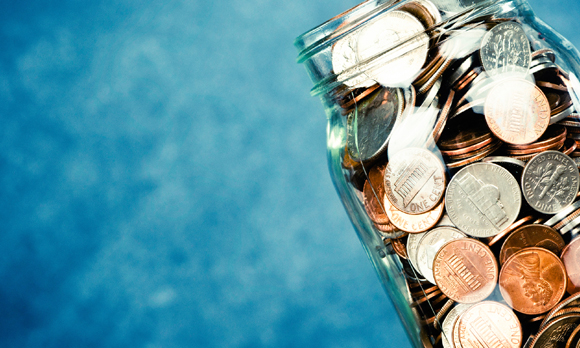 The upstream sector's woes could become costly for refiners, motorists.
As this graph from the American Automobile Association (AAA) shows, the U.S. average price for a gallon of gasoline has fallen dramatically since the second half of 2014. As of February 8 of this year consumers were paying an average of $1.74 per gallon of gasoline, representing a 44-cent year-on-year decline, according to AAA. Barring any significant supply disruptions, AAA expects the low-price trend to continue for the near term.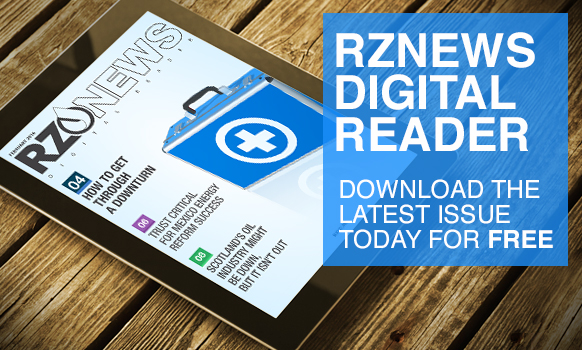 A Limited Victory?
"Consumers are definitely the biggest winners when it comes to cheap gasoline," said Alex Goldstein, founder and CEO of Chicago-based energy retailer Eligo Energy. "They are able to immediately see the difference of lower prices at the pump in their checkbooks and as a result will be more likely to use their savings in other areas of the economy."
Industries such as manufacturing, agriculture and transportation also benefit from low fuel prices, said David Holt, president of the Consumer Energy Alliance (CEA), which counts representatives of those sectors among its membership.
"Reducing the cost of energy for those sectors of the economy helps their bottom line," he said.
Noting that cheap fuel "absolutely" benefits the economy, Holt contends that two factors have nonetheless diminished its positive impact. First, a "convoluted, inconsistent" regulatory regime has made the U.S. energy market among the world's least predictable, he said. "That unpredictability does trickle down" in the form of price complications in the energy market that affect other sectors of the economy, Holt explained.
In addition, Holt pointed out the U.S. economy has sunk into a recession or is on the verge of doing so. "What you're seeing now is a downturn in commodity sectors," he said, adding that consumer demand is not as robust as it could be. Two gauges of consumers' attitudes about the economy – one from The Conference Board and another from the University of Michigan – underscore Holt's concerns about demand.
"With reduced prices for consumers, theoretically every household gets, say, $2,000 more in their pockets every year," Holt said. "You'd think that money's getting spent, but with the high levels of unemployment and underemployment it's not having the same economic effect as it has had in the past."
Further stifling consumer demand is a faltering upstream oil and gas sector, which for much of the past decade has stood out by exhibiting robust growth, added Holt.
"Now that oil and gas is in a downturn, that's probably contributing to the lower benefit (of cheaper energy) to the broader economy," he said.
"Low oil and gas prices do help consumers in the short term by reducing fuel and electricity bills and increasing the amount of disposable income," added Uday Turaga, founder and CEO of Houston-based energy consulting firm ADI Analytics LLC.
However, he pointed out that a prolonged low-price environment can hurt a number of major economic sectors.
"Sustained periods of low oil and gas prices would … significantly curtail capital spending by oil and gas companies and thereby business for other economic sectors such as steel, industrial equipment, engineering and construction services," he said.
For instance, he said these industries are feeling the effects of reduced activities in shale plays in states such as North Dakota, Pennsylvania and Texas.
Even refiners, who until recently reaped the benefits from cheap crude oil, are beginning to feel the pinch from low fuel prices. The inexpensive feedstock, coupled with solid demand, prompted refiners to process greater crude oil volumes. Increasing utilization demanded greater fuels storage, and inventories of gasoline and distillates are now unusually high. According to the U.S. Department of Energy's Energy Information Administration (EIA), U.S. gasoline stocks are well above 5-year norms and distillate stocks are at the top of the range for the period. As Bloomberg recently reported, U.S. refiners have begun to scale back fuels production to cope with the glut. For European refiners, a similar trend is playing out. Reversing their recent trend of strong earnings, refiners are expected to see more modest profitability in 2016.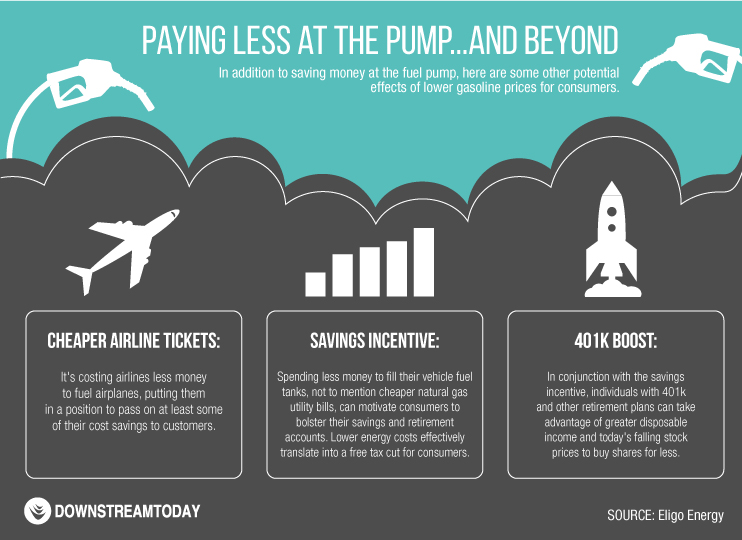 Paying Less at the Pump...and Beyond
Back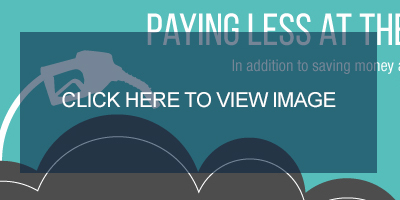 A Trickling Down Upstream 'Survival Mode'
"The first and most pronounced effect of falling gasoline prices is the impact to the upstream oil and gas industry employees," said Will Speer, Houston-based senior petroleum analyst with GasBuddy.com. "Retail gasoline prices can't fall this far without crude price falling significantly as well."
Speer pointed out that motorists can eventually feel the pain of a prolonged low-price environment, too. Although widespread job cuts are a clear sign of the "survival mode" in which exploration and production companies find themselves, the firms are also shelving plans to launch expensive projects to find and exploit new sources of crude oil, he said.
"If enough of these projects are cancelled and if the world needs those extra barrels of crude in the future, the industry won't be able to return the lost production quickly," explained Speer. "It takes many years to develop a lot of these projects."
"As the world stares at an oil oversupply situation and record low gasoline prices, investments moving away from the oil and gas industry could make it harder to keep up with demand in coming years," continued Speer. "Higher world demand for oil with a less robust supply picture could spell higher gasoline prices down the road. Even if the typical motorist isn't impacted by the oil industry's reduction of headcount, the budgets and oil projects being slashed could impact you still in the end."
Dan Kish, senior vice president with Washington, D.C.-based Institute for Energy Research, also expressed concerns about what a lack of upstream investment could ultimately mean for consumers. Moreover, he cautioned against the imposition of new regulatory burdens by government on the oil and gas industry at this precarious time.
"Low prices are great for consumers, but if oil prices stay low for a long time, companies will not invest in the fuels we need for tomorrow, and prices will skyrocket right back up," Kish said. "This is true for any product…if the price becomes too low for the people who produce it, they will stop producing it until they can recover their costs. The worst thing to do right now is for the government to make it harder to produce energy here at home, or to raise taxes on energy, which makes it more expensive to produce products here at home."
As Reuters recently reported, cheap gasoline prices – coupled with "relatively stable" corn prices – have put the renewable fuels sector at a disadvantage as well. In fact, Goldstein sees the status quo dealing a more crushing blow to renewables.
"While oil companies will see their bottom-line affected in the short-term, ultimately alternative energies like ethanol will take the biggest hit from lower gasoline prices dragging their own prices down, meaning smaller profits and struggle for alternative suppliers," he said.
1
2
View Full Article
Generated by readers, the comments included herein do not reflect the views and opinions of Rigzone. All comments are subject to editorial review. Off-topic, inappropriate or insulting comments will be removed.