Cyberhawk Completes Drone Inspection Work for Offshore Canada Client
|
Wednesday, March 02, 2016
Scottish aerial inspection firm Cyberhawk Innovations announced Wednesday that it has completed an offshore drone inspection in North America for an unnamed supermajor.
Cyberhawk said the project took two weeks to complete the work at a platform located offshore Newfoundland, Canada. It encompassed the inspection of a live flare, platform underdeck and the roof of the facility's giant concrete gravity base. The use of Cyberhawk's ROAVs (Remotely Operated Aerial Vehicles) enabled the client to complete a backlog of complicated inspection and survey work on the platform.
The ROAVs were chosen as the preferred method for inspection in order to reduce safety risks posed to personnel in the hazardous, foggy conditions that are prevalent off the east coast of Canada.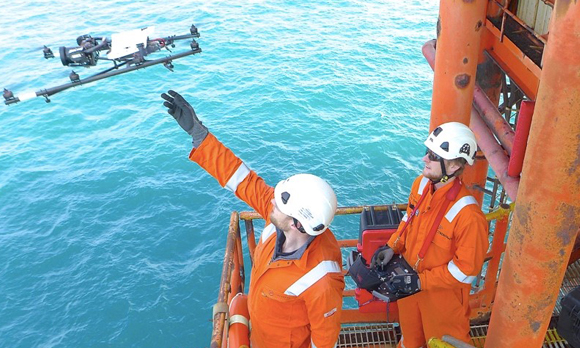 Offshore man with drone
Source: Cyberhawk
Cyberhawk founder Malcolm Connolly commented in a company statement:
"Cyberhawk is well-known for pushing the boundaries of what is possible in the field of ROAV inspection, however even with eight years of rope access inspection experience and seven years using ROAVs, this was one of the most challenging projects I have been involved in.
"Carrying out the underdeck inspection workscope alone would have taken weeks of complex overside work for a rope access team, or months for scaffolding to be erected. Add to that the challenging weather conditions on the Grand Banks and this would realistically have resulted in an inspection campaign spanning over the whole summer.
"The main advantage that the ROAV had over other access techniques in this instance was its speed and its ability to capture large amounts of inspection information in short periods. Although the ROAV is able to operate safely in 30 knots of wind, during this project we were only able to fly on five out of 15 days due to either fog or gale force winds. The number of areas that were inspected in five productive days proves the speed and efficiency of ROAV inspection.
"The successful completion of this project reinforces that ROAV technology can produce results in the harshest of offshore environments. It is also an exciting step forward for Cyberhawk entering the North American market."
Drones are increasingly being used by the offshore industry to conduct inspection work, with a number of firms emerging in recent years that can service the oil and gas industry with aerial inspection technology.
Generated by readers, the comments included herein do not reflect the views and opinions of Rigzone. All comments are subject to editorial review. Off-topic, inappropriate or insulting comments will be removed.