Murky Outlook for Floating Production Market, Light Seen in 2017
by Chee Yew Cheang
|
Rigzone Staff
|
Tuesday, March 01, 2016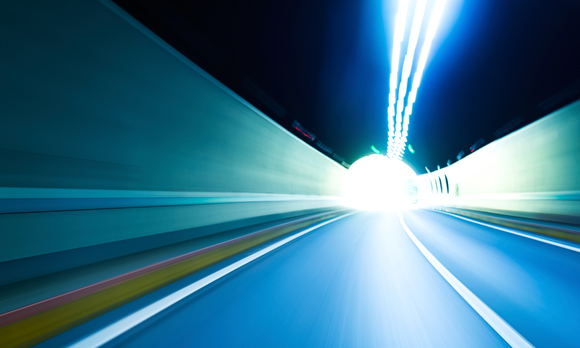 Floating production orders are likely to remain slow this year amid cutbacks in capital spending by the oil and gas industry, but prospects should improve in 2017.
Hopes that the New Year would usher in some optimism for the floating production industry were dashed by a relentless decline in global oil markets, with U.S. crude prices slipping to a 12 year low in February.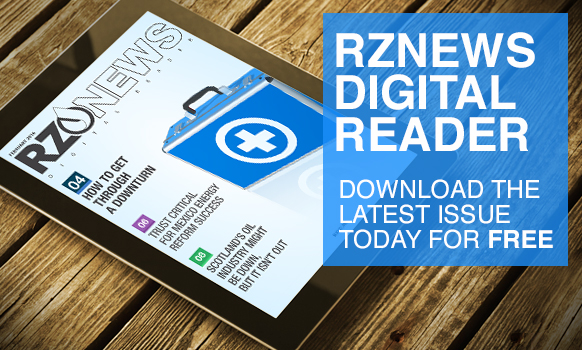 The floating production systems (FPS) sector, already reeling from the cutbacks in capital expenditure (CAPEX) implemented by several international and national oil companies to cope with the current market downturn, expects only a handful of new orders this year, industry players observed.
"Floating production is one of the brighter spots in the offshore market … but that's not saying much. Last year, we said that the mood in the market was down but not depressed. This year we are very firmly in a depressed state," David Boggs, managing director of floating production consultancy Energy Maritime Associates (EMA), told participants attending the Singapore Offshore Finance Forum in Singapore in late January.
Underlying the bearish industry outlook is the sharp and prolonged fall in oil prices, which have declined by more than 70 percent since the beginning of second half 2014 as oversupply continues to weigh on the market. This was reflected in U.S. oil futures as prices dipped to a 12 year low of $26.05 a barrel in post-settlement trade Feb. 11, while global benchmark Brent futures settled at $30.06 a barrel on the same day.
"I think the FPSO sector is challenged," HBA Offshore Pte Ltd.'s Founder and CEO Hassan Assad Basma – who is a former CEO of Malaysian FPSO company Bumi Armada Berhad – commented separately at the same event, citing the downtrend in oil prices and cost escalation in the industry.
"You can't double your costs in 10 years and double it again in another 10 years and still remain in business. It requires $100 a barrel oil … So this segment is ripe for adjustments in CAPEX and OPEX [operating expenditure]. Unless and until we dropped the cost dramatically there will not be too many [newbuild] FPSOs," he explained.
BW Offshore, the world's second largest FPSO contractor, shared Basma's observation. The Norwegian firm said Feb. 7 in its release of fourth quarter financial results that "it is prudent to expect a prolonged downturn in contract awards."
Few FPSO Orders Seen in 2016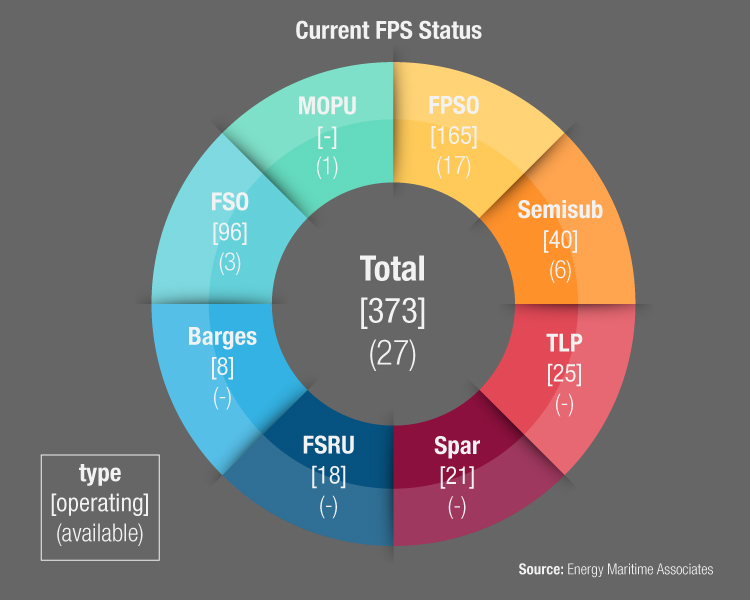 Current FPS Status
Back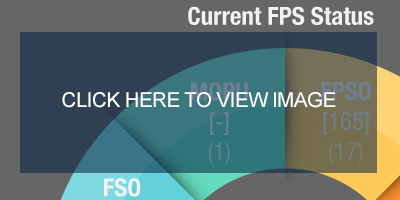 Floating production, storage and offloading (FPSO) facilities, which dominates the floating production segment with a growth of 850 percent in the period 1990-2015, experienced it worst year in almost two decades with only four awards – all in the March quarter just before oil prices dropped further – in 2015, EMA data revealed. This was less than the 11 FPSO contracts awarded in 2014 and seven in 2009.
Among the FPSO awards last year, three were for smaller units, while the largest contract – worth $2.54 billion from Italy's Eni S.p.A. – was clinched by Malaysia's Yinson Holdings Berhad for the Offshore Cape Three Points (OCTP) project in the Tano Basin, located around 37 miles off the coast of Ghana.
"We expect … FPSOs [to stage] a very slow recovery this year, maybe five awards assuming oil prices tick up a little bit whereas now we see three awards overall, EMA's Boggs said.
He explained that "the awards will only come at the back half of this year or be pushed into 2017", given that a number of large developments currently in the front end engineering and design stage could be sanctioned by the end of this year.
EMA reported Jan. 18 that Petroleo Brasileiro SA (Petrobras), a key FPSO market prior to the corruption probe but froze contract awards in 2015 for the first time in two decades, is believed to be keen to order two units for the Libra Pilot and Sepia developments offshore Brazil.
LNG Makes Inroad into the Floating Production Sector
While FPSO retains its dominance in the floating production sector, rising global demand for liquefied natural gas (LNG) is fueling demand for floating LNG (FLNG) facilities and floating storage and regasification units (FSRU).
According to EMA, there were six new orders for LNG-related units – comprising one FLNG, three FSRUs and two LNG FSOs (floating storage and offloading) – in 2015, more than the four new FPSO contracts awarded.
"We are slightly more optimistic on the LNG side of the market … like FLNGs and FSRUs," Boggs said at the Singapore forum, adding to remarks made Jan. 18 that "awards for LNG-related units should continue to grow and [that] this will only increase once the first FLNG unit begins operation later this year."
EMA forecast that LNG-related projects will account for one-third of the $92.9 billion CAPEX to be spent on 115 new floating production projects from 2016 to 2020, with present orders consisting of eight FLNG units and 11 FSRUs.
Despite the entry of LNG-related projects, FPSOs remain the single biggest category in the floating production business, making up around 40 percent of the expected orders – valued at around 50 percent of the CAPEX – during this five year period. LNG units are next, accounting for around 25 percent of the orders.
Meanwhile, more existing FPSOs – now without any contracts – are available for work in the lackluster oil and gas market. In fact, the number of idled FPSOs rose to 17 after BW Offshore announced Jan. 22 an agreement with Ithaca Energy Inc. to mutually terminate the contract for FPSO BW Athena in February.
The company's FPSO BW Athena, in operations at the Athena field in the UK Continental Shelf since May 2012, is "now being marketed for new opportunities" despite BW Offshore acknowledging Feb. 7 that it faces a challenging market where "redeployment of units coming off contracts will be affected by the reduced number of new developments."
1
2
View Full Article
Generated by readers, the comments included herein do not reflect the views and opinions of Rigzone. All comments are subject to editorial review. Off-topic, inappropriate or insulting comments will be removed.