Larger UK Offshore Workers Could Force Helicopter Safety Changes
|
Friday, February 12, 2016
The most-thorough survey into the size and shape of the North Sea workforce has found that UK male offshore workers are bigger than the country's typical male and even larger than the average American male.
The findings, which are a result of a joint project between Aberdeen's Robert Gordon University and Oil & Gas UK, could have significant health and safety implications when it comes to how offshore workers are evacuated from a ditched helicopter. The researchers said that the results cast valuable light on the ability of North Sea offshore workers to escape through a helicopter window and that, while bigger individuals are less likely to be able to do so than smaller individuals, "size isn't everything".
Using portable 3D scanning technology, the researchers measured 588 male offshore workers and extracted a total of 26 measures, including shoulder width, chest girth, neck girth, and a series of volumetric measurements of the arm, leg and torso. Measuring workers in different standing and sitting postures and in form-fitting shorts as well as full survival suits, the research is the most comprehensive study ever carried out to date, RGU said in a statement released Friday.
Commenting on the research, Dr. Arthur Stewart, of RGU's Faculty of Health, said:
"Those who fail the window egress test are probably bigger in any single dimension than those who pass, but that probability is not 100 percent: it is between 70 and 80 percent.

"It seems that a few very large individuals can escape through this small aperture, and we should perhaps focus on trying to predict why some smaller individuals can't."

RGU said that while larger individuals were less likely to escape through the window, the most accurate predictive test of whether a person would pass or fail would require 30 measurements.

However, using individual measurements or combinations of two or three together such as body weight, shoulder breadth and chest depth is nearly as accurate. Crucially, many of these can be measured manually without the need for 3D body scanning.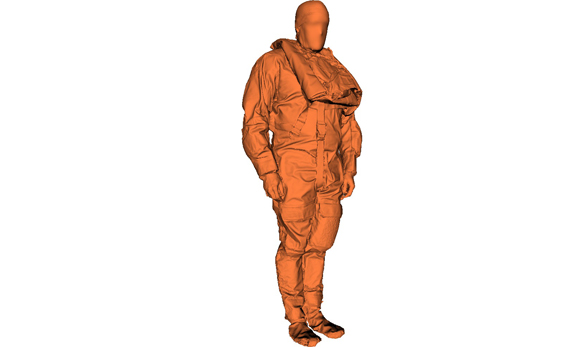 RGU analyzed the size and body shapes of 588 male North Sea offshore workers.
Source: Robert Gordon University
"These findings show us for the first time the extra value of combining individual measurements, and the limitations of an approach which treats the body as a rigid shell in predicting window egress," Stewart said.

"In terms of allocating seats on helicopters, our study highlights a range of possible measurements which could be used to identify larger individuals who should be seated adjacent to larger windows.

"Although bideltoid (shoulder) breadth may be outperformed by other measurements, it is unquestionably the most practical and reliable to measure, and less affected by breathing artifacts than others we could have chosen.

"Short of assessing all 62,000 offshore workers in the North Sea by scanning or require them to do window egress trials of actual windows on helicopters, all of which are larger than the CAA minimum, we hope to augment the study with future work which will examine spine and shoulder flexibility."
The research was prompted by industry recognition that existing size information on offshore workers was out-of-date, and although the workforce was heavier, how that had impacted on their shape and space requirements was unknown.
The last fatal helicopter incident in the UK North Sea involving offshore workers occurred in August 2013, when four people died after an AS332-L2 Super Puma helicopter ditched as it was on approach to Sumburgh Airport on the Shetland Islands.
Generated by readers, the comments included herein do not reflect the views and opinions of Rigzone. All comments are subject to editorial review. Off-topic, inappropriate or insulting comments will be removed.