Small Asian Firms Seize Upstream Opportunities in Weak Market
|
Wednesday, February 03, 2016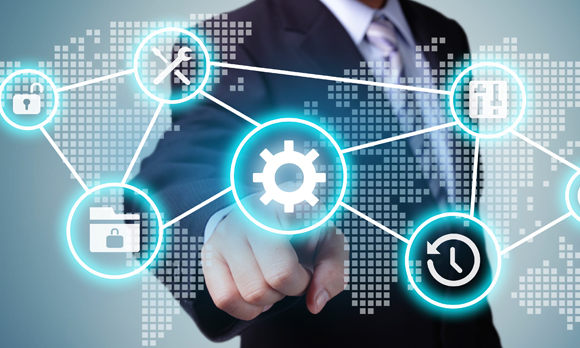 Small Asian companies find the prolonged weakness in global oil prices an opportune time to purchase stakes in upstream oil and gas assets.
While low oil prices may have dampened prospects for the petroleum industry, a group with little or no exposure to the sector viewed the market downtrend favorably. This involved small companies in Asia keen on capitalizing on the window of opportunity to buy stakes in upstream petroleum assets.
These firms find the entry barrier to the upstream asset market, particularly for producing ones, to be lower than before. The acquisition cost for such assets fell due to prices being weighed down by an approximate 70 percent decline in global oil prices that begun in the second half of 2014.
Since then, the lower purchase price of hydrocarbon assets – typically mature and aging – encouraged some of these companies to venture into the industry, a move they had previously deemed to be financially unrealistic.
Some Companies Seek to Grow Energy Arm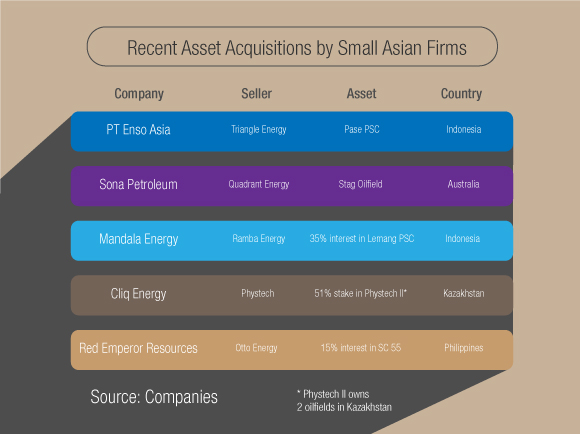 Recent Asset Acquisition by Small Asian Firms
Source: Companies
Last November, Boustead Singapore Ltd., an engineering services provider with no prior ownership of upstream assets, announced a plan to own an 83 percent stake in a consortium – with One North Energy Private Ltd. and Lamara Energy Pte Ltd. – to purchase Australia's Triangle Energy (Global) Ltd. (TEG) 100 percent interest in Pase Production Sharing Contract (PSC) in Aceh, Sumatra Indonesia for $3.9 million.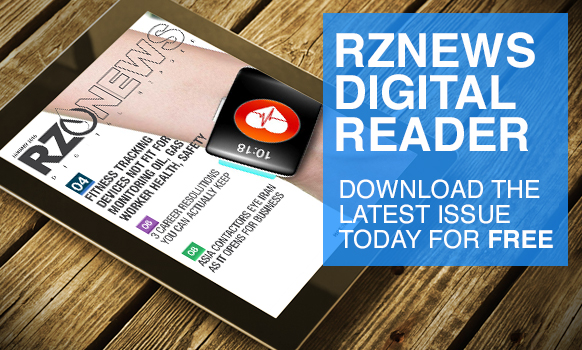 The Singapore-based company explained that the proposed acquisition of Pase PSC presented "an excellent opportunity to expand its Energy-Related Engineering Division … [as well as] the ability to grow its recurring revenue base further."
Perhaps a more significant factor in encouraging the proposed acquisition was Boustead's assessment that "the current business environment in the global oil & gas industries … [has] resulted in attractive valuations for energy assets. The Group believes that the Purchase Price offered for Pase PSC provides great value and that the downside risks of the Acquisition can be comfortably managed."
Pase PSC, located adjacent to Exxon Mobil Corp.'s Arun gas field and associated liquefied natural gas (LNG) gas field, has been operated by TEG for three years from February 2012. TEG was granted a 20 year extension for the block in February 2015, with plans to further explore and develop onshore gas reserves in the acreage.
The Boustead-led joint venture's proposed acquisition failed when TEG shareholders voted overwhelmingly Dec. 24, 2015 to dispose of the company's stake in Pase PSC to Indonesia's PT Enso Asia (PTEA) for $4.5 million. PT Enso already has a working relationship with TEG, having provided loans to the latter to meet its working capital commitments for the Pase project.
GSS Energy Ltd., another Singapore-based firm was however successful in acquiring an upstream interest in Indonesia in May 2015. It entered into an agreement with Ramba Energy Ltd., a company with three onshore assets in Indonesia, including West Jambi Kerja Sama Operasi in South Sumatra. GSS answered Ramba's call for capital to fund exploration at the West Jambi block by placing a $5 million investment in the work program, under which two wells will be drilled.
"The West Jambi agreement with Ramba represents a great addition to our portfolio for our shareholders to benefit from Indonesia's exciting oil and gas sector ... GSS Energy is committed to strategically investing in the near-production or producing oil and gas sector across the country," GSS CEO Sydney Yeung said in a May 19 press release.
In October 2015, PT Hexindo Gemilang Jaya, the local subsidiary of Ramba – which had received approval from the Indonesian authorities to develop the Akatara field in Lemang Production Sharing Contract (PSC) in Sumatra – divested 35 percent interest in the block to Singapore-based Mandala Energy Ltd. for up to $179.6 million. A 2011 study by consultant DeGolyer & MacNaughton estimated that the Lemang block holds prospective resources of around 511 million barrels of oil and 468 billion cubic feet of gas.
Lemang was Mandala's first upstream transaction in the region since it was established in March 2015 and the Southeast Asia-focused company is backed by global investment firm Kolhberg Kravis Roberts & Co. (KKR).
"For Mandala Energy, this marks an excellent first step in building our South East Asia portfolio. Combining Ramba's local relationships and knowledge with Mandala's technical and operational strengths will provide an ideal platform for securing early production whilst pursuing significant upside potential in the Lemang project," Mandala CEO Barry O'Donnell commented Oct. 5 on the acquisition.
In the Philippines, Australia's exploration firm Red Emperor Resources NL acquired a 15 percent interest in Otto Energy Ltd.'s Service Contract (SC) 55, located in southwest Palawan Basin for up to $5.63 million.
"Red Emperor is delighted to have been able to complete on a transaction that has the potential to completely redefine the company. After extensive review of many potential projects, the Red Emperor Board have … taken advantage of a depressed oil market that has seen drill rig rates halve and farm-in promotes reduce significantly," Managing Director Greg Bandy said in the March 2, 2015 transaction.
Malaysian SPACs Targeting Asset Buys
Elsewhere in Asia, the steep downturn in oil markets may encourage some investments from Malaysian special purpose acquisition companies (SPAC) listed on local stock exchange Bursa Malaysia. These firms are given 3 years from listing on the stock exchange to make a qualifying acquisition.
"Current weak oil price environment provides better [bargaining] power for 'undergraduate' SPAC … SPACs are cash companies looking for oilfield assets and should potentially be able to negotiate for better pricing especially in the declining oil price environment," Jason Tan, Malaysia's HongLeong Investment Bank analyst said in a Dec. 10, 2015 research report.
Reach Energy Berhad, the last SPAC to be listed on Bursa Malaysia in August 2014, is hopeful of completing its first upstream acquisition in the current market environment as asset prices fall in tandem with the slide in oil prices. A senior executive told Bloomberg News Dec. 23, 2015 that the SPAC has shortlisted two upstream assets from over 50 that it evaluated last year and expected to seal a deal earlier this year.
"This is the best time to buy because oil price is depressed and there are a lot of companies, big and small, rationalizing their portfolios … A lot of the players may say, OK, if I divest here I can get the funds to develop this one because I need the funding, since revenue is down," Reach's Managing Director Shahul Hamid Mohd Ismail told Bloomberg News Dec. 22.
One of the acquisition targets that Malaysia's largest listed SPAC is considering is located in the Asia Pacific.
Meanwhile, Cliq Energy Berhad – another Malaysian SPAC – announced in March 2015 its much-anticipated upstream asset purchase after listing on Bursa Malaysia in April 2013 to raise $118 million (MRY 364.39 million). The company agreed conditionally to pay $117.3 million (MYR 492 million) to Phystech Firm LLP to acquire a 51 percent interest in Phystech II Joint Stock Company.
Cliq revealed that Phystech II would give it ownership of two producing onshore oilfields in Kazakhstan's North Karazhanbas Region, with proved and probable reserves of 39.4 million barrels of oil as at April 1, 2015. The SPAC is awaiting approval of the Securities Commission Malaysia for the Phystec II acquisition proposal which was resubmitted to the authorities Dec. 14, 2015.
Falling Asset Prices Entice Large Players Too
Small firms in Asia aren't the only ones drawn by falling prices of petroleum assets as larger competitors such as Japan's trading house Mitsui & Co., Ltd. is on the look-out to acquire distressed oil assets.
"If we wait for oil demand to recover it will take about three years, but we want to avoid conflicting with the oil majors ... it is good timing to find distress assets that small and mid-sized players may be pressured to sell off," Mitsui's President and CEO Tatsuo Yasunaga said, as quoted in the Financial Times Jan. 3.
Mitsui is already on the asset acquisition trial, with the company taking a 35 percent stake in the Kipper gas and condensate field offshore Australia from Santos Ltd. in November 2015 for $358.2 million (AUD 520 million).
Some Small Firms Exit Agreed Deals
While lower asset prices may tempt small firms to make upstream acquisitions, a few of them withdrew after agreeing to such deals earlier due to concerns about the impact of a further decline in oil prices.
"We see [global crude] oil prices averaging $37 a barrel this year, but sub-$20 [at some point in 2016] is not impossible," Wan Zahidi, an oil and gas analyst with Malaysia's RHB Group told Rigzone.
One of these transactions involved Loyz Energy Ltd., with the Singapore-based firm announcing its purchase June 10, 2015 of China-focused Primeline Energy Holdings, Inc. – owner of exploration and development rights of Block 25/84 and Block 33/07 in the East China Sea – for $136.9 million (SGD 197 million). The transaction was terminated Sept. 30, 2015, with Primeline citing market volatility and sentiment for Loyz's exit.
"Sentiment on the ground is that oil price would fall [further], people are watching and not doing anything [including upstream asset purchase] as they feared catching a falling knife … That's the thinking in the short term," Wan Zahidi explained.
Another two small Asian firms that reversed acquisition plans included Malaysia's Hibiscus Petroleum Berhad and Singapore-listed Rex Holding International Ltd.
Hibiscus Petroleum Berhad aborted plans to purchase Talisman Energy Inc.'s 25 percent stake in the Kitan oil field in JPDA-01-105 in Bonaparte Basin offshore Australia, while Rex International Holding withdrew from a deal in October 2015 to acquire a 30 percent interest in WA-488-P exploration permit off Western Australia from MEO Australia Ltd.
Generated by readers, the comments included herein do not reflect the views and opinions of Rigzone. All comments are subject to editorial review. Off-topic, inappropriate or insulting comments will be removed.