Shrinking the Boundary Layer with Riblets
by Matthew V. Veazey
|
Rigzone Staff
|
Monday, January 25, 2016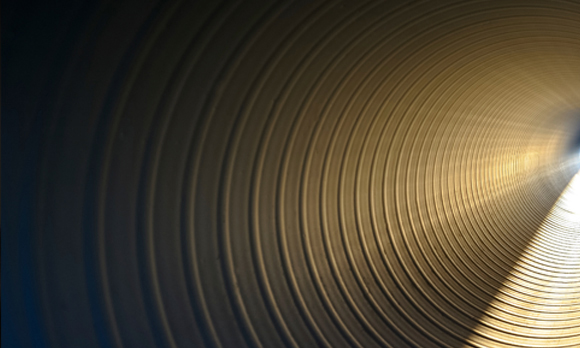 Small grooves could yield cost savings for pipeline companies, according to Pennsylvania applied scientific research and development firm.
Seeking a variant of a drag-mitigating feature found on one of the ocean's apex predators, a Johnstown, Pennsylvania-based firm is investigating a novel technique to help oil and natural gas pipeline companies attack a nemesis to the bottom line: pressure drop.
"Riblets, small grooves on the pipe inner surface aligned with the flow direction, have been shown to reduce friction drag by as much as 10 percent for turbulent flow," said Michael Pollock, Senior Director, Advanced Concepts & Prototyping with Concurrent Technologies Corp. (CTC).
Pollock and his colleagues at CTC are studying the deployment of riblets, which would be laser-ablated inside a pipeline using specialized robots, and their ability to ease the flow of oil and gas in pipelines. They contend that riblets would help to diminish the fluid mechanics concept of a "boundary layer," which results from turbulence – friction – that occurs when a liquid or gas encounters a fixed surface such as a pipeline wall.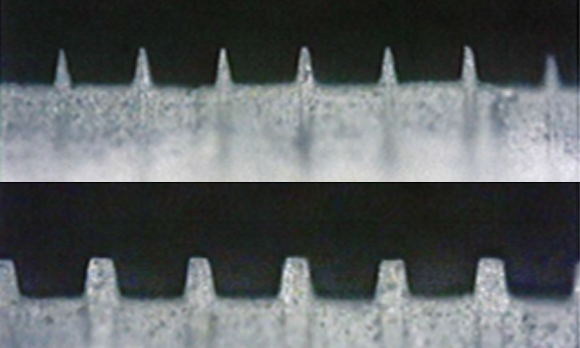 The image on top shows thin blade-like riblets, which typically provide optimal performance with regard to drag reduction. The wider riblets on the bottom offer improved durability while still offering good drag reduction. Images courtesy of Concurrent Technologies Corp.
Because they are designed to limit the amount of turbulent flow perpendicular to the main flow direction of oil or gas, riblets should help hydrocarbons to travel for longer distances without compression, the CTC researchers maintain. Increasing the intervals between compressor stations, or enabling the installation of smaller compressors, would help a pipeline company to save energy costs and even reduce methane emissions, they add.
"For the pipeline industry, this would lead to a significant reduction in pressure drop along the length of the pipe," said Thomas Kiesling, Principal Mechanical Engineer with CTC.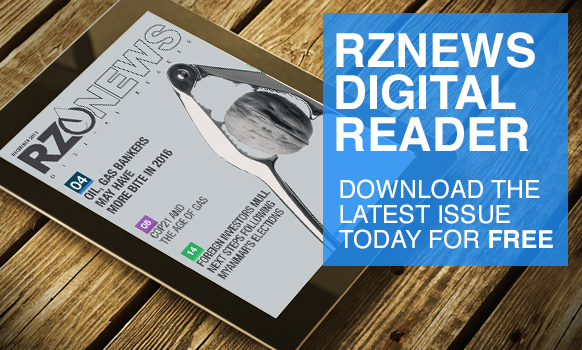 Rigzone recently chatted with Pollock and Kiesling about CTC's interest in riblets, which also extends to military aviation. Read on for excerpts from the conversation.
Rigzone: What was your inspiration for studying riblets for oil and gas pipelines?
Pollock: The concept for riblets originated from a study of the texture of shark's skin, which has riblet-shaped scales that are known to reduce skin friction drag in turbulent flow. Riblets are well documented to effectively reduce skin friction drag in turbulent flow regimes. The challenge is developing a practical implementation of riblets for commercial use. Efforts to date have not been durable enough over the intended products' life. Through CTC's work with paint removal using laser ablation for military aircraft, the concept of creating riblets in the durable top coat using the same ablation process was developed.
Rigzone: Are riblets designed for liquids as well as gas pipelines, and are they strictly for new pipelines?
Pollock: Riblets are effective at reducing skin friction drag for liquid flow as well as gas flow. Riblets can be applied whenever the pipe is coated internally. So it is expected that new pipelines would be the best candidates for the implementation of riblets.
Rigzone: Is there a "one-size-fits-all" pattern for riblets, or would the grooves differ based on what would flow through the pipe?
Kiesling: The optimal depth of the grooves is a function of the turbulent boundary layer. To maximize the drag reduction benefit, the riblets should be tailored to the fluid and expected flow rate for the piping system.
Rigzone: How are pipes lined with riblets, and do any pipelines currently use them?
Kiesling: While many studies have been performed demonstrating the benefits of riblets, to our knowledge no commercial pipelines are taking advantage of the benefits. While still in the development stage, CTC's approach to lining pipes with riblets is to use a robotically controlled laser to ablate the riblet pattern into the epoxy or polyurethane interior coating of the pipe.
1
2
View Full Article
Generated by readers, the comments included herein do not reflect the views and opinions of Rigzone. All comments are subject to editorial review. Off-topic, inappropriate or insulting comments will be removed.